Big ideas.
Once a week.
Subscribe to our weekly newsletter.
'I thought I saw a terrorist': How to manage false alarms, blind fear and panic
Rumors of a terrorist gunman escalated at LAX. A panicked crowd trampled an old woman, snapping her femur. In our best Dick Cheney voice: "If you allow blind fear to disrupt society, the terrorists have already won."
31 August, 2016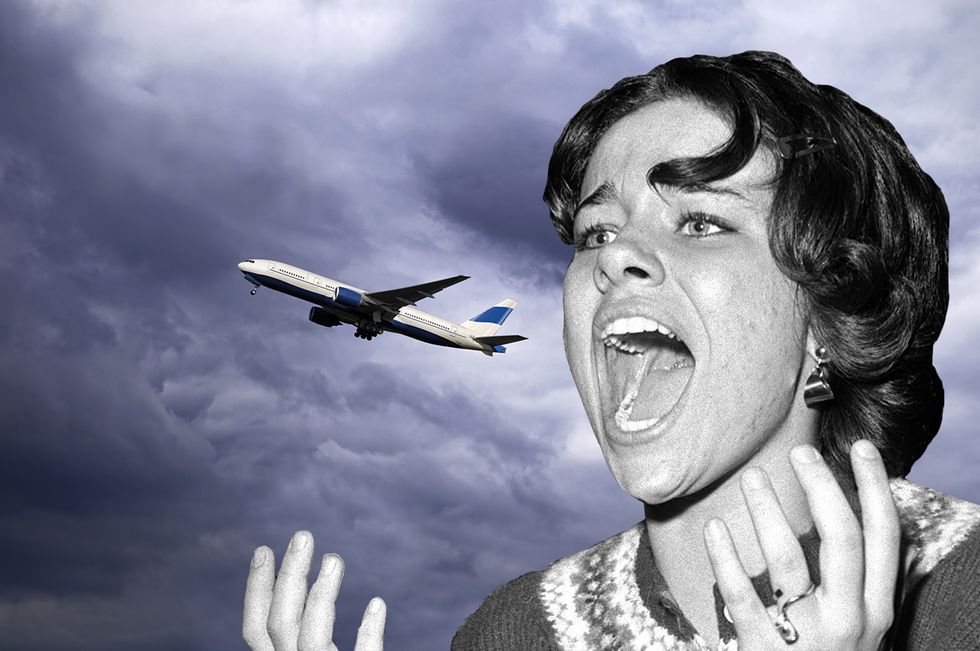 ---
A loud noise caused a panic at Los Angeles International Airport (LAX) on a recent Saturday in late August. At 8:45pm, passengers who were quietly waiting for their flights suddenly mobilized into a panicked herd, running in all directions, live-tweeting videos, and screaming about a shooter. But there was no shooter, according to local ABC affiliate WKOW. Police evacuated the suspected terminals and did a thorough investigation, but found no viable threat. The noise that shut down an entire airport and backed up flights into Monday morning was a literal false alarm.
That incident is far from the only time Americans freaked out at a false threat. Earlier this month, passengers at Kennedy International Airport in New York City went into the same sort of panic over another literal false alarm. Mall patrons in North Carolina, Michigan, and Florida did too. In every incident, mass hysteria broke out.
People were injured, even trampled, over perceived threats, causing much more damage and fear than if they had simply waited for further information before reacting. That's hard to do, especially with such a serious situation as a terrorist threat. But it's just psychological conditioning; reacting calmly to a potential terrorist threat is a choice you can make. Neurobiologically speaking, you can stimulate the production of acetylcholine, a "tranquilizer that you can self-administer simply by taking a few deep breaths with long exhales," according to Psychology Today. Game designer Jane McGonigal explains the technique here:
A group of former Navy SEALS who offer safety training for mass shootings offers these survival tips as well:
Observe the area around you and identify any potential threats
Remind yourself you are not in danger yet and repeat it like a mantra
If you see a threat, lie down on the floor or hide quietly behind something
If you're discovered, run. Ninety-six percent of the time a shooter will miss a moving target
If there's anyone around you who's freaking out, either try to quiet them or get away from them. Their anxiety will spread and will make everyone react in a panic, Psychology Today advises.

All of those tips can keep a scary incident from becoming a panicked frenzy. That said, the frenzied response of the airport and mall patrons, while drastic, is understandable. Incidents of shooters in airports at Brussels and Istanbul happened earlier this year. High-profile terrorist attacks in Paris and Nice, France, as well as within our own borders in San Bernadino and Orlando, also happened this year. All of those attacks primed us to expect the worst. Always. "The steady stream of news reports of bloodshed has heightened anxieties out of proportion to the threat," The New York Times explains, "making panic more likely to take hold." Dr. Daniel Antonius explained to the Times that there is "a national anxiety about mass attacks that did not reflect the real level of danger."
The real level of danger is much lower than most of us think. All violent crimes, including terrorist attacks, are at the lowest levels they've ever been, according to the Federal Bureau of Investigation (FBI). See?
Image source: FBI
In 2014, only 1,165,383 violent crimes happened in America according to the FBI's statistics. Sixty-three percent of them were aggravated assaults; 0.000016 percent were terrorist attacks, according to the Global Terrorism Database. That's 19 terrorist attacks. That's more than we'd like, but certainly not as many as we feel threatened by. Compared to the onslaught of potential threats stoked by the 24/7 news cycle – and to Pakistan, Iraq, and Afghanistan, whose combined experience of terrorist attacks is 54 percent of the entire world's attacks – when you look at the numbers, Americans have no reason to panic.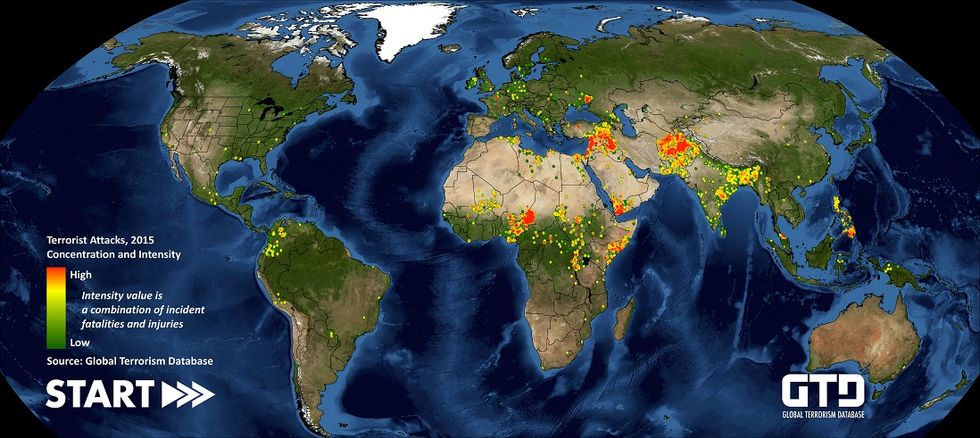 The concentration and intensity of every terror attack in 2015. Source: Global Terrorism Database.
Worse still, living in that constant state of panic is hurting us. We've told you before about how fear warps your brain and panic works much the same way. According to the National Institute of Mental Health, panic is "a fear of disaster or of losing control even when there is no real danger." It brings intense feelings of fear, worry, and helplessness. It can even cause physical symptoms, like a heart attack.
To be clear, the threat of a terrorist attack in the United States is more perceived danger than real danger. But the psychological warfare of terrorism works because it is draws on the natural effects of panic to instill fear and disrupt society, whether through airport shutdowns or mistrust between communities. Australian media commentator Waleed Aly has called terrorism the mouse that roars. By panicking about any potential threat and treating it as if it might be the worst possible one we can experience – a terrorist attack – we dull our senses and response time to actual threats, exhausting our mental and emotional resources. Harvard psychologist Susan David explains it this way: "The more familiar something sounds… even if the story is inaccurate, even if the story doesn't serve us, the more we are likely to become immured to it and immune to it."
We do need to be vigilant against terrorist attacks. But we also need to be vigilant against accepting false information and blind panic. Limiting exposure to news will help. Reading Alain de Botton's The News will help. So will understanding the actual probability of a terrorist attack. But there are real consequences to not taking this seriously. David broke it all down for us:
Welcome to the world's newest motorsport: manned multicopter races that exceed speeds of 100 mph.
Credit: Airspeeder
Technology & Innovation
Airspeeder is a company that aims to put on high-speed races featuring electric flying vehicles.
The so-called Speeders are able to fly at speeds of up to 120 mph.
The motorsport aims to help advance the electric vertical take-off and landing (eVTOL) sector, which could usher in the age of air taxis.
The way you speak might reveal a lot about you, such as your willingness to engage in casual sex.
Surprising Science
A new study finds a deeper voice is associated with self-reported extraversion, dominance, and casual sex.
It was the first study on the topic to objectively measure voice pitch.
The authors suggest that hormones like testosterone might explain their findings.
We make snap decisions about other people based on information that we can gather quickly. One of the many ways that we do this is by making bold conclusions about other people's personalities based on their voices alone. Various studies demonstrate that people associate a deep voice with dominance, but those with higher pitched voices are perceived as nervous or neurotic. Popular culture seems to agree with and reinforce these stereotypes.
Are these perceptions accurate? Maybe. A new study by an international team of researchers with the goal of more accurately determining what our voices reveal about us has demonstrated that there is some connection between how we sound and who we think we are.
The voice-personality connection
Lead author Dr. Julia Stern of the University of Göttingen explained:
"Even if we just hear someone's voice without any visual clues — for instance on the phone — we know pretty soon whether we're talking to a man, a woman, a child, or an older person. We can pick up on whether the person sounds interested, friendly, sad, nervous, or whether they have an attractive voice. We also start to make assumptions about trust and dominance. The first step was to investigate whether voices are, indeed, related to people's personality."
The study included data from 2,000 people from four countries involved in eleven previous independent studies focused on other questions. Each of these studies involved some kind of self-reporting of personality traits and vocal recordings. The recordings were analyzed with Praat, software that determined the frequencies of the participants' speaking voices.
The study is the largest ever conducted on the topic and the first to use an objective measure of pitch rather than subjective rankings such as "high pitched" or "deep." Each participant's vocal pitch was then compared to the self-reported personality data they provided.
Pitch perfect
The findings associated self-reported levels of dominant tendencies, extroversion, and increased interest in and acceptance of sociosexuality (casual sex or sex outside of a relationship) with a lower pitched voice. This was true for men and women of any age. The findings were in line with the previous, less robust studies on the subject.
Other stereotypes, like if a higher pitched voice hints at neuroticism, openness to new experiences, or agreeableness, were impossible to determine with the data at hand.
Voice isn't everything
It should be remembered that the personality traits that this study associates with vocal pitch are self-reported, so there are some serious limitations. For instance, it is entirely possible that vocal pitch is associated with thinking you're extroverted when you actually aren't. Furthermore, all four countries in the study are WEIRD, so the findings probably cannot be universalized.
Additionally, there are plenty of examples of people for whom the voice-personality link doesn't apply. For example, Teddy Roosevelt, an extremely extroverted, dominating man, had a fairly high pitched voice.
The authors do speculate that there could be a connection between testosterone levels in men, their vocal pitch, and their perceived level of dominance that would be supported by previous studies. However, they have no hypothesis explaining why that same relationship exists for women.
The authors suggest that further studies in this area could focus on finding a possible physical connection between these traits and vocal pitch and to determine if they hold for traits which are not self-reported.
Who needs steroids when you have the placebo effect?
Surprising Science
A study suggests that the effectiveness of sports drinks may depend in part on their color.
Runners who rinsed with a pink liquid ran better than those who consumed the same but colorless drink.
Improvement in their performance is likely due to a placebo effect.
The "placebo effect" is real. It's the name for a strange phenomenon that most notably occurs during clinical trials. People who are given an inactive substance, like a sugar pill, often experience the same therapeutic benefit as those who are given actual medicine. It's not their imagination — it really happens. (Even better, recent research suggests that therapeutic benefits occur even when the person knows that they were given a placebo.)

Now, a new study from the University of Westminster (UOW) Centre for Nutraceuticals in London and published in Frontiers in Nutrition suggests that the placebo effect may explain yet another phenomenon: Athletic performance.
The research showed that treadmill runners who rinsed their mouths with a pink liquid increased their performance over runners who swished with exactly the same liquid but without the coloring. Why pink? The color is generally linked to sweetness, and the researchers wondered if that association would subconsciously trick the runners into an expectation of more carbohydrates and thus energy.
Author Sanjoy Deb explains:
"The influence of color on athletic performance has received interest previously, from its effect on a sportsperson's kit to its impact on testosterone and muscular power. Similarly, the role of color in gastronomy has received widespread interest, with research published on how visual cues or color can affect subsequent flavor perception when eating and drinking."
Running for science
Credit: Ryan De Hamer / Unsplash
For the study, the researchers recruited ten healthy adults — six men, four women. All were regular exercisers, with an average age of 30. The participants were told that they would be testing the relative benefits of two commercial sports drinks after watching a brief video explaining the value of such beverages. Previous research found that mid-exercise rinsing with such drinks can reduce the perceived intensity of exercise.

The drinks consisted of 0.12 grams of sucralose dissolved in 500 mL of plain water — an artificially sweetened rinse low in calories. The liquids contained no other additives common to sports drinks such as caffeine. The pink version had non-caloric coloring added but was otherwise identical.
After a 12-minute warmup phase of jogging followed by running, the athletes ran at a difficult pace for 30 minutes, rinsing with their drinks as they ran. Following a brief cool-down, they were interviewed to capture their impressions of the exercise session. (Each runner tested both drinks.)
Think pink
The researchers found that when the volunteers used the pink rinse, they ran an average of 212 meters farther and 4.4 percent faster. They also enjoyed the exercise more.
Deb said, "The findings from our study combine the art of gastronomy with performance nutrition, as adding a pink colorant to an artificially sweetened solution not only enhanced the perception of sweetness, but also enhanced feelings of pleasure, self-selected running speed, and distance covered during a run."
The researchers also plan to dig deeper into the phenomenon by investigating the possibility that the pinkness of the beverage is somehow directly activating the brain's reward areas.
Surprising Science
Like autism, ADHD lies on a spectrum, and some children should not be treated.
Scroll down to load more…