Big ideas.
Once a week.
Subscribe to our weekly newsletter.
'I thought I saw a terrorist': How to manage false alarms, blind fear and panic
Rumors of a terrorist gunman escalated at LAX. A panicked crowd trampled an old woman, snapping her femur. In our best Dick Cheney voice: "If you allow blind fear to disrupt society, the terrorists have already won."
31 August, 2016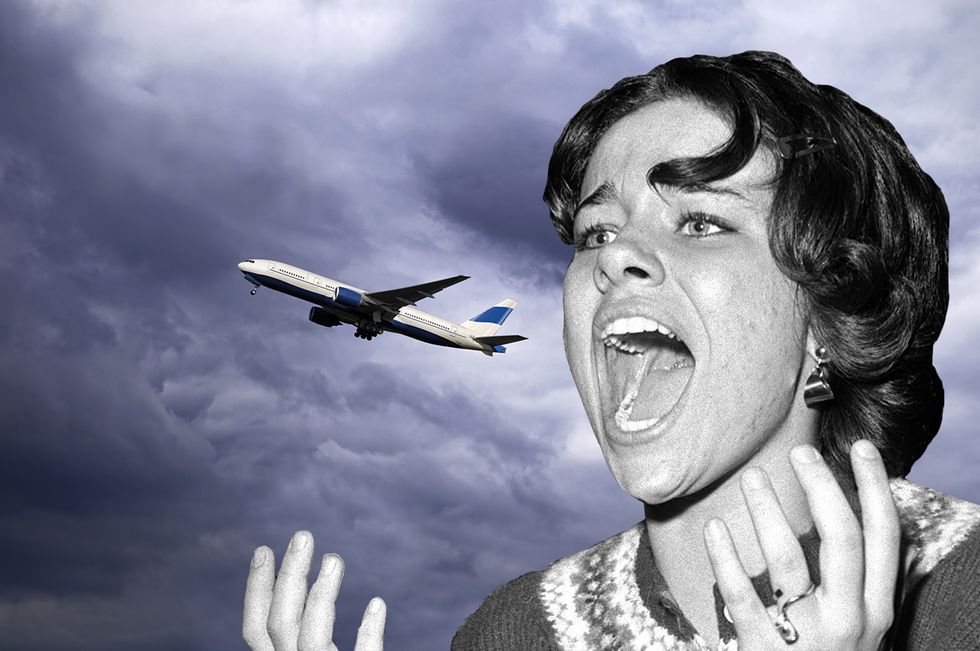 ---
A loud noise caused a panic at Los Angeles International Airport (LAX) on a recent Saturday in late August. At 8:45pm, passengers who were quietly waiting for their flights suddenly mobilized into a panicked herd, running in all directions, live-tweeting videos, and screaming about a shooter. But there was no shooter, according to local ABC affiliate WKOW. Police evacuated the suspected terminals and did a thorough investigation, but found no viable threat. The noise that shut down an entire airport and backed up flights into Monday morning was a literal false alarm.
That incident is far from the only time Americans freaked out at a false threat. Earlier this month, passengers at Kennedy International Airport in New York City went into the same sort of panic over another literal false alarm. Mall patrons in North Carolina, Michigan, and Florida did too. In every incident, mass hysteria broke out.
People were injured, even trampled, over perceived threats, causing much more damage and fear than if they had simply waited for further information before reacting. That's hard to do, especially with such a serious situation as a terrorist threat. But it's just psychological conditioning; reacting calmly to a potential terrorist threat is a choice you can make. Neurobiologically speaking, you can stimulate the production of acetylcholine, a "tranquilizer that you can self-administer simply by taking a few deep breaths with long exhales," according to Psychology Today. Game designer Jane McGonigal explains the technique here:
A group of former Navy SEALS who offer safety training for mass shootings offers these survival tips as well:
Observe the area around you and identify any potential threats
Remind yourself you are not in danger yet and repeat it like a mantra
If you see a threat, lie down on the floor or hide quietly behind something
If you're discovered, run. Ninety-six percent of the time a shooter will miss a moving target
If there's anyone around you who's freaking out, either try to quiet them or get away from them. Their anxiety will spread and will make everyone react in a panic, Psychology Today advises.

All of those tips can keep a scary incident from becoming a panicked frenzy. That said, the frenzied response of the airport and mall patrons, while drastic, is understandable. Incidents of shooters in airports at Brussels and Istanbul happened earlier this year. High-profile terrorist attacks in Paris and Nice, France, as well as within our own borders in San Bernadino and Orlando, also happened this year. All of those attacks primed us to expect the worst. Always. "The steady stream of news reports of bloodshed has heightened anxieties out of proportion to the threat," The New York Times explains, "making panic more likely to take hold." Dr. Daniel Antonius explained to the Times that there is "a national anxiety about mass attacks that did not reflect the real level of danger."
The real level of danger is much lower than most of us think. All violent crimes, including terrorist attacks, are at the lowest levels they've ever been, according to the Federal Bureau of Investigation (FBI). See?
Image source: FBI
In 2014, only 1,165,383 violent crimes happened in America according to the FBI's statistics. Sixty-three percent of them were aggravated assaults; 0.000016 percent were terrorist attacks, according to the Global Terrorism Database. That's 19 terrorist attacks. That's more than we'd like, but certainly not as many as we feel threatened by. Compared to the onslaught of potential threats stoked by the 24/7 news cycle – and to Pakistan, Iraq, and Afghanistan, whose combined experience of terrorist attacks is 54 percent of the entire world's attacks – when you look at the numbers, Americans have no reason to panic.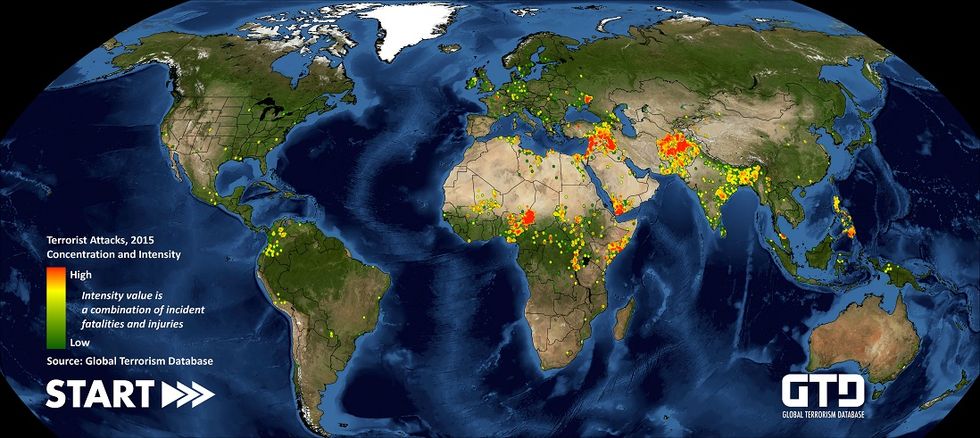 The concentration and intensity of every terror attack in 2015. Source: Global Terrorism Database.
Worse still, living in that constant state of panic is hurting us. We've told you before about how fear warps your brain and panic works much the same way. According to the National Institute of Mental Health, panic is "a fear of disaster or of losing control even when there is no real danger." It brings intense feelings of fear, worry, and helplessness. It can even cause physical symptoms, like a heart attack.
To be clear, the threat of a terrorist attack in the United States is more perceived danger than real danger. But the psychological warfare of terrorism works because it is draws on the natural effects of panic to instill fear and disrupt society, whether through airport shutdowns or mistrust between communities. Australian media commentator Waleed Aly has called terrorism the mouse that roars. By panicking about any potential threat and treating it as if it might be the worst possible one we can experience – a terrorist attack – we dull our senses and response time to actual threats, exhausting our mental and emotional resources. Harvard psychologist Susan David explains it this way: "The more familiar something sounds… even if the story is inaccurate, even if the story doesn't serve us, the more we are likely to become immured to it and immune to it."
We do need to be vigilant against terrorist attacks. But we also need to be vigilant against accepting false information and blind panic. Limiting exposure to news will help. Reading Alain de Botton's The News will help. So will understanding the actual probability of a terrorist attack. But there are real consequences to not taking this seriously. David broke it all down for us:
"You dream about these kinds of moments when you're a kid," said lead paleontologist David Schmidt.
Surprising Science
The triceratops skull was first discovered in 2019, but was excavated over the summer of 2020.
It was discovered in the South Dakota Badlands, an area where the Triceratops roamed some 66 million years ago.
Studying dinosaurs helps scientists better understand the evolution of all life on Earth.
The eastern inner core located beneath Indonesia's Banda Sea is growing faster than the western side beneath Brazil.
Surprising Science
More than 5,000 kilometres beneath us, Earth's solid metal inner core wasn't discovered until 1936.
Almost a century later, we're still struggling to answer basic questions about when and how it first formed.
These aren't easy puzzles to solve. We can't directly sample the inner core, so the key to unravelling its mysteries lies in collaboration between seismologists, who indirectly sample it with seismic waves, geodynamicists, who create models of its dynamics, and mineral physicists, who study the behaviour of iron alloys at high pressures and temperatures.
Combining these disciplines, scientists have delivered an important clue about what's happening miles beneath our feet. In a new study, they reveal how Earth's inner core is growing faster on one side than the other, which could help explain how old the inner core is, and the intriguing history of Earth's magnetic field.
Early Earth
Earth's core was formed very early in our planet's 4.5 billion-year history, within the first 200 million years. Gravity pulled the heavier iron to the centre of the young planet, leaving the rocky, silicate minerals to make up the mantle and crust.
Earth's formation captured a lot of heat within the planet. The loss of this heat, and heating by ongoing radioactive decay, have since driven our planet's evolution. Heat loss in Earth's interior drives the vigorous flow in the liquid iron outer core, which creates Earth's magnetic field. Meanwhile, cooling within Earth's deep interior helps power plate tectonics, which shape the surface of our planet.
As Earth cooled over time, the temperature at the centre of the planet eventually dropped below the melting point of iron at extreme pressures, and the inner core started to crystallise. Today, the inner core continues to grow at roughly 1mm in radius each year, which equates to the solidification of 8,000 tonnes of molten iron every second. In billions of years, this cooling will eventually lead to the whole core becoming solid, leaving Earth without its protective magnetic field.
Core issue
One might assume that this solidification creates a homogeneous solid sphere, but this isn't the case. In the 1990s, scientists realised that the speed of seismic waves travelling through the inner core varied unexpectedly. This suggested that something asymmetrical was happening in the inner core.
Specifically, the eastern and western halves of the inner core showed different seismic wavespeed variations. The eastern part of the inner core is beneath Asia, the Indian Ocean and the western Pacific Ocean, and the west lies under the Americas, the Atlantic Ocean and the eastern Pacific.
Sanne Cottaar, Author provided
The new study probed this mystery, using new seismic observations combined with geodynamic modelling and estimates of how iron alloys behave at high pressure. They found that the eastern inner core located beneath Indonesia's Banda Sea is growing faster than the western side beneath Brazil.

You can think of this uneven growth as like trying to make ice cream in a freezer that's only working on one side: ice crystals form only on the side of the ice cream where the cooling is effective. In the Earth, the uneven growth is caused by the rest of the planet sucking heat more quickly from some parts of the inner core than others.
But unlike the ice cream, the solid inner core is subject to gravitational forces which distribute the new growth evenly through a process of creeping interior flow, which maintains the inner core's spherical shape. This means that Earth is in no danger of tipping, though this uneven growth does get recorded in the seismic wavespeeds in our planet's inner core.
Dating the core
So does this approach help us understand how old the inner core might be? When the researchers matched their seismic observations with their flow models, they found that it's likely that the inner core – at the centre of the entire core which formed much earlier – is between 500 million and 1,500 million years old.
The study reports that the younger end of this age range is the better match, although the older end matches an estimate made by measuring changes in the strength of Earth's magnetic field. Whichever number turns out to be correct, it's clear that the inner core is a relative youngster, somewhere between a ninth and a third as old as Earth itself.
This new work presents a powerful new model of the inner core. However, a number of physical assumptions the authors made would have to be true for this to be correct. For example, the model only works if the inner core consists of one specific crystalline phase of iron, about which there is some uncertainty.
And does our uneven inner core make the Earth unusual? It turns out that many planetary bodies have two halves which are somehow different to each other. On Mars, the surface of the northern half is lower-lying while the southern half is more mountainous. The Moon's near-side crust is chemically different to the far-side one. On Mercury and Jupiter it's not the surface which is uneven but the magnetic field, which doesn't form a mirror image between north and south.
So while the causes for all of these asymmetries vary, Earth appears to be in good company as a slightly asymmetrical planet in a solar system of lopsided celestial bodies.
Jessica Irving, Senior Lecturer in Geophysics, University of Bristol and Sanne Cottaar, Lecturer in Global Seismology, University of Cambridge
This article is republished from The Conversation under a Creative Commons license. Read the original article.

In ancient Greece, the Olympics were never solely about the athletes themselves.
Coronavirus
Because of a dramatic rise in COVID-19 cases, the opening and closing ceremonies of the 2021 Olympics will unfold in a stadium absent the eyes, ears and voices of a once-anticipated 68,000 ticket holders from around the world.
Events during the intervening days will likewise occur in silent arenas missing the hundreds of thousands of spectators who paid US$815 million for their now-useless tickets.
After 48 years teaching classics, I can't help but wonder what the Greeks – who invented the Games nearly 3,000 years ago, in 776 B.C. – would make of such a ghostly version of their Olympic festival.
In many ways, they'd view the prospect as absurd.
In ancient Greece, the Olympics were never solely about the athletes themselves; instead, the heart and soul of the festival was the experience shared by all who attended. Every four years, athletes and spectators traveled from far-flung corners of the Greek-speaking world to Olympia, lured by a longing for contact with their compatriots and their gods.
In the shadow of dreams
For the Greeks, during five days in the late-summer heat, two worlds miraculously merged at Olympia: the domain of everyday life, with its human limits, and a supernatural sphere from the days superior beings, gods and heroes populated Earth.
Greek athletics, like today's, plunged participants into performances that pushed the envelope of human ability to its breaking point. But to the Greeks, the cauldron of competition could trigger revelations in which ordinary mortals might briefly intermingle with the extraordinary immortals.
The poet Pindar, famous for the victory songs he composed for winners at Olympia, captured this sort of transcendent moment when he wrote, "Humans are creatures of a day. But what is humankind? What is it not? A human is just the shadow of a dream – but when a flash of light from Zeus comes down, a shining light falls on humans and their lifetime can be sweet as honey."
However, these epiphanies could occur only if witnesses were physically present to immerse themselves – and share in – the spine-tingling flirtation with the divine.
Simply put, Greek athletics and religious experience were inseparable.
At Olympia, both athletes and spectators were making a pilgrimage to a sacred place. A modern Olympics can legitimately take place in any city selected by the International Olympic Committee. But the ancient games could occur in only one location in western Greece. The most profoundly moving events didn't even occur in the stadium that accommodated 40,000 or in the wrestling and boxing arenas.
Instead, they took place in a grove called the Althis, where Hercules is said to have first erected an altar, sacrificed oxen to Zeus and planted a wild olive tree. Easily half the events during the festival engrossed spectators not in feats like discus, javelin, long jump, foot race and wrestling, but in feasts where animals were sacrificed to gods in heaven and long-dead heroes whose spirits still lingered.
On the evening of the second day, thousands gathered in the Althis to reenact the funeral rites of Pelops, a human hero who once raced a chariot to win a local chief's daughter. But the climactic sacrifice was on the morning of the third day at the Great Altar of Zeus, a mound of plastered ashes from previous sacrifices that stood 22 feet tall and 125 feet around. In a ritual called the hecatomb, 100 bulls were slaughtered and their thigh bones, wrapped in fat, burned atop the altar so that the rising smoke and aroma would reach the sky where Zeus could savor it.
No doubt many a spectator shivered at the thought of Zeus hovering above them, smiling and remembering Hercules' first sacrifice.
Just a few yards from the Great Altar another, more visual encounter with the god awaited. In the Temple of Zeus, which was erected around 468 to 456 B.C., stood a colossal image, 40 feet high, of the god on a throne, his skin carved from ivory and his clothing made of gold. In one hand he held the elusive goddess of victory, Nike, and in the other a staff on which his sacred bird, the eagle, perched. The towering statue was reflected in a shimmering pool of olive oil surrounding it.
During events, the athletes performed in the nude, imitating heroic figures like Hercules, Theseus or Achilles, who all crossed the dividing line between human and superhuman and were usually represented nude in painting and sculpture.
The athletes' nudity declared to spectators that in this holy place, contestants hoped to reenact, in the ritual of sport, the shudder of contact with divinity. In the Althis stood a forest of hundreds of nude statues of men and boys, all previous victors whose images set the bar for aspiring newcomers.
"There are a lot of truly marvelous things one can see and hear about in Greece," the Greek travel writer Pausanias noted in the second century B.C., "but there is something unique about how the divine is encountered at … the games at Olympia."
Communion and community
The Greeks lived in roughly 1,500 to 2,000 small-scale states scattered across the Mediterranean and Black Sea regions.
Since sea travel in summertime was the only viable way to cross this fragile geographical web, the Olympics might entice a Greek living in Southern Europe and another residing in modern-day Ukraine to interact briefly in a festival celebrating not only Zeus and Heracles but also the Hellenic language and culture that produced them.
Besides athletes, poets, philosophers and orators came to perform before crowds that included politicians and businessmen, with everyone communing in an "oceanic feeling" of what it meant to be momentarily united as Greeks.
Egisto Sani/flickr, CC BY-NC
Now, there's no way we could explain the miracle of TV to the Greeks and how its electronic eye recruits millions of spectators to the modern games by proxy. But visitors to Olympia engaged in a distinct type of spectating.

The ordinary Greek word for someone who observes – "theatês" – connects not only to "theater" but also to "theôria," a special kind of seeing that requires a journey from home to a place where something wondrous unfolds. Theôria opens a door into the sacred, whether it's visiting an oracle or participating in a religious cult.
Attending an athletic-religious festival like the Olympics transformed an ordinary spectator, a theatês, into a theôros – a witness observing the sacred, an ambassador reporting home the wonders observed abroad.
It's hard to imagine TV images from Tokyo achieving similar ends.
No matter how many world records are broken and unprecedented feats accomplished at the 2020 games, the empty arenas will attract no gods or genuine heroes: The Tokyo games are even less enchanted than previous modern games.
But while medal counts will confer fleeting glory on some nations and disappointing shame on others, perhaps a dramatic moment or two might unite athletes and TV viewers in an oceanic feeling of what it means to be "kosmopolitai," citizens of the world, celebrants of the wonder of what it means to be human – and perhaps, briefly, superhuman as well.
The ancient Greeks wouldn't recognize some aspects of the modern Olympics.
Vincent Farenga, Professor of Classics and Comparative Literature, USC Dornsife College of Letters, Arts and Sciences
This article is republished from The Conversation under a Creative Commons license. Read the original article.

Mind & Brain
A new brain imaging study explored how different levels of the brain's excitatory and inhibitory neurotransmitters are linked to math abilities.
Scroll down to load more…