Scientists Accidentally Create Simple Solution to Global Warming
Global warming is largely caused by carbon dioxide. Scientists at Oak Ridge National Laboratory just figured out a way to change it into something better.
20 October, 2016
---
These gray blobs below might not look like much to you, but to chemists they just might be the holy grail of fossil fuel conversion.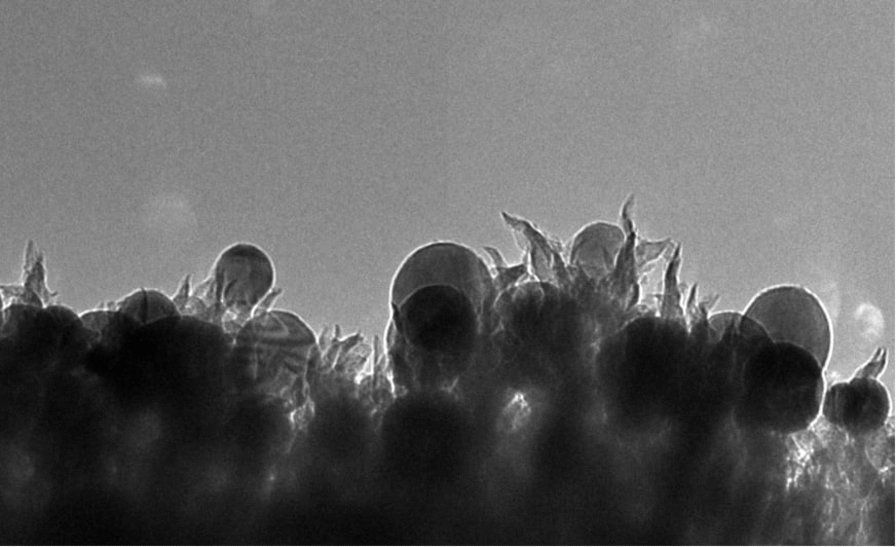 A photomicrograph of the ORNL catalyst showing the carbon nanospikes that can convert carbon dioxide into ethanol. Credit: ORNL
The Department of Energy has spent years trying to reduce the amount of carbon dioxide in our atmosphere. Carbon dioxide, or C02, is released into our atmosphere from both our breathing and as a byproduct of industrial combustion from fossil fuel. It's also a greenhouse gas, meaning it traps heat and warms the temperature of the planet. In fact, it is "the primary greenhouse gas emitted through human activities," according to the Environmental Protection Agency. "In 2014, CO2 accounted for about 80.9% of all U.S. greenhouse gas emissions." That means it's the biggest culprit of climate change, and the one scientists are trying hardest to stop.
Scientists are trying everything from storing it underground to converting it into a cleaner fuel source. Scientists at Oak Ridge National Laboratory (ORNL) accidentally figured out a way to do the latter by converting C02 into ethanol – a cleaner, more sustainable fuel source.
Strange as that sounds, carbon dioxide can be chemically converted into fuel. It's difficult to do, as it is "chemically unreactive," as the Department of Energy (DOE) reports. Carbon dioxide needs a catalyst, "a particular compound that could make carbon dioxide react more readily. When converting carbon dioxide from the atmosphere into a sugar, plants use an organic catalyst called an enzyme," the DOE continues. The researchers at ORNL used "a catalyst made of carbon, copper and nitrogen and applied voltage to trigger a complicated chemical reaction that essentially reverses the combustion process," they explain in a press release. In order to activate carbon dioxide at the molecular level, they utilized nanotechnology. Popular Mechanics explains the process as "a new combination of copper and carbon arranged into nanospikes on a silicon surface. The nanotechnology allows the reactions to be very precise, with very few contaminants." The researchers expected the carbon nanospikes to be the first step in a long process, but were pleasantly surprised to discover it was the only step they needed. They explain the full details in the journal Chemistry Select, but here's a video version:
Credit: ORNL/YouTube
"By using common materials, but arranging them with nanotechnology, we figured out how to limit the side reactions and end up with the one thing that we want," researcher Adam Rondinone said in the ORNL press release. He explained the process further to New Atlas, stating that "a process like this would allow you to consume extra electricity when it's available to make and store as ethanol. This could help to balance a grid supplied by intermittent renewable sources."
That is a big deal, because ORNL's process chemically negates a harmful substance with common materials and only 1.2 volts of electricity – and it works at room temperature, meaning "it can be started and stopped easily with little energy cost," Popular Mechanics explains. They point out another additional benefit, too: the process could also be used "as temporary energy storage during a lull in renewable energy generation, smoothing out fluctuations in a renewable energy grid."
ORNL has essentially created a way to remove large amounts of carbon dioxide from our atmosphere in a cheap, efficient, scalable way, which the team hopes could be used to mitigate or completely reverse fossil fuel carbon dioxide production. They're working on refining their methods to "increase ethanol production rates and to better determine the full mechanism of selective chemical production of the copper/carbon catalyst," according to New Atlas.
Hopefully, they'll develop a system that's easy for industrial producers to use. If they do, and if our government signs off on it, this process might just be the next big step in reducing climate change.
What can 3D printing do for medicine? The "sky is the limit," says Northwell Health researcher Dr. Todd Goldstein.
Northwell Health
Sponsored by Northwell Health
Medical professionals are currently using 3D printers to create prosthetics and patient-specific organ models that doctors can use to prepare for surgery.
Eventually, scientists hope to print patient-specific organs that can be transplanted safely into the human body.
Northwell Health, New York State's largest health care provider, is pioneering 3D printing in medicine in three key ways.
Big Think Edge
In some fundamental ways, humans haven't changed all that much since the days when we were sitting around communal fires, telling tales.
Although we don't always recognize them as such, stories, symbols, and rituals still have tremendous, primal power to move us and shape our lives.
This is no less true in the workplace than it is in our personal lives.
One of Stephen Hawking's predictions seems to have been borne out in a man-made "black hole".
Image source: NASA/JPL-Caltech
Surprising Science
Stephen Hawking predicted virtual particles splitting in two from the gravitational pull of black holes.
Black holes, he also said, would eventually evaporate due to the absorption of negatively charged virtual particles.
A scientist has built a black hole analogue based on sound instead of light.
Big Think Edge
The word "creative" is sometimes waved around like a badge of honor. We speak of creativity in hushed tones, as the special province of the "talented". In reality, the creative process is messy, open, and vulnerable.
For this reason, creativity is often at its best in a group setting like brainstorming. But in order to work, the group creative process needs to be led by someone who understands it.
This sense of deep trust—that no idea is too silly, that every creative impulse is worth voicing and considering—is essential to producing great work.
Big think's weekly newsletter.
Get smarter faster from the comfort of your inbox.
See our newsletter privacy policy
here
Most Popular
Most Recent
Big think's weekly newsletter.
Get smarter faster from the comfort of your inbox.
See our newsletter privacy policy
here
© Copyright 2007-2019 & BIG THINK, BIG THINK EDGE,
SMARTER FASTER trademarks owned by The Big Think, Inc. All rights reserved.