Lowline Park: What it is and Why You Need to Go
The Lowline is the world's first underground park. Well, almost: it's testing the science of growing plants underground on Manhattan's Lower East Side - and it's a literal urban jungle.
22 April, 2016
---
The Lowline is the world's first underground park. Well, almost: the concept successfully raised funds on Kickstarter. It's now testing the science on Manhattan's Lower East Side with the Lowline Lab, and it's a literal urban jungle.
Founders Dan Barasch and James Ramsay has long dreamed of an underground park. Inspired by The Highline project - a reclaimed chunk of train tracks that's now a thriving park and public space - they got input from over 50 scientists to figure out how to make their dream real. Determined to create a socially beneficial space in a neighborhood at a crossroads, they chose to use solar technology to cultivate it. "All architectural design is one big game to optimize light," Dan said during my tour. What they're creating in the lab is the only environment of its kind in North America --  a football-field-sized landscape entirely supported by light.
But how do you ground plants underground? What kinds of plants grow underground? Would people even want to go underground for a park? All of these are questions the Lowline Lab is trying to answer -- and it all boils down to filtering sunlight.
The Lowline Lab uses two solar collectors, one stand-alone and one hooked up to a large mirror. Both are on the roof of the building. The mirror is called a Heliostat, and it tips up and down to reflect sunlight into the collector. The collector is a satellite-dish-shaped device with a condenser in the middle: Here's how it works, according to the site::
Sunlight passes through a glass shield above the parabolic collector, and is reflected and gathered at one focal point, and directed underground. Sunlight is transmitted onto a reflective surface on the distributor dish underground, transmitting that sunlight into the space. This technology would transmit the necessary wavelengths of light to support photosynthesis, enabling plants and trees to grow.
Thus far, the technology's been a great success. The full spectrum of light is retained and brought directly to the plants. All the sunlight gets funneled through a clear tube that glows warm pink during the day. The brightness and intensity of the light filtered into the lab by the collectors can be up to 30 times that of the sun It doesn't get too hot, though, because the biggest heat-generating light wavelengths are filtered out.
So how do plants grow with all that light? Here's a handy graphic from the tour:
Landscape architect firm John Mini was in charge of the plants. Their biggest challenge was to create a landscape of plants that would survive underground for the duration of the lab until March 2017. They also wanted to impress people, and show them the most unexpected environment possible underground. After calculating the amount, types, and frequencies of light that would come into the space, they worked with landscape architect Signe Nielsen to create a space with three different footprints of light, a ceiling that can change shape to suit those footprints -- and, most importantly, a map for which plants would survive best in those footprints.
The result is a mix of plants that resembles a lush, tropical canopy. They're small plants with different textures and colors. Most of them were never meant to live together. Having them in the same space creates different microclimates.
It really does feel like you've walked into the jungle. The temperature is warm, but not overbearingly so. The plants are lush and vibrant, almost convincing you that they're growing wild. You can smell the humidity in the air. You can sit on hilly embankments and smell the flowers. The only things that make you believe you're not in a jungle is the lack of wind, weeds, and bugs. And the secret tunnel: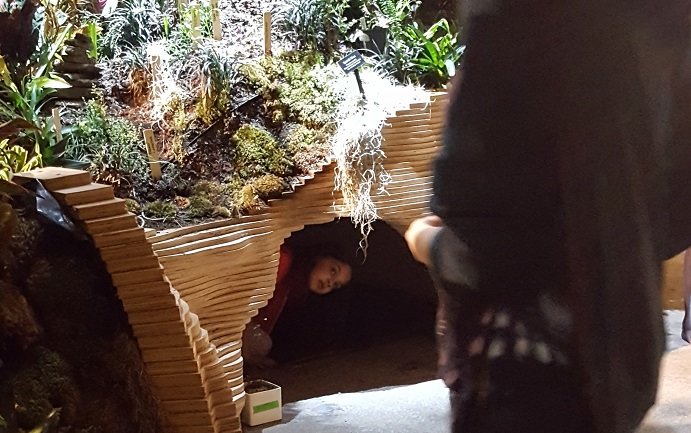 But that's just the lab. The final Lowline park landscape will be determined by the community. They survey every single visitor to figure out what they want -- and 50,000 have come through in the last 6 months. Visitors will help determine the final plants, lighting, and layout of the Lowline Park. There may even be different light sources -- including ones for selfies that mimic different Instagram filters. It's all up to you. Check it out on the weekends from 7-7. How often you do get to play in the jungle?
Lumina Foundation is partnering with Big Think to unearth the next large-scale, rapid innovation in post-high school education. Enter the competition here!
Soon, parents may be able to prescribe music to their kids to help them focus.
Videos
Instead of prescribing medications to kids with ADD or ADHD, Clark and his team at Brain.fm are looking to music as another option for treatment.
Through a grant from the National Science Foundation, the company is developing music that features "neural-phase locking" — a combination of different principles that create specific characteristics in the brain, such as increased concentration or relaxation.
As long as they're listening to the music, the neural phase-locking aspect of Brain.fm's tunes has the potential to keep people focused.
There are four main stages. Each has its own particular set of advancements and challenges. 
Jordan Bruner. Vimeo.
popular
Don't you wish you could predict your child's behavior with 100 percent accuracy? Any realistic parent knows it's an impossible daydream, but an appealing one nonetheless. Kids will always surprise you. There are so many factors that go into behavior, not to mention the fact that internal and external forces can sometimes make kids act out of character.
"I should be as happy as I'm ever going to be right now, but I'm not. Is this it?"
Personal Growth
The life choices that had led me to be sitting in a booth underneath a banner that read "Ask a Philosopher" – at the entrance to the New York City subway at 57th and 8th – were perhaps random but inevitable.

Big think's weekly newsletter.
Get smarter faster from the comfort of your inbox.
See our newsletter privacy policy
here
Most Popular
Most Recent
Big think's weekly newsletter.
Get smarter faster from the comfort of your inbox.
See our newsletter privacy policy
here
© Copyright 2007-2018 & BIG THINK, BIG THINK EDGE,
SMARTER FASTER trademarks owned by The Big Think, Inc. All rights reserved.