Bad sleep habits will cost the U.S. $434 billion in 2020
Our always-on culture has us working harder, doing more, and sleeping less. While the health ailments of sleep deprivation are well known, a study by Rand Europe shows that it is costing the economy as well, with the U.S. estimated to lose up to $434 billion in 2020.
16 June, 2018
---
If you want to get ahead in life, then you'll need to work hard, be disciplined, and sacrifice sleep. If you're asleep, you're not working, and if you don't work constantly, you can never manage a successful company or create the art that will make you famous. It's not just your success on the line, either. Your country's economy is counting on you to be a productive member of society. Besides, there will be plenty of time to sleep when you're dead.
If you're thinking these old saws sound dull, you're right, and the data agree with you. Insufficient sleep has been linked to a slew of health issues, such as obesity, hypertension, and heart disease. It can also cause mood disorders and is a main contributor to poor work-life balance.
Workers pay and pay often for their poor sleep habits, but since the best-known ailments of sleep deprivation are personal in nature, employers and society do little to properly incentivize good sleep hygiene. But according to a study by Rand Europe, sleep-deprived Americans will cost the United States economy up to $434 billion by 2020, and the tab gets larger after that.
Sleep pays for itself
Based on survey data from 62,000 people, Rand Europe created a bespoke macroeconomic model that stimulated the interactions of economic agents (workers, companies, governments, etc.). They ran the model through three scenarios, and the results for 2016, the year of the study's release, were staggering.
The United States proved the biggest economic loser, with losses between $281 and $411 billion. Japan, Germany, Canada, and the United Kingdom were also modeled, and researchers estimated that all five countries lose "up to $680 billion dollars of economic output every year."
That's the bad news. The worst news is that these economic losses increase slightly in magnitude over time, meaning we forfeit more every year we don't devise solutions for our societal sleep deprivation. In 2020, the U.S. is estimated to lose between $299 and $434 billion. By 2030, the amount will be between $330 and $468 billion.
Invested properly, these amounts could easily fund tuition-free public colleges and provide health care coverage for uninsured families, with change to spare (or, you know, it could develop one-third of an F-35 fighter jet).
Productive postmortem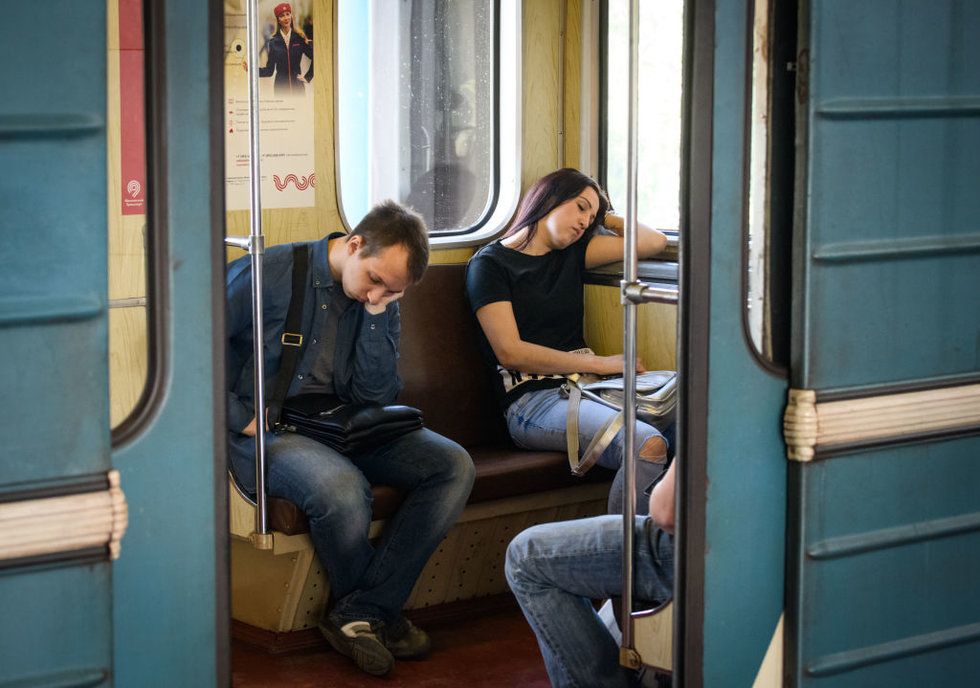 Commuters sleep in a metro car in Moscow on May 23, 2018. (Photo by Mladen ANTONOV / AFP)
We lose more year after year because of how insufficient sleep drains productivity from the labor supply — namely, through lower productivity levels, negatively affected skill development, and higher mortality risks.
The study found that less sleep increased absenteeism (due to illness) and presenteeism (that is, being physically at work but mentally checked out). Workers who slept less than six hours a day averaged a 2.4 percentage point loss of productivity compared to healthy sleepers. That may not seem like much, but it adds up to 6 working days lost per year per sleep-deprived worker.
Expand that number across the U.S., and the country loses the equivalent of 1.23 million working days a year. Days that, once lost, are gone.
Insufficient sleep also drains talent from the labor supply by hindering the skill development of school children, preventing them from properly acquiring the skills necessary to grow their productivity once a part of the workforce.
Finally, the study looked at the link between sleep deprivation and death. Poor sleepers have a 13 percent higher mortality risk from all causes of death, including, but not limited to, health-related issues and accidents caused by drowsiness. The CDC cites drowsy driving as responsible for 72,000 crashes, 44,000 injuries, and 800 deaths in 2013 alone.
Workers who die particularly impact economic losses, as their removal from the labor supply doesn't just affect the year they died. It also removes all their future productivity, as well as the productivity of potential future children.
Even if there is time to sleep when you're dead, there isn't time to do much else.
Make sleep a priority, not a luxury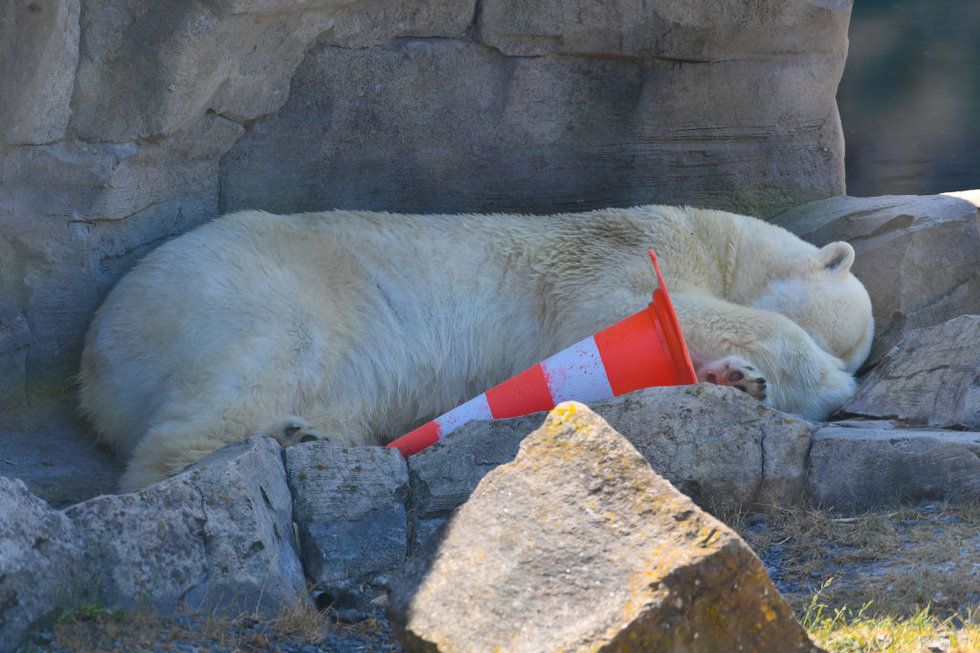 Good sleep hygiene improves your health and work-life balance, so it is to your benefit, not just the benefit of your employer or the country's economy, that you sleep and sleep well.
Here are some tips to help you get a good night's rest:
Rest up. The National Sleep Foundation recommends working-aged adults (26–64 years old) get between seven and nine hours of sleep a night. Less or more sleep may be appropriate depending on personal needs. Women, for example, need more sleep than men on average.
Figure out your circadian rhythm. Try to go to bed and wake up at times that feel natural to you (but still net you the hours you need). Once you find that rhythm, be consistent. Go to bed and wake up at the same time every day.
Don't acquire sleep debt. Your weekend catch-up sessions will credit you a bit, but it's usually not enough. Creating a consistent sleep schedule is the only way to stay in the black.
Don't consume nicotine, alcohol, caffeine, or sugary drinks before bed. Alcohol may help you fall asleep faster, but it reduces rapid-eye movement, curbing the quality of your sleep.
Silence is golden. Your brain needs silence to recover from the day. Schedule your phone to be silent during your sleep hours, and try to fix any household intermittent noises that you can (looking at you, leaky faucet).
Be in balance. Your room should be neither too warm nor too cold. Your body has to work to maintain a regular temperature in extreme conditions, making it difficult to rest.5
Darkness, my old friend. Night lighting may not be very bright, but it is significantly more so than the natural light of the moon and stars. Remove LEDs from your room and block out street lighting to help regulate your sleep-wake cycle.
No screen time before bed. The blue light of electronic screens prevents your pineal gland from releasing melatonin. Melatonin helps reduce alertness and mellow you out. Without it, your brain stays alert and awake.
Stop the snooze cycle. Using a snooze button wrecks your pre-waking REM and blunts your morning brain.8 If you're waking up tired, you need to adjust to get more sleep.
Stay healthy. Exercise will also help you sleep by burning off excess energy earlier in the day.
Of course, our jobs will often add stressors that put mental relaxation out of our control. Commutes, financial concerns, unrealistic deadlines, irregular hours, and our always-on work culture are all cited by the authors of the Rand Europe study as sleep deterring qualities of the modern work environment.
As such, it may be worth having a talk with your manager about how to properly address deficiencies that deprive employees of sleep. Remember, it's not just about your health, but your ability to perform productively for your employer. As the study's authors note, "Solving the problem of insufficient sleep represents a potential 'win-win' situation for individuals, employers, and the wider society."
What can 3D printing do for medicine? The "sky is the limit," says Northwell Health researcher Dr. Todd Goldstein.
Northwell Health
Sponsored by Northwell Health
Medical professionals are currently using 3D printers to create prosthetics and patient-specific organ models that doctors can use to prepare for surgery.
Eventually, scientists hope to print patient-specific organs that can be transplanted safely into the human body.
Northwell Health, New York State's largest health care provider, is pioneering 3D printing in medicine in three key ways.
The periodic table was a lot simpler at the beginning of the universe.
Great ideas in philosophy often come in dense packages. Then there is where the work of Marcus Aurelius.
(Getty Images)
Personal Growth
Meditations is a collection of the philosophical ideas of the Roman Emperor Marcus Aurelius.
Written as a series of notes to himself, the book is much more readable than the dry philosophy most people are used to.
The advice he gave to himself 2,000 years ago is increasingly applicable in our hectic, stressed-out lives.
Can dirt help us fight off stress? Groundbreaking new research shows how.
University of Colorado Boulder
Surprising Science
New research identifies a bacterium that helps block anxiety.
Scientists say this can lead to drugs for first responders and soldiers, preventing PTSD and other mental issues.
The finding builds on the hygiene hypothesis, first proposed in 1989.
Are modern societies trying too hard to be clean, at the detriment to public health? Scientists discovered that a microorganism living in dirt can actually be good for us, potentially helping the body to fight off stress. Harnessing its powers can lead to a "stress vaccine".
Researchers at the University of Colorado Boulder found that the fatty 10(Z)-hexadecenoic acid from the soil-residing bacterium Mycobacterium vaccae aids immune cells in blocking pathways that increase inflammation and the ability to combat stress.
The study's senior author and Integrative Physiology Professor Christopher Lowry described this fat as "one of the main ingredients" in the "special sauce" that causes the beneficial effects of the bacterium.
The finding goes hand in hand with the "hygiene hypothesis," initially proposed in 1989 by the British scientist David Strachan. He maintained that our generally sterile modern world prevents children from being exposed to certain microorganisms, resulting in compromised immune systems and greater incidences of asthma and allergies.
Contemporary research fine-tuned the hypothesis, finding that not interacting with so-called "old friends" or helpful microbes in the soil and the environment, rather than the ones that cause illnesses, is what's detrimental. In particular, our mental health could be at stake.
"The idea is that as humans have moved away from farms and an agricultural or hunter-gatherer existence into cities, we have lost contact with organisms that served to regulate our immune system and suppress inappropriate inflammation," explained Lowry. "That has put us at higher risk for inflammatory disease and stress-related psychiatric disorders."
University of Colorado Boulder
Christopher Lowry
This is not the first study on the subject from Lowry, who published previous work showing the connection between being exposed to healthy bacteria and mental health. He found that being raised with animals and dust in a rural environment helps children develop more stress-proof immune systems. Such kids were also likely to be less at risk for mental illnesses than people living in the city without pets.
Lowry's other work also pointed out that the soil-based bacterium Mycobacterium vaccae acts like an antidepressant when injected into rodents. It alters their behavior and has lasting anti-inflammatory effects on the brain, according to the press release from the University of Colorado Boulder. Prolonged inflammation can lead to such stress-related disorders as PTSD.
The new study from Lowry and his team identified why that worked by pinpointing the specific fatty acid responsible. They showed that when the 10(Z)-hexadecenoic acid gets into cells, it works like a lock, attaching itself to the peroxisome proliferator-activated receptor (PPAR). This allows it to block a number of key pathways responsible for inflammation. Pre-treating the cells with the acid (or lipid) made them withstand inflammation better.
Lowry thinks this understanding can lead to creating a "stress vaccine" that can be given to people in high-stress jobs, like first responders or soldiers. The vaccine can prevent the psychological effects of stress.
What's more, this friendly bacterium is not the only potentially helpful organism we can find in soil.
"This is just one strain of one species of one type of bacterium that is found in the soil but there are millions of other strains in soils," said Lowry. "We are just beginning to see the tip of the iceberg in terms of identifying the mechanisms through which they have evolved to keep us healthy. It should inspire awe in all of us."
Check out the study published in the journal Psychopharmacology.
Big think's weekly newsletter.
Get smarter faster from the comfort of your inbox.
See our newsletter privacy policy
here
Most Popular
Most Recent
Big think's weekly newsletter.
Get smarter faster from the comfort of your inbox.
See our newsletter privacy policy
here
© Copyright 2007-2019 & BIG THINK, BIG THINK EDGE,
SMARTER FASTER trademarks owned by The Big Think, Inc. All rights reserved.