ISTE 2010 - Can you ever really know that edublogger beside you?
16 February, 2011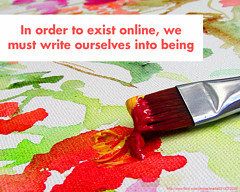 On the Internet, we write ourselves into existence.
---
That's a wonderful thing. It allows us to reach audiences that we otherwise wouldn't reach. It allows us to try on personas - and perhaps to reinvent ourselves - in ways that may be difficult in our everyday, face-to-face interactions.
But it also can be misleading.
Several recent incidents have caused me to revise some of my pre-existing beliefs about a few fairly prominent education bloggers. I now think and feel differently about them than I did just a few months ago, simply because I now have more information and thus a more complete picture of who they are.
I've been thinking about this as I get ready to head to the ISTE conference later this week. I won't necessarily be wary as I interact with my edublogger peers, but I may be just a little less willing to accept things as they appear on their face. Not much, just a tiny bit. Most of the time people are as they appear - face-to-face or online - and I'd rather be a naive, trusting optimist than a negative, surly skeptic. But we have to recognize that we all also have secrets, ones that may remain uncovered because of geographic and/or interactional distance.
That edublogger who's active in Twitter every evening and has a bunch of followers? He seems cool but maybe he beats his kids.
That edublogger with 20,000 subscribers and a heart of gold online? She seems great but maybe she's cheating on her spouse. Or a cutter.
That charming, effervescently cheery and witty edublogger that everyone loves to hang out with at the conference? He seems wonderful but maybe he's embezzling funds. Or a kleptomaniac. Or a drunk driver.
As you head to the ISTE conference later this week, or simply interact with folks online, I leave you with the thought:
Can you ever really know that edublogger beside you?

Update: I'm not as pessimistic as this may read. I'm just thinking out loud here...

Image credit: In order to exist online we must write ourselves into being
Upstreamism advocate Rishi Manchanda calls us to understand health not as a "personal responsibility" but a "common good."
Sponsored by Northwell Health
Upstreamism tasks health care professionals to combat unhealthy social and cultural influences that exist outside — or upstream — of medical facilities.
Patients from low-income neighborhoods are most at risk of negative health impacts.
Thankfully, health care professionals are not alone. Upstreamism is increasingly part of our cultural consciousness.
The Bajau people's nomadic lifestyle has given them remarkable adaptions, enabling them to stay underwater for unbelievable periods of time. Their lifestyle, however, is quickly disappearing.
Wikimedia Commons
Culture & Religion
The Bajau people travel in small flotillas throughout the Phillipines, Malaysia, and Indonesia, hunting fish underwater for food.
Over the years, practicing this lifestyle has given the Bajau unique adaptations to swimming underwater. Many find it straightforward to dive up to 13 minutes 200 feet below the surface of the ocean.
Unfortunately, many disparate factors are erasing the traditional Bajau way of life.
We explore the history of blood types and how they are classified to find out what makes the Rh-null type important to science and dangerous for those who live with it.
Abid Katib/Getty Images
Surprising Science
Fewer than 50 people worldwide have 'golden blood' — or Rh-null.
Blood is considered Rh-null if it lacks all of the 61 possible antigens in the Rh system.
It's also very dangerous to live with this blood type, as so few people have it.
An innovation may lead to lifelike evolving machines.
Shogo Hamada/Cornell University
Surprising Science
Scientists at Cornell University devise a material with 3 key traits of life.
The goal for the researchers is not to create life but lifelike machines.
The researchers were able to program metabolism into the material's DNA.
Big think's weekly newsletter.
Get smarter faster from the comfort of your inbox.
See our newsletter privacy policy
here
Most Popular
Most Recent
Big think's weekly newsletter.
Get smarter faster from the comfort of your inbox.
See our newsletter privacy policy
here
© Copyright 2007-2019 & BIG THINK, BIG THINK EDGE,
SMARTER FASTER trademarks owned by The Big Think, Inc. All rights reserved.