Big ideas.
Once a week.
Subscribe to our weekly newsletter.
Situations Matter: Understanding How Context Transforms Your World
Individuals' personalities – yours and mine included – are not as stable as we think they are.
07 January, 2013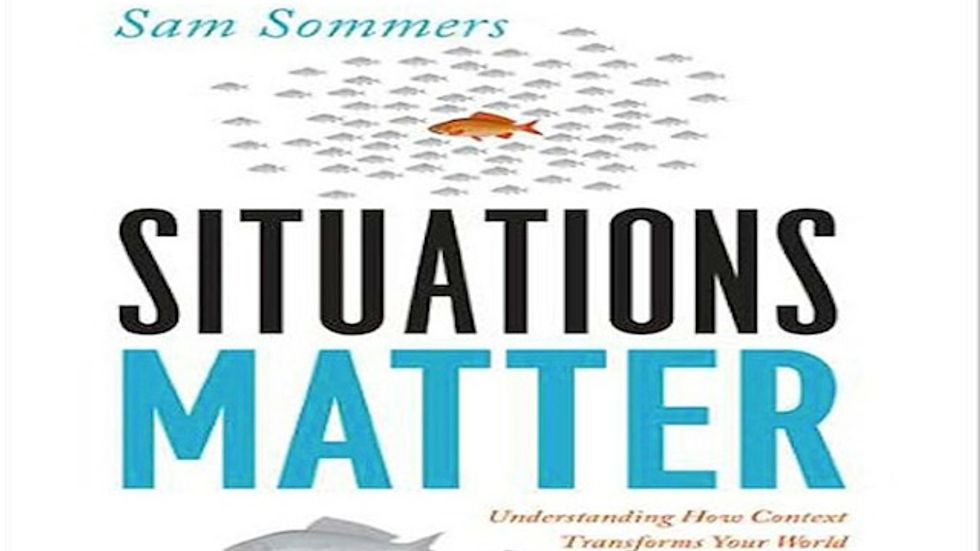 Situations Matters: Understanding How Context Transforms Your World is a book by Tufts University Professor of Psychology Sam Sommers. I had the pleasure of conducting a interview with Sommers to celebrate and promote the recently released paperback edition. Below is the transcript. I recommend checking out his book. It is an excellent read.
---
McNerney: Situations Matter: Understanding How Context Transforms Your World is a reaction to the idea that personalities are immutable, that the individual changes the situation but not the other way around. Or, as you put it in the prologue, "individuals' personalities – yours and mine included – are not as stable as we think they are. We're more influenced by those around us than we'd like to believe. Even our private sense of identity is highly context-dependent." Where does the idea that the self is an unchanging entity come from? Does it go all the way back to Platonic philosophy or Cartesian dualism? Is it the individualism that defines the Western world? Maybe genetics or evolutionary psychology? Or is it that situations affect us at the unconscious level, making it nearly impossible to realize how, exactly, context shapes us?
Sommers: Yes, the real moral of the book is that personality is overrated. Why do we put so much stock in the idea of immutable character? Well, I think you hit on a lot of the explanations in your question. The world is a frighteningly unpredictable place–it's reassuring to at least be able to hang our hats on the idea that the people around us are reliably predictable entities. As in, this guy does X because he's simply an X kind of person. This tendency is, as you suggest, often operating outside of conscious awareness. And it's also particularly pronounced in the quote-unquote Western world, in which individuality is a core value. There are these fascinating studies where you show Western participants (say, Americans) an image and ask them what they see, and their responses indicate that they're focusing on the action up front at the expense of the backdrop or surrounding context. Respondents from Eastern cultures (say, Japanese), however, attend more to the context in these scenes, presumably because they also do the same in navigating their daily social world: more collectivist cultures tend to place less emphasis on what makes an individual stand out from others, and more on social roles, social connectivity, and so forth. Your question about the role of genetics in all of this is especially interesting. As technology continues to develop, I think the allure of genetic explanations for social behavior also grows–there's this notion that somehow we're finally going to be able to crack the code of why people do what they do. Take the tragic school shooting a few weeks ago in Newtown, Connecticut. A few days ago, news comes out that there are plans to examine the DNA of the shooter to look for clues as to why he did what he did. Of course, most of the explanations that people have bandied about for his actions are not ones for which any sort of clear genetic marker could be found. But it's an appealing (or at least reassuring, perhaps) idea in many respects, that if we can somehow find something wrong with how this person was programmed, so to speak, we can then write off the behavior as a complete aberration that no one could have possibly done anything to prevent, etc. So I have a feeling that our tendency to think of each other in these terms of stable personality is only likely to increase in the future.
McNerney: In the first chapter you discuss the idea of WYSIWYG: what you see is what you get. You sum it up like this: "We assume that the behavior we observe of another person at a particular point in time provides an accurate glimpse of the 'true product' within." For example, the unhelpful ticket agent at the airport is rude, the colleague who won't return e-mails is lazy, and the waiter who screws up our order is incompetent. It's true that these are unfair judgments. But the brain's ability to make snap judgments and simplify the world is remarkable. WYSIWYG is, it seems, a double-edged sword: it sacrifices accurate judgments for a coherent picture of reality. With this in mind, Is WYSIWYG ultimately harmful or helpful?
Sommers: Agreed. We walk a fine line between making quick decisions/impressions that allow us to cut through the noise of a complex social world and the risk of sacrificing too much accuracy in the name of this efficiency. So it's a cop-out answer (much like the one offered by every psychology professor who ever spent an entire semester regaling her students with the age-old nature vs. nurture debate only to come to the final day's conclusion of: ah, turns out it's a little bit of both). But, indeed, it's a little bit of both. WYSIWYG helps us, but also prevents us from reaching our full potential as astute observers and prognosticators of human nature.  I've had a lot of people ask me, upon reading my book, can't you go too far in the other direction, spending too much time or effort pondering context until you get to paralysis by analysis? Yes, absolutely. What I'd suggest, though, is that you need both: the ability to make quick decisions, but also the ability to step back and take a more reasoned, less emotional look at what's really going on in an interaction. Think about the individuals out there who are really good at "reading people." The successful salesperson, the engaging public speaker, the effective therapist… they're able to get a good, quick read on how things are going, how their message is being received, and so on. But they also recognize the multifaceted nature of the environments in which they operate and they're able to refrain from jumping to premature conclusions regarding the "type of person" they're interacting with. Again, I realize I'm giving the cop-out answer here.  But I think it's also the right answer: a little bit of both.
McNerney: Portions of your book offer pragmatic advice for navigating the social world. In the epilogue you tell the story of trying to find a parking space in a crowded mall parking lot. You watch a man get into his car but he doesn't start it. Is he being a jerk? Should I honk? You consider more realistic possibilities: he is on an important call; he is waiting for someone to join him. 45 minutes later you discover the man talking to a tow truck driver: his car, it turned out, was not starting (you also find out that he's the father of one of your daughter's classmates!). The story reminds us that WYSIWYG causes us to assume the worst – to not give others the benefit of the doubt. Does learning about WYSIWYG curb this negative tendency? And are there specific strategies we can adopt?
Sommers: Learning about this tendency is definitely powerful. I liken it to finding out the secret to a magic trick (or the surprise ending to one of those old M. Night Shyamalan movies). Once it's been pointed out to you, you can go back and look at the same scenarios again, but it's hard to view them the same way you used to. The magic trick is still cool, but now you're focusing on what the magician is doing with his other hand rather than falling for the misdirection (or the movie is still engaging, but you find yourself saying, wait, Haley Joel Osment is riding a city bus around Philadelphia on his own, apparently talking to himself the whole time, and this isn't a problem for anyone else in the vicinity?). One of the chapters in the book focuses on crowd behavior, and specifically the multiple forces that typically make us more apathetic when in a group setting. This isn't the way we usually think about apathetic behavior–we read about, for example, the tourist who keels over on the subway and rides iaround for hours, dead, without anyone noticing or doing anything to intervene, and our immediate reaction is to indict the fellow passengers (or perhaps city dwellers everywhere) as chronically indifferent people. When you learn about the ways in which context often makes all of us, you and me included, less likely to get involved in the affairs of others, it changes how you react in this type of situation in the future. You drive by the stranded motorist and, rather than assuming someone else will stop to help, you at least ponder whether there's something you should do to lend a hand. And so it goes for a variety of topics covered in the book. If we force ourselves to pay attention to context or to truly and genuinely consider an interaction from someone else's point of view, it makes us more effective people–better able to persuade others, to predict how others will react, and so on.
McNerney: I find it fascinating that we don't view ourselves through the lens of WYSIWYG. In my own eyes I am dynamic; I know that I act differently depending on the context. I am more rambunctious when I am with my friends on a Saturday night. I am more patient and thoughtful when I am with my girlfriend's parents. And when I make a mistake – when I am rude or lazy – I'm generous when I evaluate my behavior - I always give myself the benefit of the doubt. Why the double standard? Are we, as human beings, programmed to be self-reassuring?
Sommers: I mentioned above that the world can be frighteningly unpredictable. It can also be pretty threatening. Around almost every corner lurks at least the risk of embarrassment, frustration, or failure. Accordingly, most of us get pretty good at developing strategies to buffer the ego against such threats, much of the time through unconscious processes. So there is a school of thought in psychology that "normal" daily functioning requires a bit of self-deception–the positive illusions here and there that help us get through the tough patches in life: we see ourselves as being better than we really are on a variety of dimensions, we write off our setbacks as the results of fluke or other external causes, etc. Of course, once again, there's a fine line here.  Too much self-distortion is a problem; if we always shrug off negative feedback, we never seize the opportunity for actual self-improvement. But this ego defense can provide us with the short-term buffer we need to get through the initial blow of negative realization or feedback, giving us time to marshal the resources necessary for a genuine effort at making changes.  I often think of the example of how I feel when I get editorial comments or reviews back on something I've written. The knee-jerk response is defensiveness: oh, they didn't get what I meant here; obviously, this is just lost on them. So I put the reviews away for a bit, and when I go back to them a week later, only then am I actually able to see, begrudgingly, that they're raising good points, that I could've been clearer in this section, that this other section doesn't really work at all...  The ego-protective stuff often helps grant us the cooling-off period we often need before real change or self-improvement is even a possibility.
McNerney: I'm originally from Minnesota, a state where people are polite and rarely use their horns to resolve traffic predicaments. Now I live in New York City where my "Minnesota-Nice" is nearly non-existent; it is, sadly, counterproductive when it comes to getting from point A to point B. I'm tempted to conclude, especially after reading Situations Matter, that what defines us is location, location, location. But that's not exactly what you conclude. I am sure it is impossible to put a number on it, but what has more power over thoughts, action and the self, location or our biology?
Sommers: Hah. I was born in New York City, but moved to the Midwest as a toddler. Now back on the East Coast, my wife is consistently amused by my version of Midwestern-Nice. In fact, when we lived in Michigan for 6 years when I was in graduate school, she (a native Bostonian) found the whole scene unnerving. As in, why are these people at the grocery store making eye contact with me, smiling, and saying hello? So there is, indeed, a pretty strong location, location, location effect. And there's no age-delimited critical period for it either: now I live in Boston and I have definitely gotten more aggressive as a driver. Frankly, people here suck at driving. But I chalk a lot of that up to (surprise, surprise), context. One-way streets, unlabeled streets, streets that somehow don't show up on Google Maps, total lack of anything resembling a street grid… that'll turn you into an impatient and hyperaggressive driver very quickly. You're right, it's hard to quantify. And I'm certainly not arguing in the book that we lack biological drives or genetic predispositions. But what I keep coming back to is our default of putting too much stock in those internal/physiological/genetic explanations. Actually, region of origin might not be the best example, because in many respects that is a context we recognize: there are pretty common stereotypes about New Yorkers, Californians, Midwesterners, Southerners, etc. But on the whole, we just keep overlooking contextual influences when we ruminate on human nature. My goal for the book is to even out those scales a bit. To give people a nudge toward the underrated, situational side of the explanatory ledger, which makes us more balanced perceivers of the social world around us.
McNerney: My favorite chapter is the one of love. From The Theban Plays to The Notebook and Love Actually, literature is obsessed with romantic opposites (think pairs of star-crossed lovers). Empirical research on love paints a different picture. We are attracted to people who share our interests and proximity matters. You quote an Onion headline that captures this perfectly. "18-Year-Old Miraculously Finds Soulmate in Hometown." If the relevant research demonstrates that opposites rarely attract and that we like familiarity (both geographical and physical), why, then, do so many books and plays take the opposite perspective? And are classic and contemporary stories of love the reason we forget that context plays a major role when it comes to two people falling in love?
Sommers: There's a bit of the chicken and egg there, right?  As in, sure, folk stories and media help shape how we think about love. But then again, they also reflect how we already think about these issues. So we think about love in these terms of soulmates and mystical connections, in part because it's the same WYSIWYG tendency all over again. But also because it's a more engaging and interesting story that way, isn't it? To think that some of the most important determinants of the most intimate relationships in your life were things like which dorm the college housing office assigned you to, which cubicle you were given at work, which gym you decided to join… it's not that romantic and it's certainly too prosaic to get your script for a new Kate Hudson vehicle greenlit. Like I mention in the book, people don't always enjoy thinking about love and intimate relationships in these empirically-based terms. Back to my wife once more, like I write in the book, she hates that chapter. She likes the soulmate notion of falling in love. So I'm treading on thin ice here a bit. But I actually think the more context-dependent view of attraction and how we fall in love is liberating, not depressing. The notion that we're flexible enough to form important, meaningful, and rewarding close relationships in almost any environment is a good thing. If happiness in relationships was really all about finding that needle of a soulmate in the haystack of the real world… man, that's really the depressing or daunting proposition, isn't it? It always seems to work out OK for Kate Hudson after 85 minutes, but the simple probability of it all suggests that the rest of us wouldn't be as lucky.
McNerney: Are you working on another book? What are you currently researching? And has post-Situations Matter work changed your mind about any of the ideas in the book?
Sommers: For now, this book (and, of course, the day job) still keeps me busy. One of the best outcomes of writing it, for me, has been getting invited to talk with a wide range of audiences I wouldn't have otherwise. Some academic crowds. Some corporate audiences, where I've talked about how context helps explain unethical behavior or about the science of diversity in organizations. I got to speak to a behavioral analysis group at the FBI (super cool), do a TEDx talk, and so on. That's all been really fun. And who knows–it may all lead to an idea for the next book as well. In terms of my research lab, we've been focusing on the contextual factors that shape social/cognitive outcomes in intergroup interactions. Diversity is a big buzzword these days, and the question of how best to achieve and promote it can be a controversial one.  What we're studying, though, are the observable effects of diversity on group and individual performance. So when does a diverse composition predict positive outcomes? When does it cause complications for group morale/cohesion? Some of these studies are lab-based–for example, in which we vary the racial composition of pairs working on problem-solving tasks. In another study, we followed college freshmen over the course of their first year to see whether students assigned to live with a same-race roommate exhibited different tendencies than students assigned to live with an other-race roommate. The findings were really interesting: not only did living with an other-race roommate affect attitudes/ideologies a semester later, but it also rendered students less anxious and uncomfortable in subsequent interactions with an outgroup member they'd never met before. In other words, living with someone of another race/ethnicity made students more likely to have positive intergroup interactions with strangers as well. In short, different studies exploring how diverse settings influence social perception, cognition, and behavior.
Thanks Sam!
Inventions with revolutionary potential made by a mysterious aerospace engineer for the U.S. Navy come to light.
Credit: Getty Images
Surprising Science
U.S. Navy holds patents for enigmatic inventions by aerospace engineer Dr. Salvatore Pais.
Pais came up with technology that can "engineer" reality, devising an ultrafast craft, a fusion reactor, and more.
While mostly theoretical at this point, the inventions could transform energy, space, and military sectors.
The U.S. Navy controls patents for some futuristic and outlandish technologies, some of which, dubbed "the UFO patents," came to life recently. Of particular note are inventions by the somewhat mysterious Dr. Salvatore Cezar Pais, whose tech claims to be able to "engineer reality." His slate of highly-ambitious, borderline sci-fi designs meant for use by the U.S. government range from gravitational wave generators and compact fusion reactors to next-gen hybrid aerospace-underwater crafts with revolutionary propulsion systems, and beyond.
Of course, the existence of patents does not mean these technologies have actually been created, but there is evidence that some demonstrations of operability have been successfully carried out. As investigated and reported by The War Zone, a possible reason why some of the patents may have been taken on by the Navy is that the Chinese military may also be developing similar advanced gadgets.
Among Dr. Pais's patents are designs, approved in 2018, for an aerospace-underwater craft of incredible speed and maneuverability. This cone-shaped vehicle can potentially fly just as well anywhere it may be, whether air, water or space, without leaving any heat signatures. It can achieve this by creating a quantum vacuum around itself with a very dense polarized energy field. This vacuum would allow it to repel any molecule the craft comes in contact with, no matter the medium. Manipulating "quantum field fluctuations in the local vacuum energy state," would help reduce the craft's inertia. The polarized vacuum would dramatically decrease any elemental resistance and lead to "extreme speeds," claims the paper.
Not only that, if the vacuum-creating technology can be engineered, we'd also be able to "engineer the fabric of our reality at the most fundamental level," states the patent. This would lead to major advancements in aerospace propulsion and generating power. Not to mention other reality-changing outcomes that come to mind.
Among Pais's other patents are inventions that stem from similar thinking, outlining pieces of technology necessary to make his creations come to fruition. His paper presented in 2019, titled "Room Temperature Superconducting System for Use on a Hybrid Aerospace Undersea Craft," proposes a system that can achieve superconductivity at room temperatures. This would become "a highly disruptive technology, capable of a total paradigm change in Science and Technology," conveys Pais.
High frequency gravitational wave generator.
Credit: Dr. Salvatore Pais
Another invention devised by Pais is an electromagnetic field generator that could generate "an impenetrable defensive shield to sea and land as well as space-based military and civilian assets." This shield could protect from threats like anti-ship ballistic missiles, cruise missiles that evade radar, coronal mass ejections, military satellites, and even asteroids.
Dr. Pais's ideas center around the phenomenon he dubbed "The Pais Effect". He referred to it in his writings as the "controlled motion of electrically charged matter (from solid to plasma) via accelerated spin and/or accelerated vibration under rapid (yet smooth) acceleration-deceleration-acceleration transients." In less jargon-heavy terms, Pais claims to have figured out how to spin electromagnetic fields in order to contain a fusion reaction – an accomplishment that would lead to a tremendous change in power consumption and an abundance of energy.
According to his bio in a recently published paper on a new Plasma Compression Fusion Device, which could transform energy production, Dr. Pais is a mechanical and aerospace engineer working at the Naval Air Warfare Center Aircraft Division (NAWCAD), which is headquartered in Patuxent River, Maryland. Holding a Ph.D. from Case Western Reserve University in Cleveland, Ohio, Pais was a NASA Research Fellow and worked with Northrop Grumman Aerospace Systems. His current Department of Defense work involves his "advanced knowledge of theory, analysis, and modern experimental and computational methods in aerodynamics, along with an understanding of air-vehicle and missile design, especially in the domain of hypersonic power plant and vehicle design." He also has expert knowledge of electrooptics, emerging quantum technologies (laser power generation in particular), high-energy electromagnetic field generation, and the "breakthrough field of room temperature superconductivity, as related to advanced field propulsion."
Suffice it to say, with such a list of research credentials that would make Nikola Tesla proud, Dr. Pais seems well-positioned to carry out groundbreaking work.
A craft using an inertial mass reduction device.
Credit: Salvatore Pais
The patents won't necessarily lead to these technologies ever seeing the light of day. The research has its share of detractors and nonbelievers among other scientists, who think the amount of energy required for the fields described by Pais and his ideas on electromagnetic propulsions are well beyond the scope of current tech and are nearly impossible. Yet investigators at The War Zone found comments from Navy officials that indicate the inventions are being looked at seriously enough, and some tests are taking place.
If you'd like to read through Pais's patents yourself, check them out here.
Laser Augmented Turbojet Propulsion System
Credit: Dr. Salvatore Pais
How imagining the worst case scenario can help calm anxiety.
Credit
: OLIVIER DOULIERY via Getty Images
Personal Growth
Stoicism is the philosophy that nothing about the world is good or bad in itself, and that we have control over both our judgments and our reactions to things.
It is hardest to control our reactions to the things that come unexpectedly.
By meditating every day on the "worst case scenario," we can take the sting out of the worst that life can throw our way.
Are you a worrier? Do you imagine nightmare scenarios and then get worked up and anxious about them? Does your mind get caught in a horrible spiral of catastrophizing over even the smallest of things? Worrying, particularly imagining the worst case scenario, seems to be a natural part of being human and comes easily to a lot of us. It's awful, perhaps even dangerous, when we do it.
But, there might just be an ancient wisdom that can help. It involves reframing this attitude for the better, and it comes from Stoicism. It's called "premeditation," and it could be the most useful trick we can learn.
Practical Stoicism
Broadly speaking, Stoicism is the philosophy of choosing your judgments. Stoics believe that there is nothing about the universe that can be called good or bad, valuable or valueless, in itself. It's we who add these values to things. As Shakespeare's Hamlet says, "There is nothing either good or bad, but thinking makes it so." Our minds color the things we encounter as being "good" or "bad," and given that we control our minds, we therefore have control over all of our negative feelings.
Put another way, Stoicism maintains that there's a gap between our experience of an event and our judgment of it. For instance, if someone calls you a smelly goat, you have an opportunity, however small and hard it might be, to pause and ask yourself, "How will I judge this?" What's more, you can even ask, "How will I respond?" We have power over which thoughts we entertain and the final say on our actions. Today, Stoicism has influenced and finds modern expression in the hugely effective "cognitive behavioral therapy."
Helping you practice StoicismCredit: Robyn Beck via Getty Images
One of the principal fathers of ancient Stoicism was the Roman statesmen, Seneca, who argued that the unexpected and unforeseen blows of life are the hardest to take control over. The shock of a misfortune can strip away the power we have to choose our reaction. For instance, being burglarized feels so horrible because we had felt so safe at home. A stomach ache, out of the blue, is harder than a stitch thirty minutes into a run. A sudden bang makes us jump, but a firework makes us smile. Fell swoops hurt more than known hardships.
What could possibly go wrong?
So, how can we resolve this? Seneca suggests a Stoic technique called "premeditatio malorum" or "premeditation." At the start of every day, we ought to take time to indulge our anxious and catastrophizing mind. We should "rehearse in the mind: exile, torture, war, shipwreck." We should meditate on the worst things that could happen: your partner will leave you, your boss will fire you, your house will burn down. Maybe, even, you'll die.
This might sound depressing, but the important thing is that we do not stop there.
Stoicism has influenced and finds modern expression in the hugely effective "cognitive behavioral therapy."
The Stoic also rehearses how they will react to these things as they come up. For instance, another Stoic (and Roman Emperor) Marcus Aurelius asks us to imagine all the mean, rude, selfish, and boorish people we'll come across today. Then, in our heads, we script how we'll respond when we meet them. We can shrug off their meanness, smile at their rudeness, and refuse to be "implicated in what is degrading." Thus prepared, we take control again of our reactions and behavior.
The Stoics cast themselves into the darkest and most desperate of conditions but then realize that they can and will endure. With premeditation, the Stoic is prepared and has the mental vigor necessary to take the blow on the chin and say, "Yep, l can deal with this."
Catastrophizing as a method of mental inoculation
Seneca wrote: "In times of peace, the soldier carries out maneuvers." This is also true of premeditation, which acts as the war room or training ground. The agonizing cut of the unexpected is blunted by preparedness. We can prepare the mind for whatever trials may come, in just the same way we can prepare the body for some endurance activity. The world can throw nothing as bad as that which our minds have already imagined.
Stoicism teaches us to embrace our worrying mind but to embrace it as a kind of inoculation. With a frown over breakfast, try to spend five minutes of your day deliberately catastrophizing. Get your anti-anxiety battle plan ready and then face the world.
A study on charity finds that reminding people how nice it feels to give yields better results than appealing to altruism.
Personal Growth
A study finds asking for donations by appealing to the donor's self-interest may result in more money than appealing to their better nature.
Those who received an appeal to self-interest were both more likely to give and gave more than those in the control group.
The effect was most pronounced for those who hadn't given before.
Even the best charities with the longest records of doing great fundraising work have to spend some time making sure that the next donation checks will keep coming in. One way to do this is by showing potential donors all the good things the charity did over the previous year. But there may be a better way.
A new study by researchers in the United States and Australia suggests that appealing to the benefits people will receive themselves after a donation nudges them to donate more money than appealing to the greater good.
How to get people to give away free money
The postcards that were sent to different study subjects. The one on the left highlighted benefits to the self, while the one on the right highlighted benefits to others.List et al. / Nature Human Behaviour
The study, published in Nature Human Behaviour, utilized the Pick.Click.Give program in Alaska. This program allows Alaska residents who qualify for dividends from the Alaska Permanent Fund, a yearly payment ranging from $800 to $2000 in recent years, to donate a portion of it to various in-state non-profit organizations.
The researchers randomly assigned households to either a control group or to receive a postcard in the mail encouraging them to donate a portion of their dividend to charity. That postcard could come in one of two forms, either highlighting the benefits to others or the benefits to themselves.
Those who got the postcard touting self-benefits were 6.6 percent more likely to give than those in the control group and gave 23 percent more on average. Those getting the benefits-to-others postcard were slightly more likely to give than those receiving no postcard, but their donations were no larger.
Additionally, the researchers were able to break the subject list down into a "warm list" of those who had given at least once before in the last two years and a "cold list" of those who had not. Those on the warm list, who were already giving, saw only minor increases in their likelihood to donate after getting a postcard in the mail compared to those on the cold list.
Additionally, the researchers found that warm-list subjects who received the self-interest postcard gave 11 percent more than warm-list subjects in the control group. Amazingly, among cold-list subjects, those who received a self-interest postcard gave 39 percent more.
These are substantial improvements. At the end of the study, the authors point out, "If we had sent the benefits to self message to all households in the state, aggregate contributions would have increased by nearly US$600,000."
To put this into perspective, in 2017 the total donations to the program were roughly $2,700,000.
Is altruism dead?
Are all actions inherently self-interested? Thankfully, no. The study focuses entirely on effective ways to increase charitable donations above levels that currently exist. It doesn't deny that some people are giving out of pure altruism, but rather that an appeal based on self-interest is effective. Plenty of people were giving before this study took place who didn't need a postcard as encouragement. It is also possible that some people donated part of their dividend check to a charity that does not work with Pick.Click.Give and were uncounted here.
It is also important to note that Pick.Click.Give does not provide services but instead gives money to a wide variety of organizations that do. Those organizations operate in fields from animal rescue to job training to public broadcasting. The authors note that it is possible that a more specific appeal to the benefits others will receive from a donation might prove more effective than the generic and all-inclusive "Make Alaska Better For Everyone" appeal that they used.
In an ideal world, charity is its own reward. In ours, it might help to remind somebody how warm and fuzzy they'll feel after donating to your cause.
Surprising Science
The 'Monkeydactyl' was a flying reptile that evolved highly specialized adaptations in the Mesozoic Era.
Scroll down to load more…