Traditional Media's Approval Ratings Hit a Pathetic New Low
A new Gallup poll shows that Americans' confidence in print and television news is at an all-time low. Losing the hearts and minds of the American people also means losing influence over the collective societal zeitgeist.
21 June, 2014
What's the Latest
---
Here's a shocker: Americans have very, very little confidence in the fourth estate.
Gregg Levine of Al-Jazeera America reports that trust in television and news media has reached an all-time low, bringing it on par with trust in news on the internet. The internet. Yikes.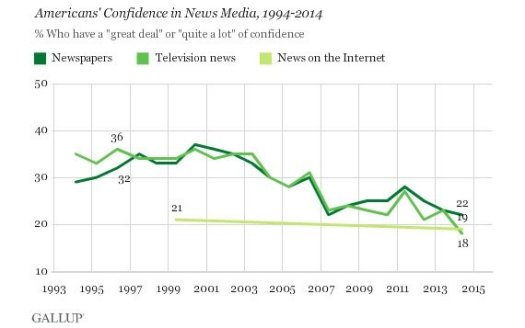 As you can see, the report is based on a recent Gallup poll that tracks confidence in news media. While strong trust in web-based news has remained consistent (even if consistently low) for about fifteen years, optimism for traditional news media has been on a noticeable downward trend.
Also notable is the ideological gap when it comes to faith in newspapers: 15% of conservatives vs. 34% of liberals. Compare that to television news, which boasts no ideological confidence gap. Everyone seems to hate it equally.
What's the Big Idea?
It's important to note that the decline in confidence coincides with the rise of the internet as a news source. Even if trust in the internet remains stagnant, the tactics employed by TV and print journalism to try and stay relevant often seem to backfire. Also notable: the widening gap between conservative and liberal viewpoints, not to mention the growing contentiousness with which they consider each other. The partisan gap between trust/distrust in newspapers seems to reflect that.
Of course, there are many reasons why the public seems unable to take television news seriously.
And although many American newspapers still do fantastic investigative journalism, they also publish stuff like this and this and this. Covering topics you'd expect on Buzzfeed hurts the organization's journalistic reputation. Whether or not doing so helps keep them afloat is a whole other topic. What's certain is that newspapers' transitions into full-fledged multimedia machines comes at a cost of credibility.
Finally, Levine makes a salient point about what the public's distrust means for traditional media's share in zeitgeist control:
While the numbers across all three venues are dreary, the trend lines are important. With the decline in faith comes a decline in traditional media's ability to influence public opinion and political debate. If the trends continue (and it is hard to find a reason why they won't), the Web would soon be the most influential media component in the national conversation.
Read more at Al Jazeera America
Photo credit: PhotoStock10 / Shutterstock.com
Pfizer's partnerships strengthen their ability to deliver vaccines in developing countries.
Susan Silbermann, Global President of Pfizer Vaccines, looks on as a health care worker administers a vaccine in Rwanda. Photo: Courtesy of Pfizer.
Sponsored
Community healthcare workers face many challenges in their work, including often traveling far distances to see their clients
Pfizer is helping to drive the UN's sustainable development goals through partnerships.
Pfizer partnered with AMP and the World Health Organization to develop a training program for healthcare workers.
A study on flies may hold the key to future addiction treatments.
Scott Barbour/Getty Images
Mind & Brain
A new study suggests that drinking alcohol can affect how memories are stored away as good or bad.
This may have drastic implications for how addiction is caused and how people recall intoxication.
The findings may one day lead to a new form of treatment for those suffering from addiction.
A glass of juice has as much sugar, ounce for ounce, as a full-calorie soda. And those vitamins do almost nothing.
popular
Quick: think back to childhood (if you've reached the scary clown you've gone too far). What did your parents or guardians give you to keep you quiet? If you're anything like most parents, it was juice. But here's the thing: juice is bad for you. 
As the world gets hotter, men may have fewer and fewer viable sperm
Shutterstock
Surprising Science
New research on beetles shows that successive exposure to heatwaves reduces male fertility, sometimes to the point of sterility.
The research has implications both for how the insect population will sustain itself as well as how human fertility may work on an increasingly hotter Earth.
With this and other evidence, it is becoming clear that more common and more extreme heatwaves may be the most dangerous aspect of climate change.
Big think's weekly newsletter.
Get smarter faster from the comfort of your inbox.
See our newsletter privacy policy
here
Most Popular
Most Recent
Big think's weekly newsletter.
Get smarter faster from the comfort of your inbox.
See our newsletter privacy policy
here
© Copyright 2007-2018 & BIG THINK, BIG THINK EDGE,
SMARTER FASTER trademarks owned by The Big Think, Inc. All rights reserved.