Stephen Colbert Is the Hero Late Night Fans Deserve
Late night has become uninteresting and often unfunny, but all of that may change with the help of Stephen Colbert.
21 August, 2015
---
I love comedy. I do standup and sketch, and spend an egregious amount of time watching/reading/listening to funny stuff. So it's troublesome that no late-night show has grabbed my attention in a while. It's time for change. Or at least, a little truthiness in comedy.
There is nothing inherently wrong with celebrities lip syncing, playing silly games, or the interviews in which guests regurgitate pat answers. But Stephen Colbert, who will be making his late night debut on September 8, is the antithesis of that kind of predictable, just-add-water brand of comedy.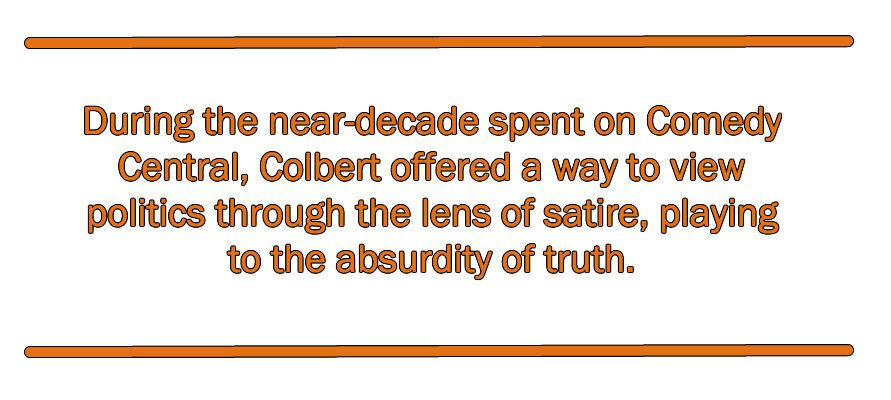 Colbert is easily one of the most thoughtful and intelligent comedians working today. He has an effervescent personality and a passion for the comedic process could lead a revolution in late night. We, of course, know him best as the fake conservative character he played for nine years on The Colbert Report, where he elevated the art of satire to brilliant heights. Now, as he prepares to take over David Letterman's role as host of The Late Show, we have the opportunity to get to know him in a new way. It's like re-meeting an old friend, as comedy fans anticipate (with varying degrees of patience) the new Late Show.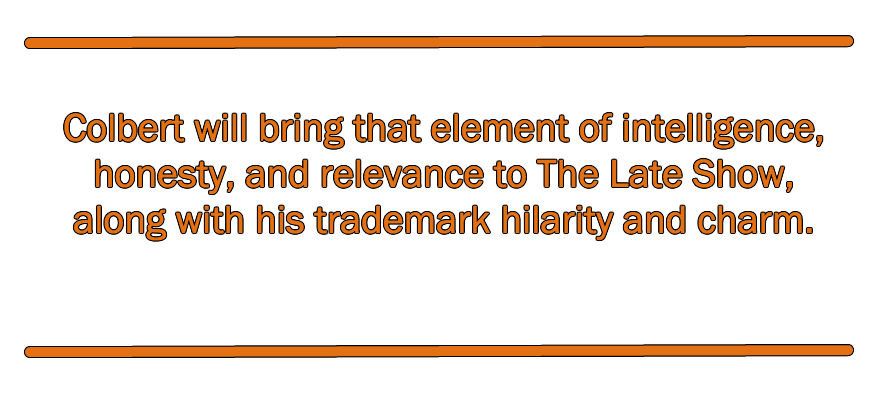 In a recent interview with GQ, Colbert showed us why he is unique not only as a comedian, but also as a public figure. He didn't want to give the prefabricated, breadcrumb responses that celebrities often hand journalists. He spoke about acceptance of suffering and being grateful and even joyous in the face of tragedy. He spoke about his mother and the strength she showed in the wake of terrible loss, an example he internalized (and one I can also identify with, personally.) His humanity, his vulnerability, is not only endearing, but also brave. I, as a comedian and as an audience, believe that courage is the pentacle, the cornerstone, of great comedy. Taking the risk to show your cards and be vulnerable, whether you are at an open mic or hosting The Late Show, often leads to my favorite type of humor. Humor that reveals something, humor that tells a truth. Colbert's improv teacher Del Close literally wrote the book on that (it's called Truth in Comedy).
If you were alive in the 1970s or are just obsessed with them like I am, then you know who Dick Cavett is. You've seen his thoughtful and hilarious interviews with everyone from that era, from Janis Joplin to John Lennon and Yoko Ono to Katharine Hepburn. It is my hope that Colbert will bring that element of intelligence, honesty, and relevance to The Late Show, along with his trademark hilarity and charm. 
During the near-decade spent on Comedy Central, Colbert offered a way to view politics through the lens of satire, playing to the absurdity of truth. In fact, the pilot episode invented a new word, "truthiness," which pointed to actual truth — that we don't value fact, but whether or not something "feels" true — while mocking his character's disregard for fact. That set a tone, and the show immediately had its voice. The world of network late-night shows has been missing that kind of comedy. Come September 8 on CBS, however, the revolution will be televised.
PHOTO CREDIT: Frederick M. Brown / Stringer
As religious diversity increases in the United States, we must learn to channel religious identity into interfaith cooperation.
Sponsored by Charles Koch Foundation
Religious diversity is the norm in American life, and that diversity is only increasing, says Eboo Patel.
Using the most painful moment of his life as a lesson, Eboo Patel explains why it's crucial to be positive and proactive about engaging religious identity towards interfaith cooperation.
The opinions expressed in this video do not necessarily reflect the views of the Charles Koch Foundation, which encourages the expression of diverse viewpoints within a culture of civil discourse and mutual respect.
The future of food sounds bleak, but it doesn't need to be this way.
Surprising Science
There are serious challenges to global food supply everywhere we look. Intensive use of fertilisers in the US Midwest is causing nutrients to run off into rivers and streams, degrading the water quality and causing a Connecticut-size dead zone in the Gulf of Mexico.
If you don't want to know anything about your death, consider this your spoiler warning.
Culture & Religion
For centuries cultures have personified death to give this terrifying mystery a familiar face.
Modern science has demystified death by divulging its biological processes, yet many questions remain.
Studying death is not meant to be a morbid reminder of a cruel fate, but a way to improve the lives of the living.
When it comes to sniffing out whether a source is credible or not, even journalists can sometimes take the wrong approach.
Sponsored by Charles Koch Foundation
We all think that we're competent consumers of news media, but the research shows that even journalists struggle with identifying fact from fiction.
When judging whether a piece of media is true or not, most of us focus too much on the source itself. Knowledge has a context, and it's important to look at that context when trying to validate a source.
The opinions expressed in this video do not necessarily reflect the views of the Charles Koch Foundation, which encourages the expression of diverse viewpoints within a culture of civil discourse and mutual respect.