Our Strongest Weapon Against Terrorism Is Laughter
The ability to laugh during dark times gives us strength, community, and hope.
16 November, 2015
---
When tragedy strikes, we often look to comedians for perspective and, maybe, some relief. When ISIS attacked Paris on Friday, the world responded with grief, anger, shock, and solidarity with the French people. Still, our outrage wants an outlet. Holding in this confusion is uncomfortable. We know laughter relieves tension, that the best jokes work when tension is built and released. It's ironic that the humor with the most power is the kind that arises from tragedy.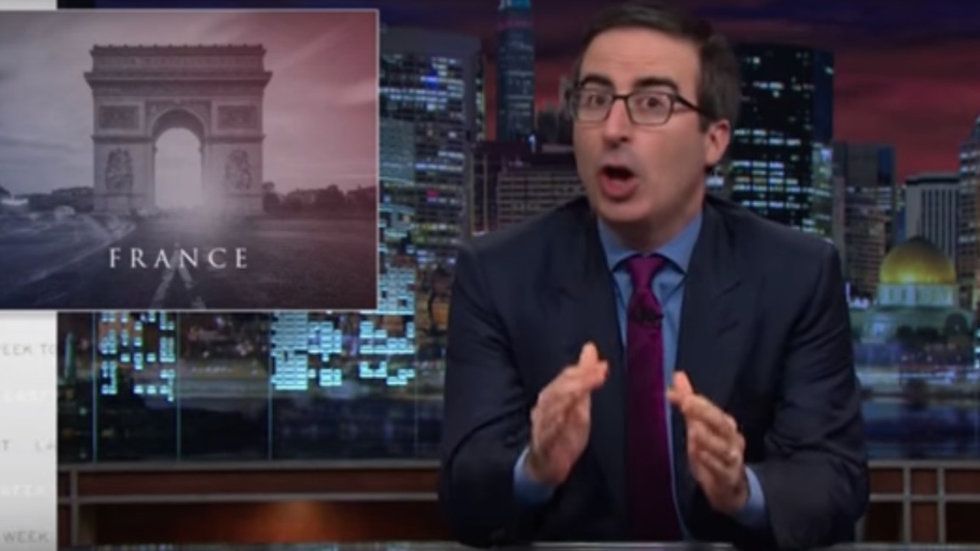 'Bad' Words Sound So Good
On Last Week Tonight John Oliver took advantage of his premium-cable status by saying, unfiltered, everything we were all thinking.
In a profanity-peppered take down, Oliver offered these words: "If you're in a war of culture and lifestyle with France, good f*cking luck! Because go ahead, bring your bankrupt ideology; they'll bring Jean-Paul Sartre, Edith Piaf, fine wine, Gauloises cigarettes, Camus, Camembert, madeleines, macarons, Marcel Proust, and the f*cking croque-en-bouche." It was funny; it was angry; it was true; and we all collectively sighed in relief. We are not laughing about the tragedy; we are laughing about the absurdity of our world. Because we need to. We have to.
Oliver treated ISIS with the ridicule they deserved. It's a sharp rhetorical weapon that minimizes an enemy:
From computer hacking to biohacking, Dave Asprey has embarked on a quest to reverse the aging process.
Videos
As a teenager, founder of Bulletproof, Dave Asprey, began experiencing health issues that typically plague older adults.
After surrounding himself with anti-aging researchers and scientists, he discovered the tools of biohacking could dramatically change his life and improve his health.
He's now confident he'll live to at least 180 years old. "It turns out that those tools that make older people young make younger people kick ass," he says.
French newspapers report that the trial hasn't lived up to expectations.
Image source: Charly Triballeau / AFP / Getty Images
Technology & Innovation
The French government initially invested in a rural solar roadway in 2016.
French newspapers report that the trial hasn't lived up to expectations.
Solar panel "paved" roadways are proving to be inefficient and too expensive.
A new study estimated the untapped potential of wind energy across Europe.
Pixabay
Surprising Science
A new report calculated how much electricity Europe could generate if it built onshore wind farms on all of its exploitable land.
The results indicated that European onshore wind farms could supply the whole world with electricity from now until 2050.
Wind farms come with a few complications, but the researchers noted that their study was meant to highlight the untapped potential of the renewable energy source in Europe.