Netflix Offers Full Year of Paid Leave to Parents Who Want It
If you're a new mom or dad, it's a really good time to work for Netflix.
05 August, 2015
If you're a new mom or dad, it's a really good time to work for Netflix. 
---
The company has announced that new parents — mothers and fathers — can take an unlimited amount of time off during the first year of their child's birth or adoption.
During their leave, parents will continue to receive full salary, and when they return, they can choose to return full-time, part-time, or temporarily.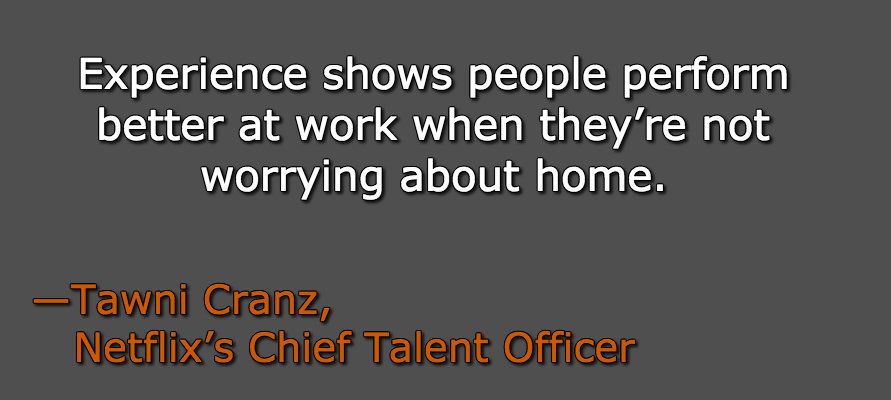 In the blog post that announced the new policy, Chief Talent Officer Tawni Cranz explains that the move is meant to attract and retain top talent in Silicon Valley. And given the success of the company's runaway television hits like Orange is the New Black and House of Cards, that's likely a stronger imperative than ever.
What will the decision mean for other employers? They'll likely be encouraged to improve their own parental leave policy, or offer more competitive benefits in other areas. But when companies make bold moves to improve lives of their employees, not everyone reacts perfectly kindly.
Take for example, Dan Price's move to offer all his employees a base salary of $70,000. Four months after the decision, many are still calling Price naive and a publicity stunt man. Although the fallout from Netflix's move isn't likely to be that harsh.
Based on comments to the announcement, it might be good for their business from the consumer side as well:

Photo credit: Frederick M. Brown / Stringer
We are constantly trying to force the world to look like us — we need to move on.
Videos
When the Berlin Wall fell in 1989, many Americans jumped for joy. At the time, some believed there weren't going to be any more political disagreements anywhere in the world. They thought American democracy had won the "war of ideas."
American exceptionalism has sought to create a world order that's really a mirror image of ourselves — a liberal world order founded on the DNA of American thinking. To many abroad this looks like ethnic chauvinism.
We need to move on from this way of thinking, and consider that sometimes "problem-solving," in global affairs, means the world makes us look like how it wants to be.
Scientists make an important discovery for the future of computing.
Pixabay
Surprising Science
Researchers find a new state of matter called "topological superconductivity".
The state can lead to important advancements in quantum computing.
Utilizing special particles that emerge during this state can lead to error-free data storage and blazing calculation speed.
French newspapers report that the trial hasn't lived up to expectations.
Image source: Charly Triballeau / AFP / Getty Images
Technology & Innovation
The French government initially invested in a rural solar roadway in 2016.
French newspapers report that the trial hasn't lived up to expectations.
Solar panel "paved" roadways are proving to be inefficient and too expensive.