Is Your College Investment Going to Pay Off?
It's not a surprise that making the most out of your college investment means choosing an optimal field of study. What may be surprising is that smoe seemingly successful majors don't actually pay that well.
01 October, 2014
The cost of higher education in the United States is flat-out ridiculous. While achieving a four-year degree statistically puts you at an advantage over those without one, going to college requires a major investment that has no certain guarantee of paying off. All a student can really do is optimize his or her chances by choosing the right school and field of study.
---
Sadly, if you're already in college,  you can't just spontaneously decide "well, my University of Palookaville degree won't be as valuable as one from Harvard so I'm just going to transfer today."
But don't dismay. What you can do is say "well, my Underwater Basket Weaving degree isn't going to help me later, so it's time to switch to Engineering or Computer Science." It may turn out to be a decision that pays dividends for the rest of your life.
Rick Newman of Yahoo Finance points out that the average cost of a bachelor's degree has breached $100,000, with private tuition potentially spelling a price as much as double that figure. In order to make the most of that hundred-grand, he suggests taking into account the findings of the Hamilton Project, a non-profit aimed at advancing opportunity, prosperity, and growth. Hamilton's recent report assesses the lifetime earnings of graduates by major. The chart below features some key major categories; a full listing is available in the report linked above.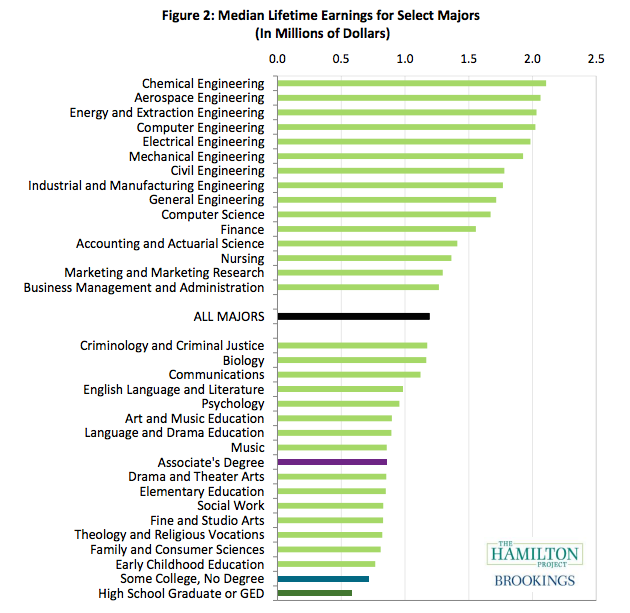 Among Newman's takeaways are that finance jobs aren't nearly as strong investments as many of us assume. He also points out that some science gigs including biology, botany, and animal sciences actually pay below the median. Unsurprisingly, being able to stick it out in an engineering program likely means big earnings along the road.
In his article, Newman also draws from a separate study that assesses a major's meaningfulness to those who hold degrees:
"All 10 of the lowest-paying majors in the Payscale survey — which include child development, social work, pastoral ministry and special education — rank far above average in terms of how meaningful people feel their jobs are."
At the same time, there are dozens of majors that fall below the median for both pay and meaningfulness:
"The bottom 10: creative writing, animal science, landscape architecture, German language, graphic design, criminology, broadcast communication, culinary arts, anthropology and healthcare administration."
So what's the ultimate take-away? Is it that you only should pursue anthropology if you hold grand ambitions to be destitute and miserable? No, of course not. You just need to be aware that choosing certain majors will increase your chances of seeing a healthy return on investment. Newman explains that it's certainly possible to achieve a healthy living in graphic design or creative writing, but you're likely to have to depend more on your soft skills such as grit and charisma if you want to get by.
Read more at Yahoo News
Photo credit: ARENA Creative / Shutterstock
Related Articles
Explore how alcohol affects your brain, from the first sip at the bar to life-long drinking habits.
(Photo by Angie Garrett/Wikimedia Commons)
Mind & Brain
Alcohol is the world's most popular drug and has been a part of human culture for at least 9,000 years.
Alcohol's effects on the brain range from temporarily limiting mental activity to sustained brain damage, depending on levels consumed and frequency of use.
Understanding how alcohol affects your brain can help you determine what drinking habits are best for you.
If you want to know what makes a Canadian lynx a Canadian lynx a team of DNA sequencers has figured that out.
Surprising Science
A team at UMass Amherst recently sequenced the genome of the Canadian lynx.
It's part of a project intending to sequence the genome of every vertebrate in the world.
Conservationists interested in the Canadian lynx have a new tool to work with.
Artwork: Guillaume le Clerc / Wikimedia Commons
13th-century fantastical depiction of an elephant.
It is easy to see how one can look at 66,000 genomic sequences stored away as being the analogous equivalent of the Svalbard Global Seed Vault. It is a potential tool for future conservationists.
But what are the practicalities of sequencing the genome of a lynx beyond engaging with broad bioethical questions? As the animal's habitat shrinks and Earth warms, the Canadian lynx is demonstrating less genetic diversity. Cross-breeding with bobcats in some portions of the lynx's habitat also represents a challenge to the lynx's genetic makeup. The two themselves are also linked: warming climates could drive Canadian lynxes to cross-breed with bobcats.
John Organ, chief of the U.S. Geological Survey's Cooperative Fish and Wildlife units, said to MassLive that the results of the sequencing "can help us look at land conservation strategies to help maintain lynx on the landscape."
What does DNA have to do with land conservation strategies? Consider the fact that the food found in a landscape, the toxins found in a landscape, or the exposure to drugs can have an impact on genetic activity. That potential change can be transmitted down the generative line. If you know exactly how a lynx's DNA is impacted by something, then the environment they occupy can be fine-tuned to meet the needs of the lynx and any other creature that happens to inhabit that particular portion of the earth.
Given that the Trump administration is considering withdrawing protection for the Canadian lynx, a move that caught scientists by surprise, it is worth having as much information on hand as possible for those who have an interest in preserving the health of this creature—all the way down to the building blocks of a lynx's life.
The exploding popularity of the keto diet puts a less used veggie into the spotlight.
Purple cauliflower. (Photo: Shutterstock)
Surprising Science
The cauliflower is a vegetable of choice if you're on the keto diet.
The plant is low in carbs and can replace potatoes, rice and pasta.
It can be eaten both raw and cooked for different benefits.
Big think's weekly newsletter.
Get smarter faster from the comfort of your inbox.
See our newsletter privacy policy
here
Most Popular
Most Recent
Big think's weekly newsletter.
Get smarter faster from the comfort of your inbox.
See our newsletter privacy policy
here
© Copyright 2007-2018 & BIG THINK, BIG THINK EDGE,
SMARTER FASTER trademarks owned by The Big Think, Inc. All rights reserved.