Big ideas.
Once a week.
Subscribe to our weekly newsletter.
In America, a Major Effort to Inspire Children to Pursue STEM Careers
Producing capable candidates for the increasing number of STEM positions means getting children interested in those subjects while they're young. For the children's publishing company Cascade Pass, it also means inspiring children who, even in their imaginative early years, may harbor doubts about their opportunities.
14 August, 2014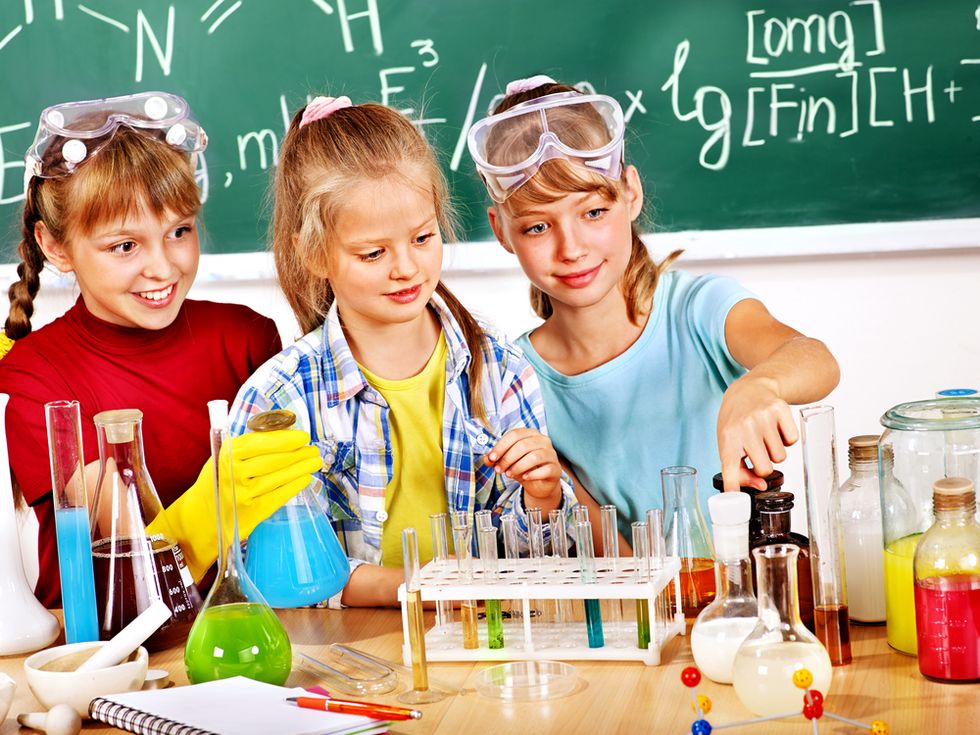 I can think of a number of things that would be easier than getting kids ages 7-13 excited about the prospect of a long and prosperous career as a petroleum engineer.
---
But as the number of STEM careers continue to grow (for those unaware, that acronym is Science, Technology, Engineering, and Mathematics), the American public has a vested interest in encouraging children to pursue these fields of study. This summer, many cities across the country have played host to programs and camps focused on hooking future petroleum engineers while they're young.
Summer of Science
Huntsville, Alabama is built on STEM. The city of 186,000 residents is home to both the Marshall Space Flight Center and the headquarters for the U.S. Army Aviation and Missile Command. It's also home to a new initiative aimed at introducing STEM curriculum to local public elementary students. 
Judy D'Amico, who represents the STEM organization Project Lead the Way, explained to a local news outlet why it's so important to reach younger schoolkids:
"High school in many cases is just too late…it needs to come earlier, and we need to get them excited and really ready to engage in STEM."  
Such is the case in Virginia, where The College of William & Mary is hosting an immersive summer science camp for disadvantaged middle school students who show promise in STEM subjects. Camp Launch, funded by the Jack Kent Cooke Foundation, features classes on subjects such as Lego Robotics and nanotechnology. It also strives to offer students a glimpse into what college life would be like if they were to further pursue a STEM education.
The University of Wisconsin-Marshfield/Wood County hosted a similar STEM summer camp aimed at younger kids. A focus on fun science (such as building and racing Lego vehicles) is in line with the current of education through play. The children involved, some as young as 7, are getting a first glimpse into the processes and procedures involved with taking things apart and putting them back together.
It's important to note that it's not just students receiving special STEM instruction this summer. Teachers in an East St. Louis school district recently took part in a two-week-long workshop to bolster their instruction strategies and pedagogy:
'What STEM promotes is that when you're teaching the academic skills they need to learn, you're actually making a connection with them and with the real world so they can see why they need to learn it,' said [2nd grade teacher Mechelle] Howard."
Providing Inspiration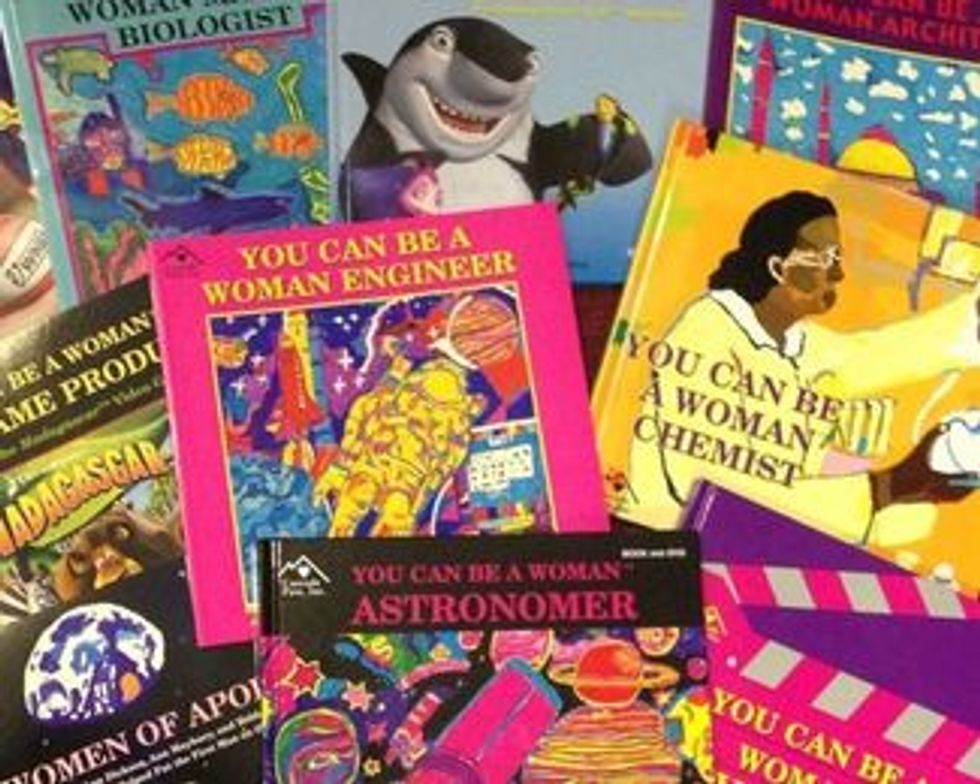 For the California-based children's publishing company Cascade Pass, promoting STEM also means inspiring children who, even in their imaginative early years, can harbor doubts about the breadth of their opportunities. For Judith Love Cohen, who runs the company with her husband David A. Katz, that includes the historical barriers STEM fields have with regard to gender.
(Disclosure: I had the great pleasure of interning at Cascade Pass about a million years ago when I was an undergraduate).
Cohen knows all about glass ceilings because she's lived an entire life shattering them. Her many accomplishments include 40 years as an engineer for Space Technology Laboratories (which later became TRW and then Northrop Grumman), as well as contributions toward the success of Apollo's Lunar Excursion Module and the Hubble Space Telescope user interface. Cohen's impressive career is profiled in this feature in the Culver City Observer.
Now playing the role of author and publisher, Cohen's focus is on encouraging young girls to follow in her footsteps. Cascade Pass' first book was titled, fittingly enough, You Can Be a Woman Engineer. The company has published 28 books in all, eight of them both in English and Spanish. Many of the books are written to encourage girls to pursue careers in STEM and sports. 
From Camp Launch in Virginia to Cascade Pass in California, there are folks across the country dedicating themselves to advancing STEM education and helping groom the future professionals who will shape the nation.
How is STEM promoted locally in your hometown? What should we do to encourage more children to take interest in these subjects? And for those of you outside the U.S., how do you feel about the ways in which science, technology, engineering, and mathematics are taught to your country's children?
Read more about summer STEM programs across the country: WHNT (Huntsville, AL), Marshfield News Herald (Marshfield, WI), William & Mary (Williamsburg, VA), and STL American (St. Louis, MO).
Learn more about Judith Love Cohen and Cascade Pass at Culver City Observer
Photo credit: Poznyakov / Shutterstock
Inventions with revolutionary potential made by a mysterious aerospace engineer for the U.S. Navy come to light.
Credit: Getty Images
Surprising Science
U.S. Navy holds patents for enigmatic inventions by aerospace engineer Dr. Salvatore Pais.
Pais came up with technology that can "engineer" reality, devising an ultrafast craft, a fusion reactor, and more.
While mostly theoretical at this point, the inventions could transform energy, space, and military sectors.
The U.S. Navy controls patents for some futuristic and outlandish technologies, some of which, dubbed "the UFO patents," came to light recently. Of particular note are inventions by the somewhat mysterious Dr. Salvatore Cezar Pais, whose tech claims to be able to "engineer reality." His slate of highly-ambitious, borderline sci-fi designs meant for use by the U.S. government range from gravitational wave generators and compact fusion reactors to next-gen hybrid aerospace-underwater crafts with revolutionary propulsion systems, and beyond.
Of course, the existence of patents does not mean these technologies have actually been created, but there is evidence that some demonstrations of operability have been successfully carried out. As investigated and reported by The War Zone, a possible reason why some of the patents may have been taken on by the Navy is that the Chinese military may also be developing similar advanced gadgets.
Among Dr. Pais's patents are designs, approved in 2018, for an aerospace-underwater craft of incredible speed and maneuverability. This cone-shaped vehicle can potentially fly just as well anywhere it may be, whether air, water or space, without leaving any heat signatures. It can achieve this by creating a quantum vacuum around itself with a very dense polarized energy field. This vacuum would allow it to repel any molecule the craft comes in contact with, no matter the medium. Manipulating "quantum field fluctuations in the local vacuum energy state," would help reduce the craft's inertia. The polarized vacuum would dramatically decrease any elemental resistance and lead to "extreme speeds," claims the paper.
Not only that, if the vacuum-creating technology can be engineered, we'd also be able to "engineer the fabric of our reality at the most fundamental level," states the patent. This would lead to major advancements in aerospace propulsion and generating power. Not to mention other reality-changing outcomes that come to mind.
Among Pais's other patents are inventions that stem from similar thinking, outlining pieces of technology necessary to make his creations come to fruition. His paper presented in 2019, titled "Room Temperature Superconducting System for Use on a Hybrid Aerospace Undersea Craft," proposes a system that can achieve superconductivity at room temperatures. This would become "a highly disruptive technology, capable of a total paradigm change in Science and Technology," conveys Pais.
High frequency gravitational wave generator.
Credit: Dr. Salvatore Pais
Another invention devised by Pais is an electromagnetic field generator that could generate "an impenetrable defensive shield to sea and land as well as space-based military and civilian assets." This shield could protect from threats like anti-ship ballistic missiles, cruise missiles that evade radar, coronal mass ejections, military satellites, and even asteroids.
Dr. Pais's ideas center around the phenomenon he dubbed "The Pais Effect". He referred to it in his writings as the "controlled motion of electrically charged matter (from solid to plasma) via accelerated spin and/or accelerated vibration under rapid (yet smooth) acceleration-deceleration-acceleration transients." In less jargon-heavy terms, Pais claims to have figured out how to spin electromagnetic fields in order to contain a fusion reaction – an accomplishment that would lead to a tremendous change in power consumption and an abundance of energy.
According to his bio in a recently published paper on a new Plasma Compression Fusion Device, which could transform energy production, Dr. Pais is a mechanical and aerospace engineer working at the Naval Air Warfare Center Aircraft Division (NAWCAD), which is headquartered in Patuxent River, Maryland. Holding a Ph.D. from Case Western Reserve University in Cleveland, Ohio, Pais was a NASA Research Fellow and worked with Northrop Grumman Aerospace Systems. His current Department of Defense work involves his "advanced knowledge of theory, analysis, and modern experimental and computational methods in aerodynamics, along with an understanding of air-vehicle and missile design, especially in the domain of hypersonic power plant and vehicle design." He also has expert knowledge of electrooptics, emerging quantum technologies (laser power generation in particular), high-energy electromagnetic field generation, and the "breakthrough field of room temperature superconductivity, as related to advanced field propulsion."
Suffice it to say, with such a list of research credentials that would make Nikola Tesla proud, Dr. Pais seems well-positioned to carry out groundbreaking work.
A craft using an inertial mass reduction device.
Credit: Salvatore Pais
The patents won't necessarily lead to these technologies ever seeing the light of day. The research has its share of detractors and nonbelievers among other scientists, who think the amount of energy required for the fields described by Pais and his ideas on electromagnetic propulsions are well beyond the scope of current tech and are nearly impossible. Yet investigators at The War Zone found comments from Navy officials that indicate the inventions are being looked at seriously enough, and some tests are taking place.
If you'd like to read through Pais's patents yourself, check them out here.
Laser Augmented Turbojet Propulsion System
Credit: Dr. Salvatore Pais
From "mutilated males" to "wandering wombs," dodgy science affects how we view the female body still today.
Credit
: Hà Nguyễn via Unsplash
Sex & Relationships
The history of medicine and biology often has been embarrassingly wrong when it comes to female anatomy and was surprisingly resistant to progress.
Aristotle and the ancient Greeks are much to blame for the mistaken notion of women as cold, passive, and little more than a "mutilated man."
Thanks to this dubious science, and the likes of Sigmund Freud, we live today with a legacy that judges women according to antiquated biology and psychology.
The story of medicine has not been particularly kind to women. Not only was little anatomical or scientific research done on women or on women-specific issues, doctors often treated them differently.
Even today, women are up to ten times more likely to have their symptoms explained away as being psychological or psychosomatic than men. Worryingly, women are 50 percent more likely to be misdiagnosed after a heart attack, and drugs designed for "everyone" are actually much less effective (for pain) or too effective (for sleeping) in women.
Are these differences real or imagined? And what can the history of female medicine teach us about where we are today?
A mutilated male
Aristotle is rightly considered one of the greatest minds of all time and is recognized as the founding father of many disciplines, including biology. He was one of the most rigorous and comprehensive scientists and field researchers the world had known. He categorized a large number of species based on a wide range of traits, such as movement, longevity, and sensory capacity. His views on women, then, stemmed from what he thought of as good, proper study. The problem is that he got pretty much all of it wrong.
According to Aristotle, during pregnancy, it was the man who, alone, contributed the all-important "form" of a fetus (that is, its defining nature and personality), whereas the woman provided only the matter (that is, the environment and sustenance to grow the fetus, which was provided by the menstrual blood).
From this, Aristotle extrapolated all sorts of dubious conclusions. He ventured that the man was superior, active, and dominant, and the woman inferior, passive, and submissive. As such, the woman's role was to nurture children, run a household, and be silent and obedient — political and cultural manifestations of dodgy biology. If women did not provide a child's form and nature, how important could they really be?
Given this passivity, Aristotle argued that the woman must be associated with other passive things, like being cold and slow. The man, being dynamic and energetic, must be hot and fast. From this, Aristotle concluded that any defects or problems in childbirth can only be due to the sluggishness of the female womb. Even the positive biological aspects of being female, such as greater longevity, were put down to this cold rigidity — a lack of metabolism and spirit. Most notorious of all, since Aristotle believed that female children were themselves the result of an incomplete and underdeveloped gestation, women were simply "mutilated males" whose mothers' cold wombs had overpowered the warm, vital, male sperm.
Aristotle can still be counted as a great mind, but when it came to women, his ideas have not aged well in just how far they negatively influenced what came after. Given that his works were seen as the authority well into the 16th century, he left quite the pernicious legacy.
A wandering womb
But, how much can we really blame Aristotle? Without the aid of modern scientific equipment, physicians and biologists were left to guess about female anatomy. Unfortunately, the damage was done, and Aristotle's ideas of a troublesome uterus became so mainstream that they led to one of the more bizarre ideas in medical history: the wandering womb.
The "wandering womb" is the idea that the womb is actually some kind of roaming parasite in the body, possibly even a separate organism. According to this theory, after a woman menstruates, her womb becomes hot and dry and so becomes extra mobile. It is transformed into a voracious hunter. The womb will dart from organ to organ, seeking to steal its moisture and other vital fluids. This parasitic behavior caused all sorts of (female only) illnesses.
If a woman had asthma, the womb was leeching the lungs. Stomach aches, it was in the gut. And if it attacked the heart (which the ancients thought was the source of our thoughts), then it would cause all manner of mental health issues. In fact, the Greek word for womb is "hystera," and so when we call someone (often a woman) hysterical, we are saying that their womb is causing mischief.
The "solutions" or "remedies" for a wandering womb were as strange as the theory. Since the womb was supposed to be attracted to sweet smells, placing flowers or perfumes around the vagina would "lure" it down. On the flip side, if you smoked noxious substances or ate disgusting foods, it would "repel" the womb away. By using all manner of smells, you could make the womb move wherever you wanted.
The oddest "remedy" — and most male-centric of all — is that, since the wandering womb was said to be caused by heat and dryness, a good solution would be male semen, which was thought of as cooling and wet. And so, the ancient and highly inaccurate myth was born that sex could cure a woman of her "hysteria."
A lingering problem
We live today with the legacy of this kind of thinking. Freud was much taken with the idea of "hysteria," and although he did accept that men could be subject to it as well, he believed it was overwhelmingly a female problem caused by female biology. The woman, for Freud, is mostly defined by her "sexual function." What Freud calls "normal femininity" (the preferred and best outcome) is defined by passivity. A woman's ideal development is one which moves from being active and "phallic" to passive and vaginal.
Nowadays, Freud and Aristotle's legacy lies in just how easily women are defined by their sexuality. Given that men and women, both, are equally dependent on their biology, it is curious how much more often women are reduced to theirs. The idea that women are more emotional or slaves to their hormones than men is still a depressingly familiar trope. It is an idea that goes back to the Greeks.
If we think biology is important to who we are (as it most certainly is), we ought to make sure that the biology is as good and accurate as it can be.
Jonny Thomson teaches philosophy in Oxford. He runs a popular Instagram account called Mini Philosophy (@philosophyminis). His first book is Mini Philosophy: A Small Book of Big Ideas.
People tend to reflexively assume that fun events – like vacations – will go by really quickly.
Mind & Brain
But when a vacation approaches, do you ever get the feeling that it's almost over before it starts?
If so, you're not alone.
In some recent studies Gabriela Tonietto, Sam Maglio, Eric VanEpps and I conducted, we found that about half of the people we surveyed indicated that their upcoming weekend trip felt like it would end as soon as it started.
This feeling can have a ripple effect. It can change the way trips are planned – you might, for example, be less likely to schedule extra activities. At the same time, you might be more likely to splurge on an expensive dinner because you want to make the best of the little time you think you have.
Where does this tendency come from? And can it be avoided?
Not all events are created equal
When people look forward to something, they usually want it to happen as soon as possible and last as long as possible.
We first explored the effect of this attitude in the context of Thanksgiving.
We chose Thanksgiving because almost everyone in the U.S. celebrates it, but not everyone looks forward to it. Some people love the annual family get-together. Others – whether it's the stress of cooking, the tedium of cleaning or the anxiety of dealing with family drama – dread it.
So on the Monday before Thanksgiving in 2019, we surveyed 510 people online and asked them to tell us whether they were looking forward to the holiday. Then we asked them how far away it seemed, and how long they felt it would last. We had them move a 100-point slider – 0 meaning very short and 100 meaning very long – to a location that reflected their feelings.
As we suspected, the more participants looked forward to their Thanksgiving festivities, the farther away it seemed and shorter it felt. Ironically, longing for something seems to shrink its duration in the mind's eye.
Winding the mind's clock
Most people believe the idiom "time flies when you're having fun," and research has, indeed, shown that when time seems to pass by quickly, people assume the task must have been engaging and enjoyable.
We reasoned that people might be over-applying their assumption about the relationship between time and fun when judging the duration of events yet to happen.
As a result, people tend to reflexively assume that fun events – like vacations – will go by really quickly. Meanwhile, pining for something can make the time leading up to the event seem to drag. The combination of its beginning pushed farther away in their minds – with its end pulled closer – resulted in our participants' anticipating that something they looked forward would feel as if it had almost no duration at all.
In another study, we asked participants to imagine going on a weekend trip that they either expected to be fun or terrible. We then asked them how far away the start and end of this trip felt like using a similar 0 to 100 scale. 46% of participants evaluated the positive weekend as feeling like it had no duration at all: They marked the beginning and the end of the vacation virtually at the same location when using the slider scale.
Thinking in hours and days
Our goal was to show how these two judgments of an event – the fact that it simultaneously seems farther away and is assumed to last for less time – can nearly eliminate the event's duration in the mind's eye.
We reasoned that if we didn't explicitly highlight these two separate pieces – and instead directly asked them about the duration of the event – a smaller portion of people would indicate virtually no duration for something they looked forward to.
We tested this theory in another study, in which we told participants that they would watch two five-minute-long videos back-to-back. We described the second video as either humorous or boring, and then asked them how long they thought each video would feel like it lasted.
We found that the participants predicted that the funny video would still feel shorter and was farther away than the boring one. But we also found that participants believed it would last a bit longer than the responses we received in the earlier studies.
This finding gives us a way to overcome this biased perception: focus on the actual duration. Because in this study, participants directly reported how long the funny video would last – and not the perceived distance of its beginning and its end – they were far less likely to assume it would be over just as it started.
While it sounds trivial and obvious, we often rely on our subjective feelings – not objective measures of time – when deciding how long a period of time will feel and how to best use it.
So when looking forward to much-anticipated events like vacations, it's important to remind yourself just how many days it will last.
You'll get more out of the experience – and, hopefully, put yourself in a better position to take advantage of the time you do have.
Selin Malkoc, Associate Professor of Marketing, The Ohio State University
This article is republished from The Conversation under a Creative Commons license. Read the original article.
Strange Maps
A global survey shows the majority of countries favor Android over iPhone.
Scroll down to load more…