IKEA's Innovative Solution for Refugee Shelter Can't Keep Up with Demand
The brain behind these shelters is Industrial Designer Johan Karlsson, designing what he described as an "incremental modification to existing refugee shelters."
Natalie Shoemaker
Natalie has been writing professionally for about 6 years. After graduating from Ithaca College with a degree in Feature Writing, she snagged a job at PCMag.com where she had the opportunity to review all the latest consumer gadgets. Since then she has become a writer for hire, freelancing for various websites. In her spare time, you may find her riding her motorcycle, reading YA novels, hiking, or playing video games. Follow her on Twitter: @nat_schumaker
01 December, 2015
---
How are we housing millions of Syrian refugees?
The question is easily answered. A quick Google image search reveals tent houses — hundreds of rows of these flimsy tents. IKEA may have a better solution.
The IKEA Foundation is helping Syrian refugees in their major transition by building easy-to-assemble shelters.
"I mean they're really people running for their lives," said British-Indian novelist Salman Rushdie. "And, of course, I think they need to be not left to starve and die in various no man's land, you know. They do need to be accommodated somehow."
The brain behind these shelters is industrial designer Johan Karlsson. He worked with Sweden's Refugee Services abroad in 2010 designing what he described as an "incremental modification to existing refugee shelters." He noticed how tent shelters provided little security from the elements or any semblance of privacy. So he built something better, and the humanitarian branch of IKEA backed Karlsson's Better Shelter project.
"The average stay in an UNHCR refugee camp is 17 years," Karlsson told The Globe and Mail in an interview. "The tents fall apart after a few months so they needed something that was built to last. Our shelters last three years at minimum. Obviously the situation is complex and goes far beyond shelter. This is just a tiny part of humanitarian aid, but it's an important one when it comes to allowing displaced people to live with dignity."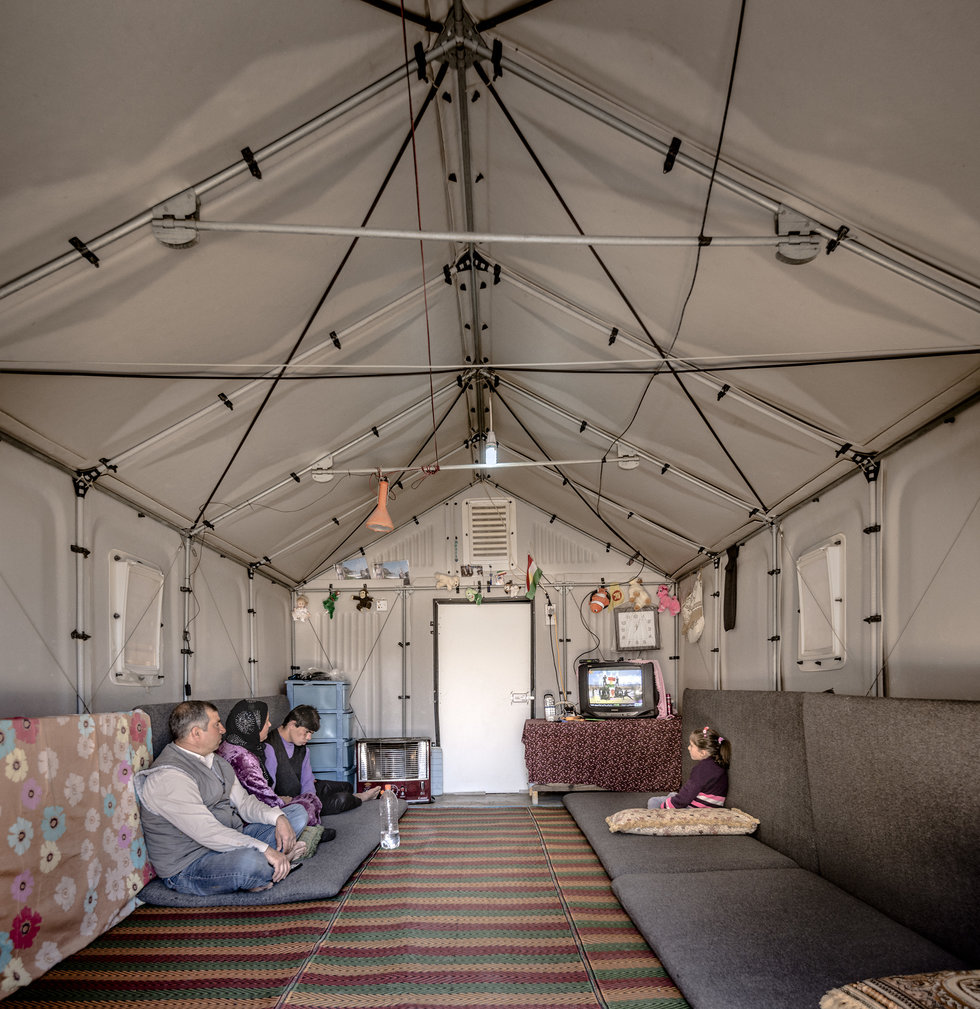 The finished product stands six feet tall and comes in two sizes: 57 square feet or 188 square feet. The structures are held up by a sturdy steel frame and held together by polymer panels. The roof comes with solar panels, which can power lights or a phone charger inside the housing. The shelters even come with windows and a door that locks. And, in typical IKEA fashion, no tools are required to assemble these shelters, which takes four people around four hours.
Watch one get assembled in Greece:
The good news is camps across Europe — in Germany, Switzerland, and Sweden — are demanding these shelters. However, according to Karlsson, demand has been out-pacing their ability to supply. His foundation is only able to produce around 2,500 units a month. But with millions in Syria fleeing, it's becoming difficult to keep up.
"What started as a humanitarian project for people far away in distant, war-torn countries is now right on our doorstep," he explained.
***
Natalie has been writing professionally for about 6 years. After graduating from Ithaca College with a degree in Feature Writing, she snagged a job at PCMag.com where she had the opportunity to review all the latest consumer gadgets. Since then she has become a writer for hire, freelancing for various websites. In her spare time, you may find her riding her motorcycle, reading YA novels, hiking, or playing video games. Follow her on Twitter: @nat_schumaker
Photo Credit: Better Shelter
Related Articles
The Spilhaus Projection may be more than 75 years old, but it has never been more relevant than today.
Surprising Science
Athelstan Spilhaus designed an oceanic thermometer to fight the Nazis, and the weather balloon that got mistaken for a UFO in Roswell.
In 1942, he produced a world map with a unique perspective, presenting the world's oceans as one body of water.
The Spilhaus Projection could be just what the oceans need to get the attention their problems deserve.
It's just the current cycle that involves opiates, but methamphetamine, cocaine, and others have caused the trajectory of overdoses to head the same direction
From the study: http://science.sciencemag.org/content/361/6408/eaau1184
Surprising Science
It appears that overdoses are increasing exponentially, no matter the drug itself
If the study bears out, it means that even reducing opiates will not slow the trajectory.
The causes of these trends remain obscure, but near the end of the write-up about the study, a hint might be apparent
Through computationally intensive computer simulations, researchers have discovered that "nuclear pasta," found in the crusts of neutron stars, is the strongest material in the universe.
Accretion disk surrounding a neutron star. Credit: NASA
Surprising Science
The strongest material in the universe may be the whimsically named "nuclear pasta."
You can find this substance in the crust of neutron stars.
This amazing material is super-dense, and is 10 billion times harder to break than steel.
---
Superman is known as the "Man of Steel" for his strength and indestructibility. But the discovery of a new material that's 10 billion times harder to break than steel begs the question—is it time for a new superhero known as "Nuclear Pasta"? That's the name of the substance that a team of researchers thinks is the strongest known material in the universe.
Unlike humans, when stars reach a certain age, they do not just wither and die, but they explode, collapsing into a mass of neurons. The resulting space entity, known as a neutron star, is incredibly dense. So much so that previous research showed that the surface of a such a star would feature amazingly strong material. The new research, which involved the largest-ever computer simulations of a neutron star's crust, proposes that "nuclear pasta," the material just under the surface, is actually stronger.
The competition between forces from protons and neutrons inside a neutron star create super-dense shapes that look like long cylinders or flat planes, referred to as "spaghetti" and "lasagna," respectively. That's also where we get the overall name of nuclear pasta.
Caplan & Horowitz/arXiv
Diagrams illustrating the different types of so-called nuclear pasta.
The researchers' computer simulations needed 2 million hours of processor time before completion, which would be, according to a press release from McGill University, "the equivalent of 250 years on a laptop with a single good GPU." Fortunately, the researchers had access to a supercomputer, although it still took a couple of years. The scientists' simulations consisted of stretching and deforming the nuclear pasta to see how it behaved and what it would take to break it.
While they were able to discover just how strong nuclear pasta seems to be, no one is holding their breath that we'll be sending out missions to mine this substance any time soon. Instead, the discovery has other significant applications.
One of the study's co-authors, Matthew Caplan, a postdoctoral research fellow at McGill University, said the neutron stars would be "a hundred trillion times denser than anything on earth." Understanding what's inside them would be valuable for astronomers because now only the outer layer of such starts can be observed.
"A lot of interesting physics is going on here under extreme conditions and so understanding the physical properties of a neutron star is a way for scientists to test their theories and models," Caplan added. "With this result, many problems need to be revisited. How large a mountain can you build on a neutron star before the crust breaks and it collapses? What will it look like? And most importantly, how can astronomers observe it?"
Another possibility worth studying is that, due to its instability, nuclear pasta might generate gravitational waves. It may be possible to observe them at some point here on Earth by utilizing very sensitive equipment.
The team of scientists also included A. S. Schneider from California Institute of Technology and C. J. Horowitz from Indiana University.
Check out the study "The elasticity of nuclear pasta," published in Physical Review Letters.
Big think's weekly newsletter.
Get smarter faster from the comfort of your inbox.
See our newsletter privacy policy
here
Most Popular
Most Recent
Big think's weekly newsletter.
Get smarter faster from the comfort of your inbox.
See our newsletter privacy policy
here
© Copyright 2007-2018 & BIG THINK, BIG THINK EDGE,
SMARTER FASTER trademarks owned by The Big Think, Inc. All rights reserved.