Study: There are instructions for teaching critical thinking
A new study says critical thinking is a teachable skill, but who is going to teach it?
21 August, 2015
Whether or not you can teach something as subjective as critical thinking has been up for debate.
But a fascinating new study shows that it's actually quite possible.
Experiments performed by Stanford's Department of Physics and Graduate School of Education demonstrate that students can be instructed to think more critically.
---
It's difficult to overstate the importance of critical-thinking skills in modern society. The ability to decipher information and interpret it, offering creative solutions, is in direct relation to our intellect.
The study took two groups of students in an introductory physics laboratory course, with one group (known as the experimental group) given the instruction to use quantitative comparisons between datasets and the other group given no instruction (the control group). Comparing data in a scientific manner; that is, being able to measure one's observations in a statistical or mathematical way, led to interesting results for the experimental group.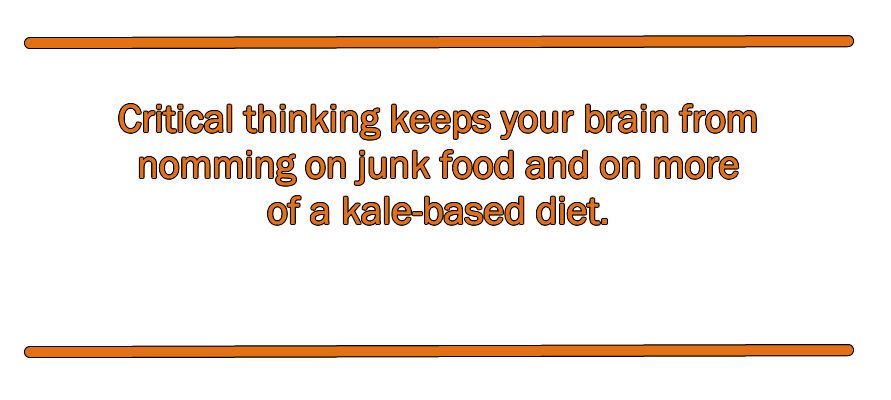 Even after these instructions were removed, they were 12 times more likely to offer creative solutions to improve the experimental methods being used in the class, four times more likely to explain the limitations of the methods, and better at explaining their reasoning than the control group. The results remained consistent even in the next year, with students in a different class. So what does this imply about critical thinking, and how can we utilize these findings to improve ourselves and our society?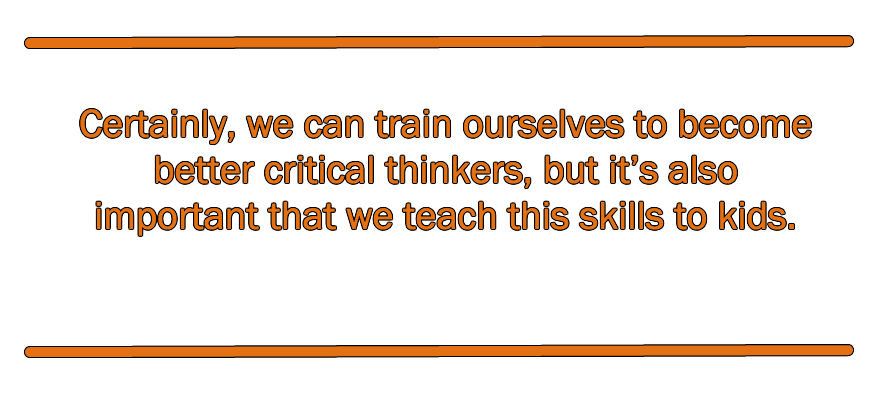 We live in an age with unprecedented access to information. Whether you are contributing to an entry on Wikipedia or reading a meme that has no sources cited (do they ever?), your ability to comprehend what you are reading and weigh it is a constant and consistent need. That is why it is so imperative that we have sharp critical-thinking skills. Also, if you don't use them, you will have nothing to argue with your family about at Thanksgiving. More importantly, it keeps your brain from nomming on junk food and on more of a kale-based diet. Look at any trending topic, and test yourself. Is this true/accurate? How do I know either way? Is there a way I can use data (provable, factual information) to figure this out?
Certainly, we can train ourselves to become better critical thinkers, but it's also important that we teach these skills to kids. Studies have shown how important this ability is to our success, and yet many feel that we're doing a terrible job of teaching it. This study, however, may lead to educators and parents realizing that these skills are teachable. The implications of a better thinking society are not quantitative, but I do believe they would be extraordinary.
Step inside the unlikely friendship of a former ACLU president and an ultra-conservative Supreme Court Justice.

Sponsored by Charles Koch Foundation
Former president of the ACLU Nadine Strossen and Supreme Court Justice Antonin Scalia were unlikely friends. They debated each other at events all over the world, and because of that developed a deep and rewarding friendship – despite their immense differences.
Scalia, a famous conservative, was invited to circles that were not his "home territory", such as the ACLU, to debate his views. Here, Strossen expresses her gratitude and respect for his commitment to the exchange of ideas.
"It's really sad that people seem to think that if you disagree with somebody on some issues you can't be mutually respectful, you can't enjoy each other's company, you can't learn from each other and grow in yourself," says Strossen.
The opinions expressed in this video do not necessarily reflect the views of the Charles Koch Foundation, which encourages the expression of diverse viewpoints within a culture of civil discourse and mutual respect.
Learn how to redesign your job for maximum reward.
Videos
Broaching the question "What is my purpose?" is daunting – it's a grandiose idea, but research can make it a little more approachable if work is where you find your meaning. It turns out you can redesign your job to have maximum purpose.
There are 3 ways people find meaning at work, what Aaron Hurst calls the three elevations of impact. About a third of the population finds meaning at an individual level, from seeing the direct impact of their work on other people. Another third of people find their purpose at an organizational level. And the last third of people find meaning at a social level.
"What's interesting about these three elevations of impact is they enable us to find meaning in any job if we approach it the right way. And it shows how accessible purpose can be when we take responsibility for it in our work," says Hurst.
Erik Verlinde has been compared to Einstein for completely rethinking the nature of gravity.
Photo by Willeke Duijvekam
Surprising Science
The Dutch physicist Erik Verlinde's hypothesis describes gravity as an "emergent" force not fundamental.
The scientist thinks his ideas describe the universe better than existing models, without resorting to "dark matter".
While some question his previous papers, Verlinde is reworking his ideas as a full-fledged theory.
TuSimple, an autonomous trucking company, has also engaged in test programs with the United States Postal Service and Amazon.
Technology & Innovation
This week, UPS announced that it's working with autonomous trucking startup TuSimple on a pilot project to deliver cargo in Arizona using self-driving trucks.
UPS has also acquired a minority stake in TuSimple.
TuSimple hopes its trucks will be fully autonomous — without a human driver — by late 2020, though regulatory questions remain.