Study: There are instructions for teaching critical thinking
A new study says critical thinking is a teachable skill, but who is going to teach it?
21 August, 2015
Whether or not you can teach something as subjective as critical thinking has been up for debate.
But a fascinating new study shows that it's actually quite possible.
Experiments performed by Stanford's Department of Physics and Graduate School of Education demonstrate that students can be instructed to think more critically.
---
It's difficult to overstate the importance of critical-thinking skills in modern society. The ability to decipher information and interpret it, offering creative solutions, is in direct relation to our intellect.
The study took two groups of students in an introductory physics laboratory course, with one group (known as the experimental group) given the instruction to use quantitative comparisons between datasets and the other group given no instruction (the control group). Comparing data in a scientific manner; that is, being able to measure one's observations in a statistical or mathematical way, led to interesting results for the experimental group.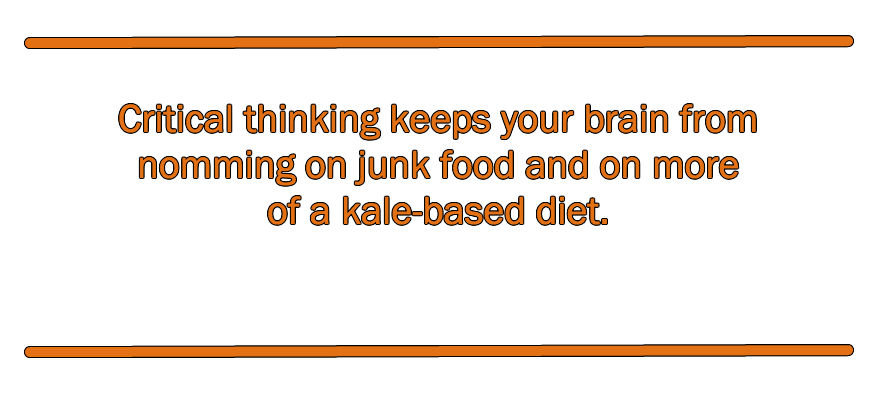 Even after these instructions were removed, they were 12 times more likely to offer creative solutions to improve the experimental methods being used in the class, four times more likely to explain the limitations of the methods, and better at explaining their reasoning than the control group. The results remained consistent even in the next year, with students in a different class. So what does this imply about critical thinking, and how can we utilize these findings to improve ourselves and our society?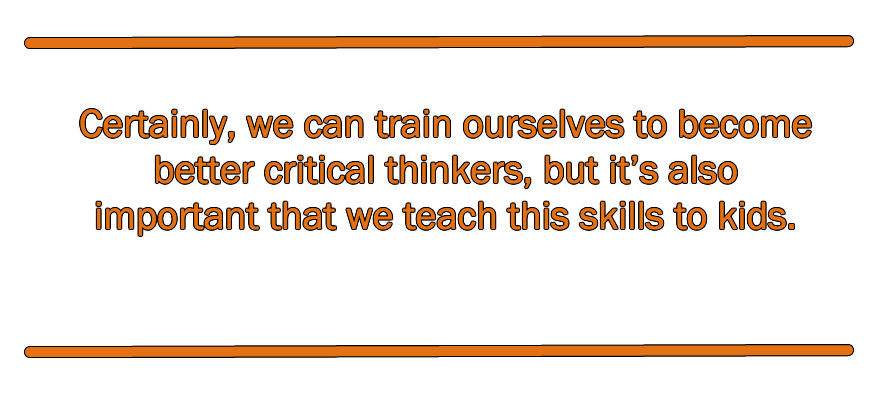 We live in an age with unprecedented access to information. Whether you are contributing to an entry on Wikipedia or reading a meme that has no sources cited (do they ever?), your ability to comprehend what you are reading and weigh it is a constant and consistent need. That is why it is so imperative that we have sharp critical-thinking skills. Also, if you don't use them, you will have nothing to argue with your family about at Thanksgiving. More importantly, it keeps your brain from nomming on junk food and on more of a kale-based diet. Look at any trending topic, and test yourself. Is this true/accurate? How do I know either way? Is there a way I can use data (provable, factual information) to figure this out?
Certainly, we can train ourselves to become better critical thinkers, but it's also important that we teach these skills to kids. Studies have shown how important this ability is to our success, and yet many feel that we're doing a terrible job of teaching it. This study, however, may lead to educators and parents realizing that these skills are teachable. The implications of a better thinking society are not quantitative, but I do believe they would be extraordinary.
The way that you think about stress can actually transform the effect that it has on you – and others.
Big Think Edge
Stress is contagious, and the higher up in an organization you are the more your stress will be noticed and felt by others.
Kelly McGonigal teaches "Reset your mindset to reduce stress" for Big Think Edge.

Subscribe to Big Think Edge before we launch on March 30 to get 20% off monthly and annual memberships.
These quick bursts of inspiration will brighten your day in 10 minutes or less.

Explore a legendary philosopher's take on how society fails to prepare us for education and progress.
Alan Watts.
Personal Growth
Alan Watts was an instrumental figure in the 1960s counterculture revolution.
He believed that we put too much of a focus on intangible goals for our educational and professional careers.
Watts believed that the whole educational enterprise is a farce compared to how we should be truly living our lives.
How can we use the resources that are already on the Moon to make human exploration of the satellite as economical as possible?
The All-Terrain Hex-Limbed Extra-Terrestrial Explorer (ATHLETE), a prototype heavy-lift utility vehicle to support future human exploration of extraterrestrial surfaces, at right, is parked beside the Habitat Demonstration Unit - Pressurized Excursion Module (HDU-PEM), at left, a concept off-Earth living and work quarters for astronauts stationed on asteroids, the moon or Mars, 15 September 2010. Photo by: ROBYN BECK/AFP/Getty Images
Technology & Innovation
If you were transported to the Moon this very instant, you would surely and rapidly die. That's because there's no atmosphere, the surface temperature varies from a roasting 130 degrees Celsius (266 F) to a bone-chilling minus 170 C (minus 274 F). If the lack of air or horrific heat or cold don't kill you then micrometeorite bombardment or solar radiation will. By all accounts, the Moon is not a hospitable place to be.

Big think's weekly newsletter.
Get smarter faster from the comfort of your inbox.
See our newsletter privacy policy
here
Most Popular
Most Recent
Big think's weekly newsletter.
Get smarter faster from the comfort of your inbox.
See our newsletter privacy policy
here
© Copyright 2007-2018 & BIG THINK, BIG THINK EDGE,
SMARTER FASTER trademarks owned by The Big Think, Inc. All rights reserved.