Study: There are instructions for teaching critical thinking
A new study says critical thinking is a teachable skill, but who is going to teach it?
21 August, 2015
Whether or not you can teach something as subjective as critical thinking has been up for debate.
But a fascinating new study shows that it's actually quite possible.
Experiments performed by Stanford's Department of Physics and Graduate School of Education demonstrate that students can be instructed to think more critically.
---
It's difficult to overstate the importance of critical-thinking skills in modern society. The ability to decipher information and interpret it, offering creative solutions, is in direct relation to our intellect.
The study took two groups of students in an introductory physics laboratory course, with one group (known as the experimental group) given the instruction to use quantitative comparisons between datasets and the other group given no instruction (the control group). Comparing data in a scientific manner; that is, being able to measure one's observations in a statistical or mathematical way, led to interesting results for the experimental group.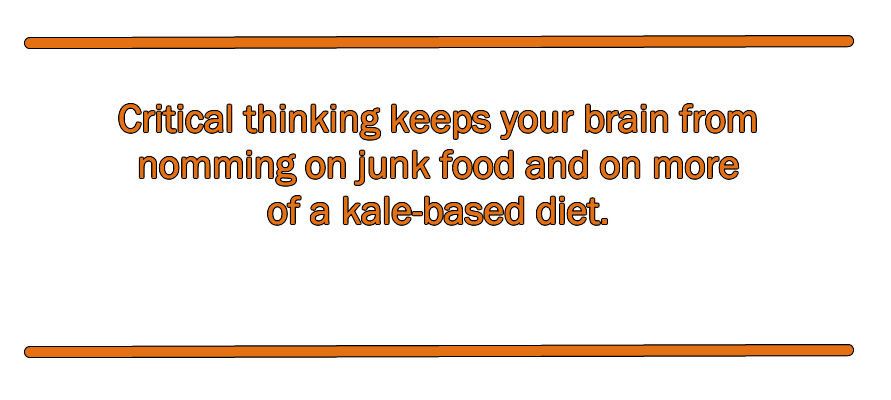 Even after these instructions were removed, they were 12 times more likely to offer creative solutions to improve the experimental methods being used in the class, four times more likely to explain the limitations of the methods, and better at explaining their reasoning than the control group. The results remained consistent even in the next year, with students in a different class. So what does this imply about critical thinking, and how can we utilize these findings to improve ourselves and our society?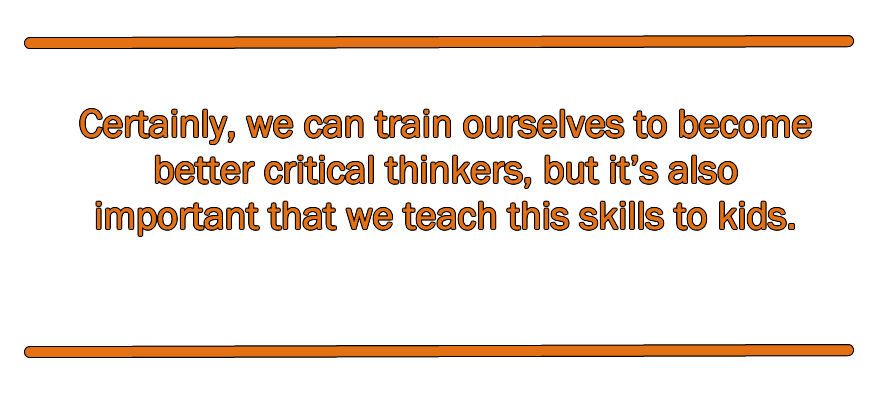 We live in an age with unprecedented access to information. Whether you are contributing to an entry on Wikipedia or reading a meme that has no sources cited (do they ever?), your ability to comprehend what you are reading and weigh it is a constant and consistent need. That is why it is so imperative that we have sharp critical-thinking skills. Also, if you don't use them, you will have nothing to argue with your family about at Thanksgiving. More importantly, it keeps your brain from nomming on junk food and on more of a kale-based diet. Look at any trending topic, and test yourself. Is this true/accurate? How do I know either way? Is there a way I can use data (provable, factual information) to figure this out?
Certainly, we can train ourselves to become better critical thinkers, but it's also important that we teach these skills to kids. Studies have shown how important this ability is to our success, and yet many feel that we're doing a terrible job of teaching it. This study, however, may lead to educators and parents realizing that these skills are teachable. The implications of a better thinking society are not quantitative, but I do believe they would be extraordinary.
What can 3D printing do for medicine? The "sky is the limit," says Northwell Health researcher Dr. Todd Goldstein.
Northwell Health
Sponsored by Northwell Health
Medical professionals are currently using 3D printers to create prosthetics and patient-specific organ models that doctors can use to prepare for surgery.
Eventually, scientists hope to print patient-specific organs that can be transplanted safely into the human body.
Northwell Health, New York State's largest health care provider, is pioneering 3D printing in medicine in three key ways.
Torn between absolutism on the left and the right, classical liberalism—with its core values of compassion and incremental progress whereby the once-radical becomes the mainstream—is in need of a good defense. And Adam Gopnik is its lawyer.
Think Again Podcasts
Liberalism as "radical pragmatism"
Intersectionality and civic discourse
How "a thousand small sanities" tackled drunk driving, normalized gay marriage, and could control gun violence
Irish president believes students need philosophy.
Personal Growth
President of Ireland Michael D. Higgins calls for students to be thought of as more than tools made to be useful.
Higgins believes that philosophy and history should be a basic requirement forming a core education.
The Irish Young Philosopher Awards is one such event that is celebrating this discipline among the youth.
The lost practice of face-to-face communication has made the world a more extreme place.
Videos
The world was saner when we spoke face-to-face, argues John Cameron Mitchell. Not looking someone in the eye when you talk to them raises the potential for miscommunication and conflict.
Social media has been an incredible force for activism and human rights, but it's also negatively affected our relationship with the media. We are now bombarded 24/7 with news that either drives us to anger or apathy.
Sitting behind a screen makes polarization worse, and polarization is fertile ground for conspiracy theories and fascism, which Cameron describes as irrationally blaming someone else for your problems.
Big think's weekly newsletter.
Get smarter faster from the comfort of your inbox.
See our newsletter privacy policy
here
Most Popular
Most Recent
Big think's weekly newsletter.
Get smarter faster from the comfort of your inbox.
See our newsletter privacy policy
here
© Copyright 2007-2019 & BIG THINK, BIG THINK EDGE,
SMARTER FASTER trademarks owned by The Big Think, Inc. All rights reserved.