Elon Musk Is Innovating a Whole New Kind of Transport
Musk shows no signs of letting his brilliant madness die.
26 October, 2015
---
Plans for the Hyperloop train are getting kinda serious. A full-sized prototype of the system is set to be built in California within weeks according to reports. But while testing may be moving forward on American soil, the United States may not be the first country to enjoy all the benefits it has to offer.
Back in 2013, Elon Musk unveiled open plans for the Hyperloop. A train that would transport passengers along 400 miles of electromagnetic tubes at 760 miles per hour, connecting Los Angeles and San Francisco. Travel time would be a mere 30 minutes, and the ticket price? Only $20.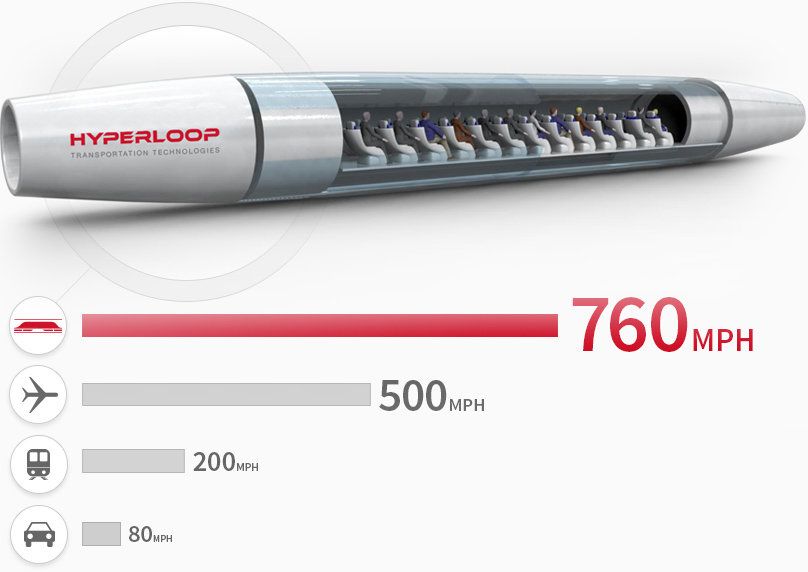 "It is the closest thing to teletransportation," Hyperloop's Chief Operating Officer Bibop Gabriele Gresta told Dezeen in an interview. It makes China's plans to build a high-speed rail from Las Vegas to Los Angeles seem like old news.
The Hyperloop is one of the more exciting developments America has seen since 1957 when engineers created the Boeing 707 — a plane that allowed its passengers to travel at 80 percent of the speed of sound.
The proposed test track will stretch across five miles in the Quay Valley and take 32 months to build. After it's completed, it will transport 10 million people over the course of its trial period at 160 miles per hour. Capsules will be empty while testing the Hyperloop's top speed of 760 miles per hour.
It's able to achieve these speeds by ditching the wheels that create too much friction in traditional train systems. As outlined in the Alpha report, "Wheels don't work very well at that sort of speed, but a cushion of air does. Air bearings, which use the same basic principle as an air hockey table, have been demonstrated to work at speeds of Mach 1.1 with very low friction."
What's more, the Hyperloop will be a self-sustaining system powered by renewable energy, including solar, wind, and kinetic. Gresta explained, "It will consume less electricity than we produce. We can resell electricity. In this model, it will allow us to recoup the entire investment in six to eight years depending on where you build it."
TED's Chris Anderson, explains, "What [Elon Musk has] done in terms of the space industry, the future of electric cars, the future of solar power, are truly remarkable, and then side projects like Hyperloop and so forth."
The bid to buy Greenland is unlikely to become seriously considered.
Politics & Current Affairs
Greenland and Danish officials alike think the idea is ridiculous.
The island is an autonomous state, and it's unlikely the Danish would sell it because of yearly subsidies costs.
After hearing the Danish Prime Minister call the idea absurd, Trump cancelled their forthcoming meeting.
Some games are just for fun, others are for thought provoking statements on life, the universe, and everything.
(Photo from Flickr)
Culture & Religion
Video games are often dismissed as fun distractions, but some of them dive into deep issues.
Through their interactive play elements, these games approach big issues intelligently and leave you both entertained and enlightened.
These five games are certainly not the only games that cover these topics or do so well, but are a great starting point for somebody who wants to play something thought provoking.
In a new study, people who posted a lot of selfies were generally viewed as less likeable and more lonely.
Kim Kardashian/Instagram
Surprising Science
A new study examined how people perceive others' Instagram accounts, and whether those perceptions match up with how the posters rate their own personalities.
The results show that people react far more positively to "posies," which are photos of the poster taken by another person.
Still, it remains unclear exactly why people view selfies relatively negatively.