Airbnb Backtracks on One of the Dumbest Ad Campaigns in Recent Memory
An ill-timed, tone-deaf tweet is excusable. An ill-timed, tone-deaf ad campaign isn't.
22 October, 2015
There must be something in the water out in Silicon Valley — if there's any water left — that's making some typically very smart people do some atypically very dumb things.
---
Case in point: Airbnb has become the latest major tech company to face public outcry over an ill-conceived ad campaign. From Gizmodo:
"This week, Airbnb rolled out a series of ads around San Francisco to raise awareness of the $12m or so it raises for the city through hotel taxes. Sadly, the effect was passive-aggressive — and it's now at the receiving end of biting criticism.

The ads in question have been posted on bus shelters and billboards around San Francisco. In each case, they address a public service provider, then suggest a possible use for some of those tax dollars."
The ads are part of an $8 million campaign aimed at defeating Proposition F, a San Francisco ballot measure that would restrict the short-term rental market in the rent-crazy city. The campaign's stated purpose is to inform voters of the ostensible value of tax revenue generated via Airbnbs. The problem, as you can see in the images below, is that the tone they adopted, which may have been aiming at "hip and savvy," landed somewhere closer to "snotty douchebag":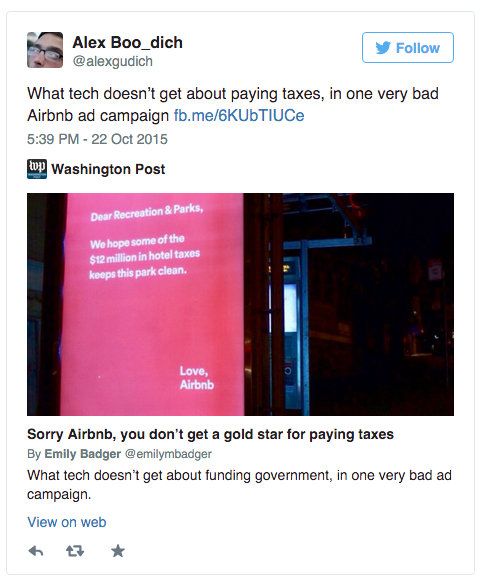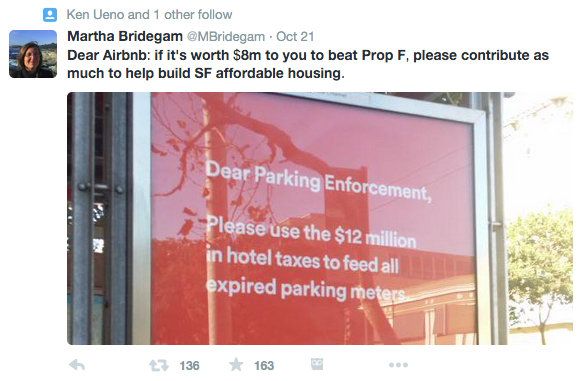 You can see more of the ads here. Some are fairly innocuous; others are absolutely dripping with the sort of arrogant smarm that makes even millennials go, "Man, I hate millennials."
Local residents have not responded well. Martha Kenney, a professor at San Francisco State University, authored a much-shared takedown in which she chides the company for being disingenuous. Predictably, Airbnb has decided to remove ads and offered an apology "to anyone who was offended."
When being tone-deaf, it's best not to make a spectacle of yourself
A few months ago someone at Tinder lost their mind and staged an embarrassing Twitter tantrum in response to an unflattering profile in Vanity Fair. As social media is the absolute worst venue for attempting to mount a cogent argument, especially when you're all worked up, the rant came off as weak and childish. The Internet's whip-quick response lodged a digital pacifier in Tinder's mouth: Apologies were proffered; think pieces were penned; and everyone acknowledged that sometimes folks just don't think before they tweet.
Even though Twitter meltdowns are almost categorically silly and dumb, they're generally considered excusable. Most of the time, some intern gets thrown under the bus and everybody just moves along with their lives.
Airbnb's recent faux pas stands apart because its "$12 million in taxes" campaign didn't get rolled out without the approval of multiple eyes. That every single one of those eyes was blind to how San Franciscans would respond is a reflection of myopia within Airbnb's company culture. There's an undeniable air of entitlement in those ads. They're bragging about paying taxes as if it's philanthropy!
Upstreamism advocate Rishi Manchanda calls us to understand health not as a "personal responsibility" but a "common good."
Sponsored by Northwell Health
Upstreamism tasks health care professionals to combat unhealthy social and cultural influences that exist outside — or upstream — of medical facilities.
Patients from low-income neighborhoods are most at risk of negative health impacts.
Thankfully, health care professionals are not alone. Upstreamism is increasingly part of our cultural consciousness.
The Bajau people's nomadic lifestyle has given them remarkable adaptions, enabling them to stay underwater for unbelievable periods of time. Their lifestyle, however, is quickly disappearing.
Wikimedia Commons
Culture & Religion
The Bajau people travel in small flotillas throughout the Phillipines, Malaysia, and Indonesia, hunting fish underwater for food.
Over the years, practicing this lifestyle has given the Bajau unique adaptations to swimming underwater. Many find it straightforward to dive up to 13 minutes 200 feet below the surface of the ocean.
Unfortunately, many disparate factors are erasing the traditional Bajau way of life.
We explore the history of blood types and how they are classified to find out what makes the Rh-null type important to science and dangerous for those who live with it.
Abid Katib/Getty Images
Surprising Science
Fewer than 50 people worldwide have 'golden blood' — or Rh-null.
Blood is considered Rh-null if it lacks all of the 61 possible antigens in the Rh system.
It's also very dangerous to live with this blood type, as so few people have it.
An innovation may lead to lifelike evolving machines.
Shogo Hamada/Cornell University
Surprising Science
Scientists at Cornell University devise a material with 3 key traits of life.
The goal for the researchers is not to create life but lifelike machines.
The researchers were able to program metabolism into the material's DNA.
Big think's weekly newsletter.
Get smarter faster from the comfort of your inbox.
See our newsletter privacy policy
here
Most Popular
Most Recent
Big think's weekly newsletter.
Get smarter faster from the comfort of your inbox.
See our newsletter privacy policy
here
© Copyright 2007-2019 & BIG THINK, BIG THINK EDGE,
SMARTER FASTER trademarks owned by The Big Think, Inc. All rights reserved.