Drugs that Make Us Feel Smart Are Ruining Our Lives
A recent study makes a compelling new case for why we shouldn't take drugs like Adderall precisely because they help us to succeed at things we otherwise wouldn't.
07 July, 2015
The objections with using artificial stimulants to get ahead in life, whether in sports, college, or at the office, have always been framed as the self-interested person going too far. Their intentions were in the right place, i.e., wanting to succeed, but their methods for achieving their goals fell outside social norms. They took drugs, so they cheated — they are the nerd equivalent of Lance Armstrong.
---
Rejoinders abound. Drugs like Adderall and Ritalin are just like coffee, say some. Others remark that stimulants are extremely safe relative to other substances like alcohol, cigarettes, and cocaine. And anyway, we should be free to do what we want with our own bodies, right?
A recent study makes a compelling new case for why we shouldn't take drugs like Adderall precisely because they help us to succeed at things we otherwise wouldn't, and why we might lay off the coffee, too.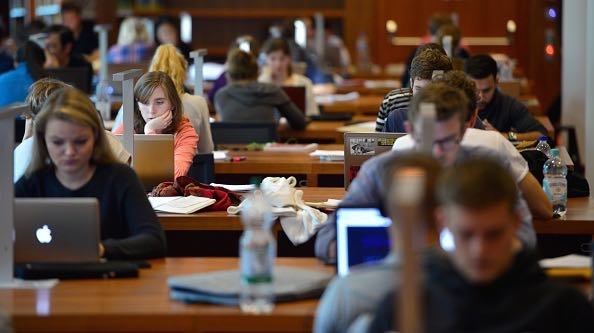 The study, published in the American Journal of Bioethics (AJOB), points to the discrepancy between objective measures of Adderall's effectiveness and how the drug makes people feel. The results suggest that artificial stimulants do not objectively improve performance on tasks like standardized tests, but they give takers the sensation of having super mental strength.
"For instance, a study looking at the effects of Adderall failed to find cognitive-enhancement effects, but uncovered that users tended to believe their performance was enhanced compared to those given a placebo."
Another study reviewed by the AJOB found that college students feel amazing when they take Adderall:
"Everything seems better, and more doable."
"It just got to where I felt like if I was staring at something I just couldn't take my eyes away from it — it made studying more interesting."
"You start to feel such a connection to what you're working on. It's almost like you fall in love with it — there's nothing else you'd rather be doing!"
Herein lies the problem. These students are artificially interested in topics they otherwise wouldn't care about. So instead of finding their true, authentic selves, they bend their will to ace exams they feel no passion for. This isn't to say that self-sacrifice isn't sometimes good and necessary, but in college — where stimulant use is notoriously rampant — young people are meant to be discovering their true interests. A brilliant piece at Scientific American explains:
"Sometimes lacking motivation in life is symptomatic of a deeper problem: a bad career choice, a university major that does not interest you, or a lifestyle that does not suit you. In these cases, lacking motivation might signal an alienation from your life's meaning — a sense of incongruity between your self and what you are doing with your life. Treating that alienation with a motivation enhancer, rather than re-evaluating the course of your life, seems like a bad idea."

When you fake it for too long, you wake up one day wondering where the years have gone.
Psychiatrist Dr. Julie Holland explains how the subjective feeling of taking psychotropic medications has resulted in people seeking out the drugs — and how over-prescription quickly followed.
Photo Credit: Thomas Lohnes / Stringer, Bloomberg / Getty
The ability to speak clearly, succinctly, and powerfully is easier than you think
Former U.S. President Barack Obama speaks during a Democratic Congressional Campaign Committee rally at the Anaheim Convention Center on September 8, 2018 in Anaheim, California. (Photo by Barbara Davidson/Getty Images)
Personal Growth
The ability to communicate effectively can make or break a person's assessment of your intelligence, competence, and authenticity.
The next gold rush might take place in our sewers.
Shutterstock
Surprising Science
Even though we think of it as exceedingly rare, gold can be found all around us.
The trouble is, most of the gold is hard to get at; its too diluted in our waste or ocean waters to effectively extract.
This new technique quickly, easily, and reliably extracts gold from most liquids.
What defines a dark horse? The all-important decision to pursue fulfillment and excellence.
Big Think Books
When we first set the Dark Horse Project in motion, fulfillment was the last thing on our minds. We were hoping to uncover specific and possibly idiosyncratic study methods, learning techniques, and rehearsal regimes that dark horses used to attain excellence. Our training made us resistant to ambiguous variables that were difficult to quantify, and personal fulfillment seemed downright foggy. But our training also taught us never to ignore the evidence, no matter how much it violated our expectations.
Big think's weekly newsletter.
Get smarter faster from the comfort of your inbox.
See our newsletter privacy policy
here
Most Popular
Most Recent
Big think's weekly newsletter.
Get smarter faster from the comfort of your inbox.
See our newsletter privacy policy
here
© Copyright 2007-2018 & BIG THINK, BIG THINK EDGE,
SMARTER FASTER trademarks owned by The Big Think, Inc. All rights reserved.