How much math do you really need in everyday life?
Scott McLeod
Scott McLeod, J.D., Ph.D., is an Associate Professor of Educational Leadership at the University of Kentucky. He also is the Founding Director of the UCEA Center for the Advanced Study of Technology Leadership in Education (CASTLE), the nation's only academic center dedicated to the technology needs of school administrators, and was a co-creator of the wildly popular video series, Did You Know? (Shift Happens). He has received numerous national awards for his technology leadership work, including recognitions from the cable industry, Phi Delta Kappa, and the National School Boards Association. In Spring 2011 he was a Visiting Canterbury Fellow at the University of Canterbury in New Zealand. Dr. McLeod blogs regularly about technology leadership issues at Dangerously Irrelevant and Mind Dump, and occasionally at The Huffington Post. He can be reached at scottmcleod.net.
16 February, 2011
G. V. Ramanathan, emeritus professor of mathematics, statistics, and computer science, asks in the Washington Post:
---
How much math do you really need in everyday life? Ask yourself that -- and also the next 10 people you meet, say, your plumber, your lawyer, your grocer, your mechanic, your physician or even a math teacher.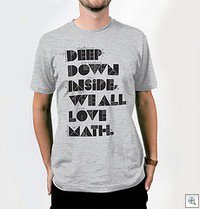 Unlike literature, history, politics and music, math has little relevance to everyday life. That courses such as "Quantitative Reasoning" improve critical thinking is an unsubstantiated myth. All the mathematics one needs in real life can be learned in early years without much fuss. Most adults have no contact with math at work, nor do they curl up with an algebra book for relaxation.
Those who do love math and science have been doing very well. Our graduate schools are the best in the world. This "nation at risk" has produced about 140 Nobel laureates since 1983 (about as many as before 1983).
As for the rest, there is no obligation to love math any more than grammar, composition, curfew or washing up after dinner.
[Can we add cursive handwriting to the list in his last paragraph?!]
This is an interesting argument. Your plumber, lawyer, grocer, mechanic, physician, and/or math teacher also might say that literature, history, or even politics or music has little place in his or her life right now. That may not mean, however, that there's little worth in having learned about the discipline.
How much math (or any subject) do folks need in everyday life? And how much math (or any subject) should students take in school beyond whatever that is (and why)?
[hat tip to Tim Stahmer]
Image credit: Deep down inside we all love math T-shirt
New research links urban planning and political polarization.
Pixabay
Politics & Current Affairs
Canadian researchers find that excessive reliance on cars changes political views.
Decades of car-centric urban planning normalized unsustainable lifestyles.
People who prefer personal comfort elect politicians who represent such views.
Progressive America would be half as big, but twice as populated as its conservative twin.
Image: Dicken Schrader
Strange Maps
America's two political tribes have consolidated into 'red' and 'blue' nations, with seemingly irreconcilable differences.
Perhaps the best way to stop the infighting is to go for a divorce and give the two nations a country each
Based on the UN's partition plan for Israel/Palestine, this proposal provides territorial contiguity and sea access to both 'red' and 'blue' America
Science and the squishiness of the human mind. The joys of wearing whatever the hell you want, and so much more.
Flickr / 13winds
Think Again Podcasts
Why can't we have a human-sized cat tree?
What would happen if you got a spoonful of a neutron star?
Why do we insist on dividing our wonderfully complex selves into boring little boxes
Big think's weekly newsletter.
Get smarter faster from the comfort of your inbox.
See our newsletter privacy policy
here
Most Popular
Most Recent
Big think's weekly newsletter.
Get smarter faster from the comfort of your inbox.
See our newsletter privacy policy
here
© Copyright 2007-2018 & BIG THINK, BIG THINK EDGE,
SMARTER FASTER trademarks owned by The Big Think, Inc. All rights reserved.