Scientists Find Out How Hope Protects the Brain
Since hope appears to come from a physical place in the brain, scientists are hoping to figure out how it shields the rest of the brain from negativity. Really. 
20 October, 2017
---
In a recent study, Chinese psychologists found out that hope protects the brain against anxiety and expanded our understanding of how that may be happening. Because hope is considered a stable personality trait, they reasoned, they might be able to figure out where in the brain they can find hope functioning. They were able not only to pinpoint where hope might potentially reside within the brain, but realized how hope may be shielding the brain from the effects of anxiety.
The scientists defined hope as an important topic in positive psychology, referring to an individual's "goal-oriented expectations" that include both agency (desire to achieve goals) and pathways (finding ways to achieve them).
The researchers used fMRI imaging on 231 high school students from Chengdu, China who were tested according to questionnaires using the DHS hope scale and the Stait-Trait Anxiety test.
The scientists analyzed the data using the fractional amplitude of low-frequency fluctuation (fALFF) approach. They found that the presence of the hope trait was related to lower fALFF values in the bilateral medial orbitofrontal cortex (mOFC) area of the brain. That is the region involved in reward-related procession, the production of motivation, solving problems and goal-oriented behavior, according to the scientists.
The orbitofrontal cortex is located just above the orbits of the eyes and goes back several centimeters into the frontal base of the brain. The scientists discovered that the hope trait worked as a "mediator" between mOFC activity and anxiety.
"Overall, this study provides the first evidence for functional brain substrates underlying trait hope and reveals a potential mechanism that trait hope mediates the protective role of spontaneous brain activity against anxiety," write the researchers.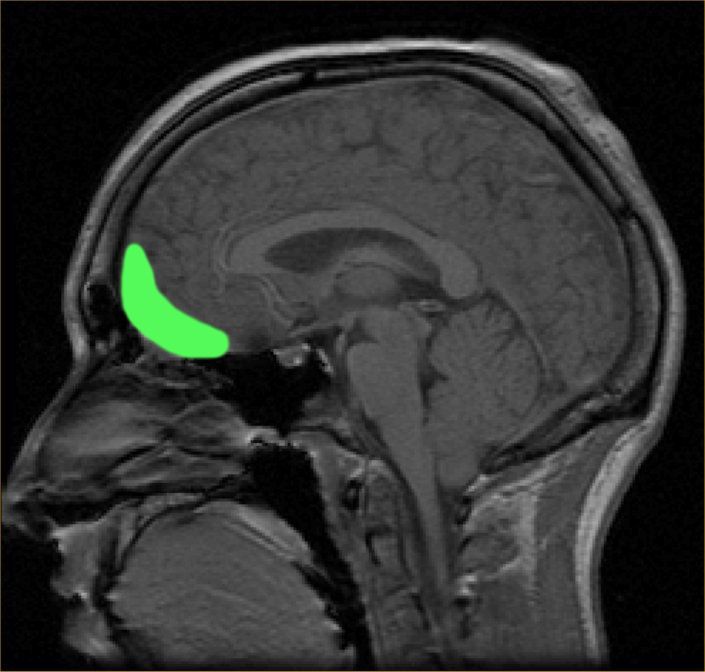 Orbitofrontal Cortex. Credit: Paul Wicks, Wikipedia
This is the first evidence that hope may have a physical presence in the brain, but the relationship between hope and anxiety has been established in a number of previous studies. A 2002 University of Kansas study, led by C.R. Snyder, looked at the role hope plays for students. The researchers found that students low in hope had greater anxiety, primarily from establishing goals that were too overwhelming and hard to achieve.
A 2011 study from Malaysian and Hong Kong scientists showed the link between having greater hope and reduced anxiety and depression in cancer patients. It was not clear, however, whether hope caused less anxiety or people with less anxiety were more hopeful.
Here you can check out the 2017 study that involved researchers from Sichuan University, Southwest University for Nationalities and Chengdu Mental Health Center in Chengdu, China.
What can 3D printing do for medicine? The "sky is the limit," says Northwell Health researcher Dr. Todd Goldstein.
Northwell Health
Sponsored by Northwell Health
Medical professionals are currently using 3D printers to create prosthetics and patient-specific organ models that doctors can use to prepare for surgery.
Eventually, scientists hope to print patient-specific organs that can be transplanted safely into the human body.
Northwell Health, New York State's largest health care provider, is pioneering 3D printing in medicine in three key ways.
Researchers advance machine learning to create videos of people from single stills and paintings.
Samsung
Technology & Innovation
Samsung researchers improve AI modeling to quickly create realistic (but fake) videos.
The model uses "single-shot learning" to create videos from a single picture.
The application of the tech could be in telepresence, video conferencing and gaming.
As Game of Thrones ends, a revealing resolution to its perplexing geography.
Strange Maps
The fantasy world of Game of Thrones was inspired by real places and events.
But the map of Westeros is a good example of the perplexing relation between fantasy and reality.
Like Britain, it has a Wall in the North, but the map only really clicks into place if you add Ireland.
Neuroscience is working to conquer some of the human body's cruelest conditions: Paralysis, brain disease, and schizophrenia.
Videos
Neuroscience and engineering are uniting in mind-blowing ways that will drastically improve the quality of life for people with conditions like epilepsy, paralysis or schizophrenia.
Researchers have developed a brain-computer interface the size of a baby aspirin that can restore mobility to people with paralysis or amputated limbs. It rewires neural messages from the brain's motor cortex to a robotic arm, or reroutes it to the person's own muscles.
Deep brain stimulation is another wonder of neuroscience that can effectively manage brain conditions like epilepsy, Parkinson's, and may one day mitigate schizophrenia so people can live normal, independent lives.
Big think's weekly newsletter.
Get smarter faster from the comfort of your inbox.
See our newsletter privacy policy
here
Most Popular
Most Recent
Big think's weekly newsletter.
Get smarter faster from the comfort of your inbox.
See our newsletter privacy policy
here
© Copyright 2007-2019 & BIG THINK, BIG THINK EDGE,
SMARTER FASTER trademarks owned by The Big Think, Inc. All rights reserved.
//This will actually fire event. Should be called after consent was verifed