Being Optimistic Is Good. Knowing about Optimism Bias Is Better.
The belief that things will be better in the future is called optimism bias. Being overly optimistic can lead you to miss an important health check up or make bad financial decisions.
19 April, 2017
---
Most of us think we are prudent in how we make decisions. We weigh our options and make the best possible choice in any given situation. But the cognitive reality is that people constantly underestimate the likelihood of something bad happening to them and overestimate the chances of positive events. This belief that things will be better in the future is known as optimism bias. Being overly optimistic can lead you to miss an important health check up or make bad financial decisions. There are also larger societal implications.
Recent research by Professor Chris Dawson from UK's University of Bath, published in the Strategic Entrepreneurship Journal, points to the significant effect optimism bias has on the labor market.
The study shows how financial optimism bias is both a necessity and the Achilles's heel of entrepreneurship. Starting your own business is a very forward-looking action but you open yourself up to much uncertainty. And studies have shown that optimism is highest at such moments, especially as the fate of the business is in your hands. Notably, research asserts that optimists are more likely to be attracted to activities that inspire more optimism.
While being your own boss tends to cause greater job satisfaction, there's a downside. For one, according to studies cited by Dr. Dawson, most entrepreneurs don't do well—a few are, statistically speaking, very successful. And with the amount of money people invest in their businesses (70% on average), the return on investment is the same as if they invested in stocks that tracked the market. Too many people go into it than should, he concludes.
Another problem is that optimists tend to be dissatisfied with their pay. In fact, the higher their financial optimism is before going into self-employment, the more likely they'll be dissatisfied with their entrepreneurial earnings.
Optimism bias also finds its way into sports. A 2015 study of NFL fans and sports reporters found they had overly optimistic expectations of their team's success. When 1,116 fans were asked to predict how many games their team would win, the average prognostication was 9.59. As there are 16 games in total, the average should be 8. The difference, according to the research, is due to optimism bias. Getting passionate about a team makes you think they'll be more successful than can be reasonably expected.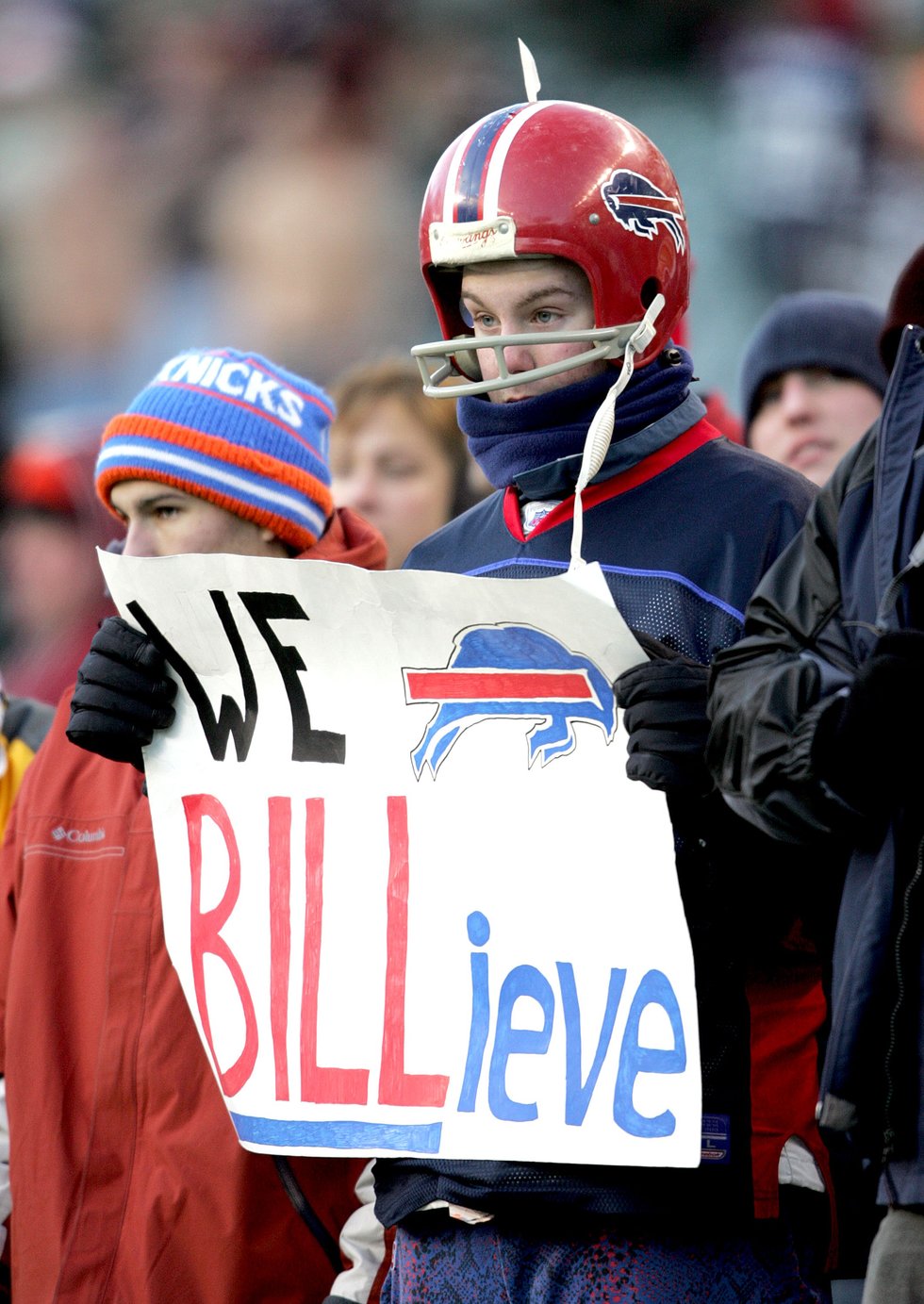 Buffalo Bills fans watch the action against the Cincinnati Bengals at Paul Brown Stadium on December 19, 2004 in Cincinnati, Ohio. (Photo by Andy Lyons/Getty Images)
A similar trend held among 32 ESPN reporters studied by the scientists. They were each assigned to one NFL team. When predicting their team's win total, they were also overly positive.
"Previous studies suggest that just following a team intensely can lead to bias, so that is also probably going on here. Fans and experts alike can get focused on improvements or changes for the team that they follow, and don't realize that it's an arms race with other teams who are also improving," said Professor Brad Love from University College London, the study's senior author.
Tali Sharot, a neuroscientist at University College London, wrote a book on the subject where she explores what makes our brain engage in overestimating outcomes. Dr. Sharot works in experimental psychology, exploring how people make decisions. She writes that "our brains aren't just stamped by the past. They are constantly being shaped by the future."
In her 2012 TED talk, Sharot calls optimism bias a "cognitive illusion" which 80% of us have. She also defends it as an inevitable and useful feature of the human experience, giving three reasons for why it's good to be an optimist:
1. "Whatever happens, whether you succeed or you fail, people with high expectations always feel better."
2. "Regardless of the outcome, the pure act of anticipation makes us happy."
3. "[Optimism] changes objective reality. It acts as a self-fulfilling prophecy." Being optimistic has been shown to lead to success and health benefits of reduction in anxiety and stress.
Sharon's larger point in the talk is that as long as we are aware of the our own optimism biases, we can protect our actions from its harms. But this should not ruin the optimism that we often need.
See the full talk below:
--
NASA astronomer Michelle Thaller is coming back to Big Think to answer YOUR questions! Here's all you need to know to submit your science-related inquiries.
Videos
Big Think's amazing audience has responded so well to our videos from NASA astronomer and Assistant Director for Science Communication Michelle Thaller that we couldn't wait to bring her back for more!

And this time, she's ready to tackle any questions you're willing to throw at her, like, "How big is the Universe?", "Am I really made of stars?" or, "How long until Elon Musk starts a colony on Mars?"
All you have to do is submit your questions to the form below, and we'll use them for an upcoming Q+A session with Michelle. You know what to do, Big Thinkers!
Lumina Foundation is partnering with Big Think to unearth the next large-scale, rapid innovation in post-high school education. Enter the competition here!
Why are soda and ice cream each linked to violence? This article delivers the final word on what people mean by "correlation does not imply causation."
popular
Ice cream consumption is actually linked to shark attacks.
But the relationship is correlative, not causal.
It's pretty stunning how media outlets skip over this important detail.
That's one way to reduce the national debt.
Change.org
Politics & Current Affairs
The tongue-in-cheek petition, whose stated aim is to reduce the national debt, has been signed more than 8,600 times as of Tuesday.
Selling Montana, the fourth largest state in the country, would constitute the largest land deal since the Louisiana Purchase.
The national debt is often a source of concern for individuals, but the chances of the U.S. defaulting on its debts are relatively low — in part because the bulk of the national debt is owned by the American public.
The plan to stop megacorps from owning superintelligence is already underway.
Videos
A.I. technology is often developed within the proprietary silos of big tech companies. What if there was an open, decentralized hub for A.I. developers to share their creations? Enter SingularityNET.
The many A.I.s in the network could compete with each other to provide services for users but they could also cooperate, giving way to an emergent-level mind: artificial general intelligence.
SingularityNET is powered by blockchain technology, meaning whatever 'digital organism' emerges will not be owned or controlled by any one person, company or government.
Big think's weekly newsletter.
Get smarter faster from the comfort of your inbox.
See our newsletter privacy policy
here
Most Popular
Most Recent
Big think's weekly newsletter.
Get smarter faster from the comfort of your inbox.
See our newsletter privacy policy
here
© Copyright 2007-2018 & BIG THINK, BIG THINK EDGE,
SMARTER FASTER trademarks owned by The Big Think, Inc. All rights reserved.