Great teacher + inappropriate web site?
16 February, 2011
By anyone's measure, Mike Pearce appears
to be a phenomenal history teacher. His Ellison High
School
---
students in Killeen, Texas had a 99% passing rate on the state
history assessment this year. Part of his success is due to the incredible
wealth of self-created electronic resources that he employs in his classes. You
can see many of them on his web site, www.ushistorynut.com, including
multimedia PowerPoint presentations that have been featured in his local newspaper
and the ASCD Smartbrief e-mail newsletter:

As an educator and technology advocate, I wish there were more teachers like
Mr. Pearce.
As a school law guy, however, I'm also troubled by his web site because it
has a hyperlink to one pro-life web site, LifeNews.com, and has banner ads that link
to another, lovematters.com (click on
screenshot thumbnails for larger images):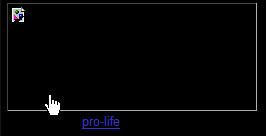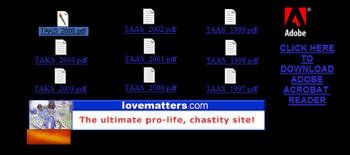 This probably would be fine if his web
site
had no connection to his school. But the site has notes to
students, links to his school and district, a hyperlink for parents to sign up
for his e-mail list, information for parents like his late homework policy and
school supply requests, the district calendar, his district e-mail address, etc.
He's very clearly using his site for pedagogical purposes, not just for
marketing of his PowerPoint presentations. And therein lies the problem because
his school and his district have a legal obligation to be politically and
religiously neutral.
Mr. Pearce does have a disclaimer way down at the bottom of his very lengthy
home page:
Disclaimer:  This page was designed solely by Mr. Pearce at his own

expense and was neither approved nor sanctioned by the Killeen Independent

School District.  The content of Mr. Pearce's site or webpages linked from his

site does not necessarily reflect the views of the Killeen Independent School

District.

He also appears to be trying to be politically neutral. For example, his home

page links to many different political parties, news sources, and news

columnists. But nowhere does he seem to have any pro-choice links or ads, nor

does he have any explanation of why he has chosen to feature one side of this

political / religious / personal issue.

I have never met Mr. Pearce. All evidence points to him being an amazing

teacher. But I'm not sure his

disclaimer and the fact that it's his

personal web site

are enough to survive deep legal scrutiny, particularly as the publicity for what's he's doing increases. People are going to logically associate his web site with his school and school

district, neither of which could ever get away with links and banner ads for

pro-life web sites [as an aside, I'm not sure they could get away with links to

the various commercial entities featured on his site either].

I've blogged before about the

difficult issues related to school districts allowing and monitoring teachers'

use of off-campus web sites for pedagogical purposes

. I think Mr. Pearce's

site illustrates the challenging questions that I raised in that post. In this

case, I think that he either needs to take his site down, remove all connections

to his school system, or remove the pro-life aspects. I don't think he can have

it all and still pass constitutional muster.

I'm willing to admit that maybe I'm going overboard here, so I'm asking a few

school law folks to lend their opinion on this, including Pamela Parker at Texas Teacher Law and Mike Tully at

the West Regional Equity Network.

I also have invited Mr. Pearce to tell us more about his site and whether he has received any complaints about the pro-life aspects of the site. Hopefully they

(and you) will have some time to lend some insights into this complex

issue.
Big Think Edge
The meaning of the word 'confidence' seems obvious. But it's not the same as self-esteem.
Confidence isn't just a feeling on your inside. It comes from taking action in the world.
Join Big Think Edge today and learn how to achieve more confidence when and where it really matters.
The team caught a glimpse of a process that takes 18,000,000,000,000,000,000,000 years.
Image source: Pixabay
Surprising Science
In Italy, a team of scientists is using a highly sophisticated detector to hunt for dark matter.
The team observed an ultra-rare particle interaction that reveals the half-life of a xenon-124 atom to be 18 sextillion years.
The half-life of a process is how long it takes for half of the radioactive nuclei present in a sample to decay.
The controversial herbicide is everywhere, apparently.
Surprising Science
U.S. PIRG tested 20 beers and wines, including organics, and found Roundup's active ingredient in almost all of them.
A jury on August 2018 awarded a non-Hodgkin's lymphoma victim $289 million in Roundup damages.
Bayer/Monsanto says Roundup is totally safe. Others disagree.
A scientific look into a ubiquitous phenomenon.
Big think's weekly newsletter.
Get smarter faster from the comfort of your inbox.
See our newsletter privacy policy
here
Most Popular
Most Recent
Big think's weekly newsletter.
Get smarter faster from the comfort of your inbox.
See our newsletter privacy policy
here
© Copyright 2007-2019 & BIG THINK, BIG THINK EDGE,
SMARTER FASTER trademarks owned by The Big Think, Inc. All rights reserved.