Big ideas.
Once a week.
Subscribe to our weekly newsletter.
The New Principles of Leadership
30 April, 2014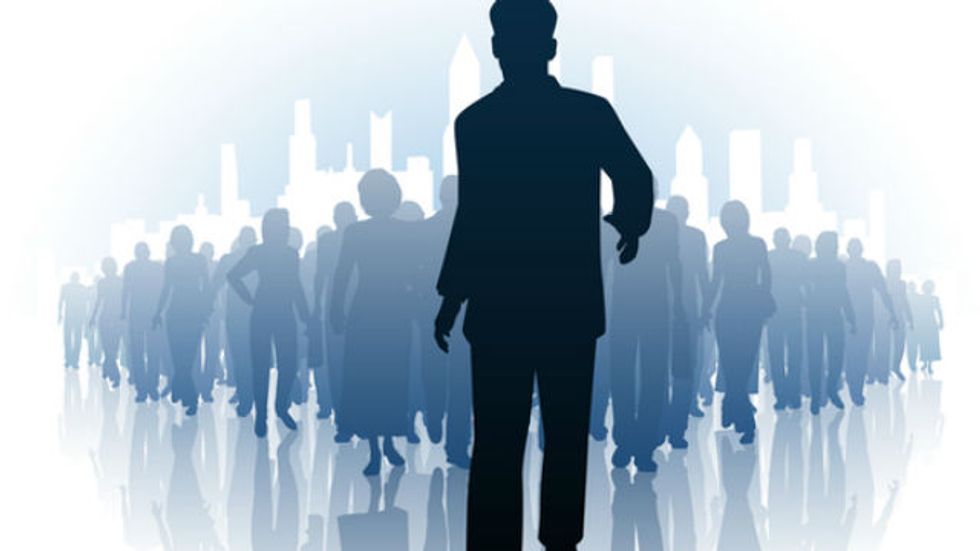 We're all aware that there are timeless leadership principles that have been true since the dawn of time and that will continue to be valid in tomorrow's business environment. Things like integrity, honesty, and personal responsibility immediately come to mind. While those are all vital traits, they're not the leadership traits I'm addressing right now. In today's world of technology-driven transformation, leaders need to embrace a new leadership principle if they want their organization to be relevant today and in the future.
---
In the recent past, leaders have focused on agility—being able to change quickly based on external circumstances because change from the outside-in has been coming at an ever-increasing speed, and it's only getting faster. Many of these types of changes are driven by technology, but they're also from our customers, because technology is influencing our customers and changing the way they interact with us. We also have increasing transparency, meaning your customers and prospects have access to complaints, as well as accolades, through social media and other new forms of communication. All of these changes, which are coming from the outside-in and force agility, cause leaders to react, crisis manage, and put out fires on a daily basis.
Knowing this, it's evident that simply being agile no longer works. Instead, today's leaders need to be anticipatory.
When you're anticipatory, you're creating changes and driving disruption from the inside-out rather than being disrupted from the outside-in. Disruption is the disruptive technology that changes our world on us and keeps many leaders up at night. Chances are you've often asked, "What new technology will disrupt my path to market?" or "What new technology will change how my customers behave?" For many leaders, disruption is a familiar foe.
But realize that disruptive technology is only disruptive if you didn't know about it ahead of time. And when you're anticipatory, you can not only see and accurately anticipate those disruptive technologies, but you can use them to create new revenue streams, new products, new services, and new markets. That's when you drive growth and change from the inside-out so that others have to react to you instead of you reacting to what others are doing. In this scenario, disruption is your friend.
So the question is, how do become more anticipatory?
First, you have to make the future more visible. Ask yourself, "In these times of unprecedented change and uncertainty, what am I certain about?" If you look closely, you'll see there are two types of change you routinely deal with, and both are fully predictable. The first is cyclical change. There are over three hundred known cycles that allow anyone to anticipate the future. For example, home values, the stock market, imports, and exports will continually ebb and flow. Those all represent cyclical changes that are in many ways easier to deal with, provided you know historically how long the cycle will last.
Sometimes, though, changes are linear. For example, someone gets an iPod and starts listening to music on that device rather than buying CDs. That person now has all her music with her at all times. That's a linear change because she's not going back to music on CDs. Other examples of linear change include globalization, the acceleration of computer processing speed, and an increase in the world's population. Linear changes, even small ones, can have devastating effects on a business. What linear marketplace changes are on your organization's radar? Identify them so you can anticipate.
Next, identify the Hard Trends—the trends that will happen—and ask yourself, "What are the disruptions on the horizon?" How we do our supply chain, purchasing, logistics, and many more functions are being transformed by technologies like the cloud and virtualization. It's creating disruption/opportunity. You can either sit back and wait until the disruption hits—take a "wait-and-see" approach—or you can get active, what I call being preactive, and take positive action based on future known events.
For example, if you were a cable television company, you would have to look at IPTV—Internet Protocol Television—and ask yourself, "How are young people watching TV today?" You'd see they're using tablets like iPads or using smartphones like iPhones and Androids to watch television, such as YouTube, Hulu, and Netflix to name a few. Many of them aren't watching cable TV anymore, even though some cable channels like Time Warner have created apps recently. Most cable companies are not embracing this revolution as a new profit center even though it is already disrupting and will continue to disrupt at an ever-increasing pace.
Finally, look outside your industry for the solutions you need. You're probably reading a lot of information every day about the industry you're in. You're also likely a member of multiple industry associations, and as a leader, you probably play a leadership role in some of them. However, by being so immersed in your industry, you may be missing what's going on outside your industry. Therefore, look outside your industry and see where others have been innovating. Find out what changes they've made, technologies they've developed or adapted, and then modify those to your situation. Learn from their mistakes so you don't have to make them. That's how you proactively approach the disruptions you know are coming.
So while we all know the timeless traits of leadership, there's no competitive advantage in being just like everyone else. That's why being anticipatory is so important. What do you see that's about to happen, and how can you use that to your advantage? Instead of getting stopped by things you don't know, it's time to anticipate what's coming so it doesn't disrupt you.
No matter who you are or what you do, you can anticipate. Therefore, don't wait for your future to unfold randomly, only to end up in a place you don't want to be. Instead, identify the certainties that await you, pinpoint the looming disruptions, and go outside your industry to devise tomorrow's solutions today. Look at what you can do rather than what you can't, and you'll emerge as a timeless leader who always succeeds.
###
DANIEL BURRUS is considered one of the World's Leading Futurists on Global Trends and Innovation, a top LinkedIn Global INfluencer, and is the founder and CEO of Burrus Research, a research and consulting firm that monitors global advancements in technology driven trends to help clients understand how technological, social and business forces are converging to create enormous untapped opportunities. He is the author of six books including The New York Times best seller Flash Foresight. Follow Daniel on Twitter and LinkedIn. www.burrus.com
Inventions with revolutionary potential made by a mysterious aerospace engineer for the U.S. Navy come to light.
Credit: Getty Images
Surprising Science
U.S. Navy holds patents for enigmatic inventions by aerospace engineer Dr. Salvatore Pais.
Pais came up with technology that can "engineer" reality, devising an ultrafast craft, a fusion reactor, and more.
While mostly theoretical at this point, the inventions could transform energy, space, and military sectors.
The U.S. Navy controls patents for some futuristic and outlandish technologies, some of which, dubbed "the UFO patents," came to light recently. Of particular note are inventions by the somewhat mysterious Dr. Salvatore Cezar Pais, whose tech claims to be able to "engineer reality." His slate of highly-ambitious, borderline sci-fi designs meant for use by the U.S. government range from gravitational wave generators and compact fusion reactors to next-gen hybrid aerospace-underwater crafts with revolutionary propulsion systems, and beyond.
Of course, the existence of patents does not mean these technologies have actually been created, but there is evidence that some demonstrations of operability have been successfully carried out. As investigated and reported by The War Zone, a possible reason why some of the patents may have been taken on by the Navy is that the Chinese military may also be developing similar advanced gadgets.
Among Dr. Pais's patents are designs, approved in 2018, for an aerospace-underwater craft of incredible speed and maneuverability. This cone-shaped vehicle can potentially fly just as well anywhere it may be, whether air, water or space, without leaving any heat signatures. It can achieve this by creating a quantum vacuum around itself with a very dense polarized energy field. This vacuum would allow it to repel any molecule the craft comes in contact with, no matter the medium. Manipulating "quantum field fluctuations in the local vacuum energy state," would help reduce the craft's inertia. The polarized vacuum would dramatically decrease any elemental resistance and lead to "extreme speeds," claims the paper.
Not only that, if the vacuum-creating technology can be engineered, we'd also be able to "engineer the fabric of our reality at the most fundamental level," states the patent. This would lead to major advancements in aerospace propulsion and generating power. Not to mention other reality-changing outcomes that come to mind.
Among Pais's other patents are inventions that stem from similar thinking, outlining pieces of technology necessary to make his creations come to fruition. His paper presented in 2019, titled "Room Temperature Superconducting System for Use on a Hybrid Aerospace Undersea Craft," proposes a system that can achieve superconductivity at room temperatures. This would become "a highly disruptive technology, capable of a total paradigm change in Science and Technology," conveys Pais.
High frequency gravitational wave generator.
Credit: Dr. Salvatore Pais
Another invention devised by Pais is an electromagnetic field generator that could generate "an impenetrable defensive shield to sea and land as well as space-based military and civilian assets." This shield could protect from threats like anti-ship ballistic missiles, cruise missiles that evade radar, coronal mass ejections, military satellites, and even asteroids.
Dr. Pais's ideas center around the phenomenon he dubbed "The Pais Effect". He referred to it in his writings as the "controlled motion of electrically charged matter (from solid to plasma) via accelerated spin and/or accelerated vibration under rapid (yet smooth) acceleration-deceleration-acceleration transients." In less jargon-heavy terms, Pais claims to have figured out how to spin electromagnetic fields in order to contain a fusion reaction – an accomplishment that would lead to a tremendous change in power consumption and an abundance of energy.
According to his bio in a recently published paper on a new Plasma Compression Fusion Device, which could transform energy production, Dr. Pais is a mechanical and aerospace engineer working at the Naval Air Warfare Center Aircraft Division (NAWCAD), which is headquartered in Patuxent River, Maryland. Holding a Ph.D. from Case Western Reserve University in Cleveland, Ohio, Pais was a NASA Research Fellow and worked with Northrop Grumman Aerospace Systems. His current Department of Defense work involves his "advanced knowledge of theory, analysis, and modern experimental and computational methods in aerodynamics, along with an understanding of air-vehicle and missile design, especially in the domain of hypersonic power plant and vehicle design." He also has expert knowledge of electrooptics, emerging quantum technologies (laser power generation in particular), high-energy electromagnetic field generation, and the "breakthrough field of room temperature superconductivity, as related to advanced field propulsion."
Suffice it to say, with such a list of research credentials that would make Nikola Tesla proud, Dr. Pais seems well-positioned to carry out groundbreaking work.
A craft using an inertial mass reduction device.
Credit: Salvatore Pais
The patents won't necessarily lead to these technologies ever seeing the light of day. The research has its share of detractors and nonbelievers among other scientists, who think the amount of energy required for the fields described by Pais and his ideas on electromagnetic propulsions are well beyond the scope of current tech and are nearly impossible. Yet investigators at The War Zone found comments from Navy officials that indicate the inventions are being looked at seriously enough, and some tests are taking place.
If you'd like to read through Pais's patents yourself, check them out here.
Laser Augmented Turbojet Propulsion System
Credit: Dr. Salvatore Pais
A school lesson leads to more precise measurements of the extinct megalodon shark, one of the largest fish ever.
Credit: Catmando / Adobe Stock.
Surprising Science
A new method estimates the ancient megalodon shark was as long as 65 feet.
The megalodon was one of the largest fish that ever lived.
The new model uses the width of shark teeth to estimate its overall size.
A Florida student figured out a way to more accurately measure the size of one of the largest fish that ever lived – the extinct megalodon shark – and found that it was even larger than previously estimated.
The megalodon (officially named Otodus megalodon, which means "Big Tooth") lived between 3.6 and 23 million years ago and was thought to be about 34 feet long on average, reaching the maximum length of 60 feet. Now a new study puts that number at up to 65 feet (20 meters).
Homework assignment leads to a discovery
The study, published in Palaeontologia Electronica, used new equations extrapolated from the width of megalodon's teeth to make the improved estimates. The paper's lead author, Victor Perez, developed the revised methodology while he was a doctoral student at the Florida Museum of Natural History. He got the idea while teaching students, noticing a range of discrepancies in the results they were getting.
Students were supposed to calculate the size of megalodon based on the ancient fish's similarities to the modern great white shark. They utilized the commonly accepted method of linking the height of a shark's tooth to its total body length. As the press release from the Florida Museum of Natural History expounds, this method involves locating the anatomical position of a tooth in the shark's jaw, measuring the tooth "from the tip of the crown to the line where root and crown meet," and using that number in an appropriate equation.
But while carrying out calculations in this way, some of Perez's students thought the shark would have been just 40 feet long, while others were calculating 148 feet. Teeth located toward the back of the mouth were yielding the largest estimates.
"I was going around, checking, like, did you use the wrong equation? Did you forget to convert your units?" said Perez, currently the assistant curator of paleontology at the Calvert Marine Museum in Maryland. "But it very quickly became clear that it was not the students that had made the error. It was simply that the equations were not as accurate as we had predicted."
Found in North Carolina, these 46 fossils are the most complete set of megalodon teeth ever excavated.Credit: Jeff Gage/Florida Museum
The new approach

Perez's math exercise demonstrated that the equations in use since 2002 were generating different size estimates for the same shark based on which tooth was being measured. Because megalodon teeth are most often found as standalone fossils, Perez focused on a nearly complete set of teeth donated by a fossil collector to design a new approach.
Perez also had help from Teddy Badaut, an avocational paleontologist in France, who suggested using tooth width instead of height, which would be proportional to the length of its body. Another collaborator on the revised method was Ronny Maik Leder, then a postdoctoral researcher at the Florida Museum, who aided in the development of the new set of equations.
The research team analyzed the widths of fossil teeth that came from 11 individual sharks of five species, which included megalodon and modern great white sharks, and created a model that connects how wide a tooth was to the size of the jaw for each species.
"I was quite surprised that indeed no one had thought of this before," shared Leder, who is now director of the Natural History Museum in Leipzig, Germany. "The simple beauty of this method must have been too obvious to be seen. Our model was much more stable than previous approaches. This collaboration was a wonderful example of why working with amateur and hobby paleontologists is so important."
Why use teeth?
In general, almost nothing of the super-shark survived to this day, other than a few vertebrae and a large number of big teeth. The megalodon's skeleton was made of lightweight cartilage that decomposed after death. But teeth, with enamel that preserves very well, are "probably the most structurally stable thing in living organisms," Perez said. Considering that megalodons lost thousands of teeth during a lifetime, these are the best resources we have in trying to figure out information about these long-gone giants.
Researchers suggest megalodon's large jaws were very thick, made for grabbing prey and breaking its bones, exerting a bite force of up to 108,500 to 182,200 newtons.
Megalodon tooth compared to two great white shark teeth. Credit: Brocken Inaglory / Wikimedia.
Limitations of the new model

While the new model is better than previous methods, it's still far from perfect in precisely figuring out the sizes of animals which lived so long ago and left behind few if any full remains. Because individual sharks come in a variety of sizes, Perez warned that even their new estimates have an error range of about 10 feet when it comes to the largest animals.
Other ambiguities may affect the results, such as the width of the megalodon's jaw and the size of the gaps between its teeth, neither of which are accurately known. "There's still more that could be done, but that would probably require finding a complete skeleton at this point," Perez pointed out.
How did the megalodon go extinct?
Environmental changes that led to fluctuations in sea levels and disturbed ecosystems in the oceans likely led to the demise of these enormous ancient sharks. They were just too big to be sustained by diminishing food resources, says the ReefQuest Centre for Shark Research.
A 2018 study suggested that a supernova 2.6 million years ago hit Earth's atmosphere with so much cosmic energy that it resulted in climate change. The cosmic rays that included particles called muons might have caused a mass extinction of giant ocean animals ("the megafauna") that included the megalodon by causing mutations and cancer.
Scientists, led by Adrian Melott, professor emeritus of physics and astronomy at the University of Kansas, estimated that "the cancer rate would go up about 50 percent for something the size of a human — and the bigger you are, the worse it is. For an elephant or a whale, the radiation dose goes way up," as he explained in a press release.
Milgram's experiment is rightly famous, but does it show what we think it does?
Mind & Brain
In the 1960s, Stanley Milgram was sure that good, law-abiding Americans would never be able to follow orders like the Germans in the Holocaust.
His experiments proved him spectacularly wrong. They showed just how many of us are willing to do evil if only we're told to by an authority figure.
Yet, parts of the experiment were set up in such a way that we should perhaps conclude something a bit more nuanced.
Holding a clipboard and wearing a lab coat makes you a very powerful person. Add in a lanyard and a confident voice, and you're pretty much in Ocean's Eleven.
Though we believe ourselves to be contrarians, most of us like to obey authority. We answer questions, help with any number of tasks, and obey commands unthinkingly. The vast majority of the time, this is relatively harmless and even requisite for a functioning society, but it can also lead humanity to very dark places.
It could happen here
As we've seen with Asch's experiments on conformity, the post-World War II community was determined to answer how and why the Holocaust took place. Just after the trial of Adolf Eichmann, the American media and public came to see German society as some special kind of monster in just how willing they were to follow orders unthinkingly, at odds with any sense of duty or morality.
Into this came Stanley Milgram. In 1961, Milgram set out a series of experiments to show, in his view, how the German people were more susceptible to authoritarianism than Americans. Milgram believed, as a lot of people did, that the American people would never be capable of such horrendous evil.
The experiment was to be set up in two stages: the first would be on American subjects, to gauge how far they would obey orders; the second would be on Germans, to prove how much they differed. The results stopped Milgram in his tracks.
Shock, shock, horror
Milgram wanted to ensure that his experiment involved as broad and diverse a group of people as possible. In addition to testing the American vs. German mindset, he wanted to see how much age, education, employment, and so on affected a person's willingness to obey orders.
So, the original 40 participants he gathered came from a wide spectrum of society, and each was told that they were to take part in a "memory test." They were to determine the extent to which punishment affects learning and the ability to memorize.
Milgram believed, as a lot of people did, that the American people would never be capable of such horrendous evil.
The experiment involved three people. First, there was the "experimenter," dressed in a lab coat, who gave instructions and prompts. Second, there was an actor who was the "learner." Third, there was the participant who thought that they were acting as the "teacher" in the memory test. The apparent experimental setup was that the learner had to match two words together after being taught them, and whenever they got the answer wrong, the teacher had to administer an electric shock. (The teachers (participants) were shocked as well to let them know what kind of pain the learner would experience.) At first, the shock was set at 15 volts.
The learner (actor) repeatedly made mistakes for each study, and the teacher was told to increase the voltage each time. A tape recorder was played that had the learner (apparently) make sounds as if in pain. As it went on, the learner would plead and beg for the shocks to stop. The teacher was told to increase the amount of voltage as punishment up to a level that was explicitly described as being fatal — not least because the learner was desperately saying he had a heart condition.
The question Milgram wanted to know: how far would his participants go?
Just obeying orders
Credit: Amos from Stockphotos.com via Unsplash
The results were surprising. Sixty-five percent of the participants were willing to give a 450-volt shock described as lethal, and all administered a 300-volt shock described as traumatically painful. It should be repeated, this occurred despite the learner (actor) begging the teacher (participant) to stop.

In the studies that came after, in a variety of different setups, that 60 percent number came up again and again. They showed that roughly two out of three people would be willing to kill someone if told to by an authority figure. Milgram proved that all genders, ages, and nationalities were depressingly capable of inflicting incredible pain or worse on innocent people.
Major limitations in Milgram's experiment
Milgram took many steps to make sure that his experiment was rigorous and fair. He used the same tape recording of the "learner" screaming, begging, and pleading for all participants. He made sure the experimenters used only the same four prompts each time when the participants were reluctant or wanted to stop. He even made sure that he himself was not present at the experiment, lest he interfere with the procedure (something Phillip Zimbardo did not do).
But, does the Milgram experiment actually prove what we think it does?
First, the experimenters were permitted to remind the participants that they were not responsible for what they did and that the team would take full blame. This, of course, does not make the study any less shocking, but it does perhaps change the scope of the conclusions. Perhaps the experiment reveals more about our ability to surrender responsibility and our willingness simply to become a tool. The conclusion is still pretty depressing, but it shows what we are capable of when offered absolution rather than when simply following orders.
Second, the experiment took place in a single hour, with very little time either to deliberate or talk things over with someone. In most situations, like the Holocaust, the perpetrators had ample time (years) to reflect on their actions, and yet, they still chose to turn up every day. Milgram perhaps highlights only how far we'll go in the heat of the moment.
Finally, the findings do not tell the whole tale. The participants were not engaging in sadistic glee to shock the learner. They all showed signs of serious distress and anxiety, such as nervous laughing fits. Some even had seizures. These were not willing accomplices but participants essentially forced to act a certain way. (Since then, many scientists have argued that Milgram's experiment is hugely unethical.)
The power of authority
That all being said, there's a reason why Milgram's experiment stays with us today. Whether it's evolutionarily or socially drilled into us, it seems that humans are capable of doing terrible things, if only we are told to do so by someone in power — or, at the very least, when we don't feel responsible for the consequences.
One silver lining to Milgram is in how it can inoculate us against such drone-like behavior. It can help us to resist. Simply knowing how far we can be manipulated helps allow us to say, "No."
Jonny Thomson teaches philosophy in Oxford. He runs a popular Instagram account called Mini Philosophy (@philosophyminis). His first book is Mini Philosophy: A Small Book of Big Ideas.
Scroll down to load more…