Why You Should Never Hit Your Dog
Positive punishment is the classic Skinnerian notion in which a stimulus is applied with the aim of reducing an unwanted behavior.
03 July, 2013
This post originally appeared in the Newton blog on RealClearScience. You can read the original here. 
---
"Bad dog! Bad dog!"

Even if you're not a dog owner, I'd wager you've heard that aplenty. The firm admonishment is occasionally accompanied by the choking yank of a leash or the stinging whack of a newspaper, and often followed by the guilty canine whimpering down or scurrying away, its tail between its legs. Fido has learned his lesson, its owner might think.

But it probably hasn't.

A select breed of dog trainers, including Cesar Millan, the "Dog Whisperer" on National Geographic Channel, actively recommends the use of what's called positive punishment. This is the classic Skinnerian notion in which a stimulus is applied with the aim of reducing an unwanted behavior. 

For example, say you don't want your dog to jump up on visitors. The next time he jumps up on somebody, you could give him a strong slap on the muzzle in the hopes that he will associate the pain with the behavior. Thus, he will be less inclined to jump up on people. Millan euphemistically terms such punishment as "discipline."

"Make sure you offer your dog the complete package when you bring him into your world,"encourages a blog post on his website. "Along with exercise, food, shelter, and affection, offer him a healthy dose of rules, boundaries, and discipline. Don't think of discipline as punishment, but just one more gift you give your best friend to keep him happy and balanced," the post proclaims in a sweet, yet eerily dystopian fashion.


But there are a lot of problems with positive punishment. Chiefly, it's not very specific. Dog trainer Pat Miller describes this pitfall in her book The Power of Positive Dog Training. Here's the summary: Say your puppy pees on the living room carpet. Angered, you yell and bark at the piddling pup, causing him to dash away. Congratulations, Miller says, you've successfully scared your dog. But all you've communicated is that he shouldn't pee in front of you or on the living room carpet. Next time, he might simply urinate on a different carpet. The lesson that you wanted to impart -- "don't pee in the house" -- has not been related. Moreover, pioneering research in 1968 conducted by Richard Solomon at the University of Pennsylvania showed that unless you catch and punish the dog in the act, it's unlikely that he will take away any message at all. He will, however, learn to be afraid... of you.  

There's no question that if carried out swiftly positive punishment can effectively reduce undesirable behaviors, but it will also give rise to two unwanted side effects: fear and aggression. In 2009, researchers at the School of Veterinary Medicine at the University of Pennsylvaniadistributed a survey (PDF) to owners who previously brought in their canines to address aggression problems. On the anonymous questionnaire, owners were asked to outline the training methods they had used with their dogs in the past and also to describe their dog's response. Animal behaviorist and University of Wisconsin professor Patricia McConnelldescribes the results on her blog: 
The most confrontational, and I would argue, aggressive, behaviors on the part of the owners resulted in the highest levels of aggressive responses from the dogs. 43% of dogs responded with aggression to being hit or kicked, 38% to having an owner grab their mouth and take out an object forcefully, 36% to having a muzzle put on (or attempted?), 29% to a "dominance down," 26% to a jowl or scruff shake.

"Violence begets violence, aggression begets aggression," McConnell added. Her conclusion is corroborated by additional studies. In 2008, Belgian scientists analyzed the performance of thirty-three dog-handling teams in the Belgian military. They found that the dogs classified as "low-performance" were punished more often than "high-performance" dogs. These sanctions included abrasive leash pulls and hanging the dogs by their collars. The following year,researchers from the U.K. detailed the findings of a study that examined dogs kept in shelters, discovering that attempts by humans to assert dominance over canines resulted in increased aggression.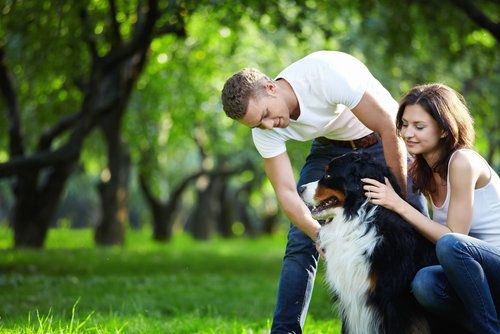 "We should be teaching our dogs, rather than forcing and threatening them," McConnell urges.

This means trading in rolled-up newspapers for dog treats, roaring yells for happy praise, and hard smacks for soft pats. Positive punishment becomes positive reinforcement, where good behavior is rewarded rather than bad behavior being punished. Writing at LiveScience, Lynne Peeples describes a key study that compared the two methods, with positive reinforcement clearly coming out on top:
In February 2004, a paper in Animal Welfare by Elly Hiby and colleagues at the University of Bristol compared the relative effectiveness of positive and punitive methods for the first time. The dogs became more obedient the more they were trained using rewards. When they were punished, on the other hand, the only significant change was a corresponding rise in the number of bad behaviors.
Cesar Millan's "discipline" approach may produce seemingly miraculous results on television. But in the real world, it's neither effective nor substantiated. 

(Images: 1. Scary Black Dog via Shutterstock 2. Walking the Dog via Shutterstock)
What can 3D printing do for medicine? The "sky is the limit," says Northwell Health researcher Dr. Todd Goldstein.
Northwell Health
Sponsored by Northwell Health
Medical professionals are currently using 3D printers to create prosthetics and patient-specific organ models that doctors can use to prepare for surgery.
Eventually, scientists hope to print patient-specific organs that can be transplanted safely into the human body.
Northwell Health, New York State's largest health care provider, is pioneering 3D printing in medicine in three key ways.
Big Think Edge
Push Past Negative Self-Talk: Give Yourself the Proper Fuel to Attack the World, with David Goggins, Former NAVY SealIf you've ever spent 5 minutes trying to meditate, you know something most people don't realize: that our minds are filled, much of the time, with negative nonsense. Messaging from TV, from the news, from advertising, and from difficult daily interactions pulls us mentally in every direction, insisting that we focus on or worry about this or that. To start from a place of strength and stability, you need to quiet your mind and gain control. For former NAVY Seal David Goggins, this begins with recognizing all the negative self-messaging and committing to quieting the mind. It continues with replacing the negative thoughts with positive ones.
As Game of Thrones ends, a revealing resolution to its perplexing geography.
Strange Maps
The fantasy world of Game of Thrones was inspired by real places and events.
But the map of Westeros is a good example of the perplexing relation between fantasy and reality.
Like Britain, it has a Wall in the North, but the map only really clicks into place if you add Ireland.
Big Think Edge
Master Execution: How to Get from Point A to Point B in 7 Steps, with Rob Roy, Retired Navy SEALUsing the principles of SEAL training to forge better bosses, former Navy SEAL and founder of the Leadership Under Fire series Rob Roy, a self-described "Hammer", makes people's lives miserable in the hopes of teaching them how to be a tougher—and better—manager. "We offer something that you are not going to get from reading a book," says Roy. "Real leaders inspire, guide and give hope."Anybody can make a decision when everything is in their favor, but what happens in turbulent times? Roy teaches leaders, through intense experiences, that they can walk into any situation and come out ahead. In this lesson, he outlines seven SEAL-tested steps for executing any plan—even under extreme conditions or crisis situations.
Big think's weekly newsletter.
Get smarter faster from the comfort of your inbox.
See our newsletter privacy policy
here
Most Popular
Most Recent
Big think's weekly newsletter.
Get smarter faster from the comfort of your inbox.
See our newsletter privacy policy
here
© Copyright 2007-2019 & BIG THINK, BIG THINK EDGE,
SMARTER FASTER trademarks owned by The Big Think, Inc. All rights reserved.