The Shortest Science Paper Ever Published Had No Words, and Was Utterly Brilliant
Scientists are widely known for their inclination to drone on about esoteric topics in a language of jargon. But every so often, they can surprise us with conciseness.
24 January, 2014
This article originally appeared in the Newton blog on RealClearScience. You can read the original here. 
---
Scientists are widely known for their inclination to drone on about esoteric topics in a language of jargon. But every so often, they can surprise us with conciseness. Take these three pithy offerings published in reputable scientific journals, for example:
Shortest Editorial:
In his contribution to the November/December 2013 issue of Evolutionary Anthropology, esteemed biological anthropologist Ian Tattersall, curator emeritus at the American Museum of Natural History, did not mince words. In fact, he only wrote two of them: "Enough already."
The statement concluded a year of back and forths between Tattersall and one of his colleagues, Boston University anthropologist Matt Cartmill. The tiff began with Cartmill's paper "Primate origins, human origins, and the end of higher taxa," continued with Tattersall's "Higher taxa: An alternate perspective," continued again with Cartmill's "The end of higher taxa: a reply to Tattersall," before Tattersall finally declared "Enough already."
Cartmill and Tattersall's recent exchange was the latest in a series of erudite bickering that's been ongoing since the 1980s. Though good friends, the two share manifold disagreements on Systematics -- the study of the diversification of living forms -- and how it should be used. By examining the relationships between species, we can track how life gradually transformed over billions of years from single-celled organisms to become whales, spiders, and even humans. In essence, Cartmill questions why often tiny differences separate certain animals into different species and families while others do not. Tattersall views this stance as an attack on Systematics itself, avowing that it's vital to document every tiny change and classify species accordingly.
Shortest Abstract:
In 2011, particle physicists were flabbergasted when they discovered that neutrinos could apparently travel faster than light, breaking the universal speed limit proposed by Einstein. Their result was later proven to be in error.
But before the mistake was revealed, physicists scrambled to account for the mind-boggling result. A group from the H.W. Wills Physics Laboratory in Bristol and the Indian Institute of Technology wondered, ""Can apparent superluminal neutrino speeds be explained as a quantum weak measurement?" Their abstract succinctly and bluntly answered that question: "Probably not."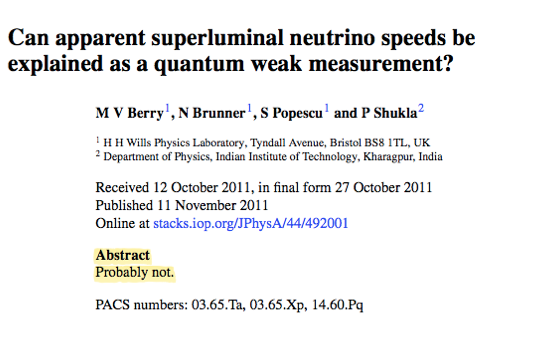 Shortest Paper:
In 1974, clinical psychologist Dennis Upper found himself stricken with writer's block. Though pen was to paper, no words would flow. He decided to solve his problem with a scientific experiment. Yet, as is frequently the case in science, his experiment didn't work as intended, and that's putting it euphemistically. Despite the failure, his work, "The unsuccessful self-treatment of a case of "writer's block," was published in the prestigious Journal of Applied Behavioral Analysis. It is reproduced in its entirety below: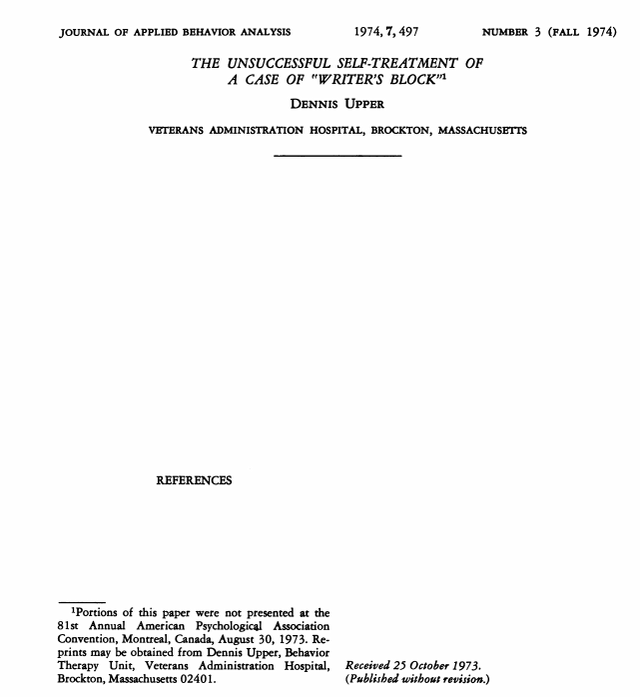 Despite the paper's glaring brevity, Upper's reviewer hailed its brilliance:
"I have studied this manuscript very carefully with lemon juice and X-rays and have not detected a single flaw in either design or writing style. I suggest it be published without revision. Clearly it is the most concise manuscript I have ever seen-yet it contains sufficient detail to allow other investigators to replicate Dr. Upper's failure. In comparison with the other manuscripts I get from you containing all that complicated detail, this one was a pleasure to examine. Surely we can find a place for this paper in the Journal-perhaps on the edge of a blank page."
(Images: Shutterstock, io9, io9)
What can 3D printing do for medicine? The "sky is the limit," says Northwell Health researcher Dr. Todd Goldstein.
Northwell Health
Sponsored by Northwell Health
Medical professionals are currently using 3D printers to create prosthetics and patient-specific organ models that doctors can use to prepare for surgery.
Eventually, scientists hope to print patient-specific organs that can be transplanted safely into the human body.
Northwell Health, New York State's largest health care provider, is pioneering 3D printing in medicine in three key ways.
The 'People Map of the United States' zooms in on America's obsession with celebrity
Strange Maps
Replace city names with those of their most famous residents
And you get a peculiar map of America's obsession with celebrity
If you seek fame, become an actor, musician or athlete rather than a politician, entrepreneur or scientist
Chicagoland is Obamaland
Image: The Pudding
Chicagoland's celebrity constellation: dominated by Barack, but with plenty of room for the Belushis, Brandos and Capones of this world.
Seen from among the satellites, this map of the United States is populated by a remarkably diverse bunch of athletes, entertainers, entrepreneurs and other persons of repute (and disrepute).
The multitalented Dwayne Johnson, boxing legend Muhammad Ali and Apple co-founder Steve Jobs dominate the West Coast. Right down the middle, we find actors Chris Pratt and Jason Momoa, singer Elvis Presley and basketball player Shaquille O'Neal. The East Coast crew include wrestler John Cena, whistle-blower Edward Snowden, mass murderer Ted Bundy… and Dwayne Johnson, again.
The Rock pops up in both Hayward, CA and Southwest Ranches, FL, but he's not the only one to appear twice on the map. Wild West legend Wyatt Earp makes an appearance in both Deadwood, SD and Dodge City, KS.
How is that? This 'People's Map of the United States' replaces the names of cities with those of "their most Wikipedia'ed resident: people born in, lived in, or connected to a place."
'Cincinnati, Birthplace of Charles Manson'
Image: The Pudding
Keys to the city, or lock 'em up and throw away the key? A city's most famous sons and daughters of a city aren't always the most favoured ones.
That definition allows people to appear in more than one locality. Dwayne Johnson was born in Hayward, has one of his houses in Southwest Ranches, and is famous enough to be the 'most Wikipedia'ed resident' for both localities.
Wyatt Earp was born in Monmouth, IL, but his reputation is closely associated with both Deadwood and Dodge City – although he's most famous for the Gunfight at the O.K. Corral, which took place in Tombstone, AZ. And yes, if you zoom in on that town in southern Arizona, there's Mr Earp again.
The data for this map was collected via the Wikipedia API (application programming interface) from the English-language Wikipedia for the period from July 2015 to May 2019.
The thousands of 'Notable People' sections in Wikipedia entries for cities and other places in the U.S. were scrubbed for the person with the most pageviews. No distinction was made between places of birth, residence or death. As the developers note, "people can 'be from' multiple places".
Pageviews are an impartial indicator of interest – it doesn't matter whether your claim to fame is horrific or honorific. As a result, this map provides a non-judgmental overview of America's obsession with celebrity.

Royals and (other) mortals
Image: The Pudding
There's also a UK version of the People Map – filled with last names like Neeson, Sheeran, Darwin and Churchill – and a few first names of monarchs.
Celebrity, it is often argued, is our age's version of the Greek pantheon, populated by dozens of major gods and thousands of minor ones, each an example of behaviours to emulate or avoid. This constellation of stars, famous and infamous, is more than a map of names. It's a window into America's soul.
But don't let that put you off. Zooming in on the map is entertaining enough: celebrities floating around in the ether are suddenly tied down to a pedestrian level, and to real geography. And it's fun to see the famous and the infamous rub shoulders, as it were.

Barack Obama owns Chicago, but the suburbs to the west of the city are dotted with a panoply of personalities, ranging from the criminal (Al Capone, Cicero) and the musical (John Prine, Maywood) to figures literary (Jonathan Franzen, Western Springs) and painterly (Ivan Albright, Warrenville), actorial (Harrison Ford, Park Ridge) and political (Eugene V. Debs, Elmhurst).
Freaks and angels
Image: Dorothy
The People Map of the U.S. was inspired by the U.S.A. Song Map, substituting song titles for place names.
It would be interesting to compare 'the most Wikipedia'ed' sons and daughters of America's cities with the ones advertised at the city limits. When you're entering Aberdeen, WA, a sign invites you to 'come as you are', in homage to its most famous son, Kurt Cobain. It's a safe bet that Indian Hill, OH will make sure you know Neil Armstrong, first man on the moon, was one of theirs. But it's highly unlikely that Cincinnati, a bit further south, will make any noise about Charles Manson, local boy done bad.
Inevitably, the map also reveals some bitterly ironic neighbours, such as Ishi, the last of the Yahi tribe, captured near Oroville, CA. He died in 1916 as "the last wild Indian in North America". The most 'pageviewed' resident of nearby Colusa, CA is Byron de la Beckwith, Jr., the white supremacist convicted for the murder of Civil Rights activist Medgar Evers.
As a sampling of America's interests, this map teaches that those aiming for fame would do better to become actors, musicians or athletes rather than politicians, entrepreneurs or scientists. But also that celebrity is not limited to the big city lights of LA or New York. Even in deepest Dakota or flattest Kansas, the footlights of fame will find you. Whether that's good or bad? The pageviews don't judge...
Average waiting time for hitchhikers in Ireland: Less than 30 minutes. In southern Spain: More than 90 minutes.
Image: Abel Suyok
Strange Maps
A popular means of transportation from the 1920s to the 1980s, hitchhiking has since fallen in disrepute.
However, as this map shows, thumbing a ride still occupies a thriving niche – if at great geographic variance.
In some countries and areas, you'll be off the street in no time. In other places, it's much harder to thumb your way from A to B.
Technology may soon grant us immortality, in a sense. Here's how.
Videos
Through the Connectome Project we may soon be able to map the pathways of the entire human brain, including memories, and create computer programs that evoke the person the digitization is stemmed from.
We age because errors build up in our cells — mitochondria to be exact.
With CRISPR technology we may soon be able to edit out errors that build up as we age, and extend the human lifespan.
Big think's weekly newsletter.
Get smarter faster from the comfort of your inbox.
See our newsletter privacy policy
here
Most Popular
Most Recent
Big think's weekly newsletter.
Get smarter faster from the comfort of your inbox.
See our newsletter privacy policy
here
© Copyright 2007-2019 & BIG THINK, BIG THINK EDGE,
SMARTER FASTER trademarks owned by The Big Think, Inc. All rights reserved.