Coca-Cola's Adorable Lies About Polar Bears
Coca-Cola is by no means the first company to ignore inconvenient animal behavior facts, so we shouldn't be too hard on them. To Coke's credit, they do support polar bear research and conservation efforts.
20 December, 2013
This post originally appeared on the Newton blog on RealClearScience. You can read the original here. 
---
Like peas and carrots, Coca-Cola and polar bears were meant for each other. Since 1993, the soda company has driven this notion home each winter, releasing adorable and fuzzy advertisements that radiate joy and warmth despite the arctic chill on screen and -- for many viewers -- outside.
But as heartwarming as those advertisements are, they cannot breeze by the cold hard facts. Coca-Cola is lying to you about polar bears!
Nowhere is this more apparent than in their 2013 critically acclaimed short film, The Polar Bears. Produced by the venerable director Ridley Scott, it lovingly depicts a family of polar bears suffering through a bout of sibling rivalry and daddy drama before, of course, reaching an "awwwwww" inducing conclusion.
Now, before playing the scientific Scrooge, I'd like to say that I really enjoyed the film! It's innocent, spirited, and tender -- something to show to your kids this holiday season. But it's also woefully inaccurate. (Spoilers to come.)
Filmmakers are permitted to anthropomorphize cartoon animals, so let's gloss over a few obvious points: Polar bears don't speak English, nor do they dance choreographed numbers with puffins. And they definitely don't drink Coca-Cola, vastly preferring energy-rich seal blubber to carbonated high-fructose corn syrup.
But less obvious is the fact that polar bears don't group together. The film shows a host of polar bear families forming some sort of community similar to the lion pride in Disney's The Lion King. They do nothing of the sort. In general, polar bears live very solitary lives, wandering the Arctic in search of food. Though adult males are occasionally known to form "friendships" with each other.
Another inaccuracy is the presence of the younger sister, Kaia. She's absolutely adorable, but she also shouldn't exist. In reality, the mother, Sakari, would never have another cub until her older children -- brothers Jak and Zook -- had left. Polar bear mothers usually abandon or drive off their cubs when they reach two and a half years of age.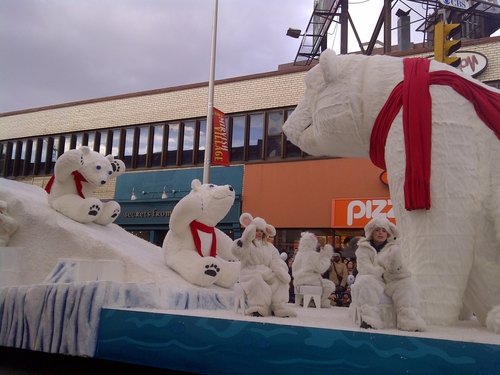 The third and largest inaccuracy in the film is the relationship between the father, Kaskae, and his cubs. Rather than acting as a stern, but doting dad (as he is depicted), in reality Kaskae would be long gone, and if he returned, he might even eat his children. Once a male wins the right to mate with a female, often through intense and bloody competition with rivals, he remains with her for about a week, during which time the two mate repeatedly. But after the week of loving, the male skedaddles, leaving the pregnant female to fend for herself. Such is love in the frigid, unforgiving Arctic. The harsh environment has also been blamed for cannibalism and infanticide. When food is scarce, adult males have been known to prey upon cubs.
Coca-Cola is by no means the first company to ignore inconvenient animal behavior facts, so we shouldn't be too hard on them. To Coke's credit, they do support polar bear research and conservation efforts, pledging two million dollars over five years via the Arctic Home project to "define a place where polar bears and people can thrive in the Arctic." In addition, the company has reportedly "raised over $3 million to date in consumer and matched donations for the project."
Still, those numbers are positively diminutive compared to Coke's net income last quarter: a whopping $2.45 billion. Hey, Coke! I think your bears deserve a little holiday bonus this year!
(Images: AP and Shutterstock)
Antimicrobial resistance is growing worldwide, rendering many "work horse" medicines ineffective. Without intervention, drug-resistant pathogens could lead to millions of deaths by 2050. Thankfully, companies like Pfizer are taking action.
Image courtesy of Pfizer.
Antimicrobial-resistant pathogens are one of the largest threats to global health today.
As we get older, our immune systems age, increasing our risk of life threatening infections. Without reliable antibiotics, life expectancy could decline for the first time in modern history.
If antibiotics become ineffective, common infections could result in hospitalization or even death. Life-saving interventions like cancer treatments and organ transplantation would become more difficult, more often resulting in death. Routine procedures would become hard to perform.
Without intervention, resistant pathogens could result in 10 million annual deaths by 2050.
By taking a multi-faceted approach—inclusive of adherence to good stewardship, surveillance and responsible manufacturing practices, as well as an emphasis on prevention and treatment—companies like Pfizer are fighting to help curb the spread.
Sponsored
No, the Syrian civil war is not over. But it might be soon. Time for a recap
Strange Maps
The War in Syria has dropped off the radar, but it's not over (yet)
This 1-minute video shows how the fronts have moved – and stabilised – over the past 22 months
Watching this video may leave you both better informed, and slightly queasy: does war need a generic rock soundtrack?
Sarco assisted suicide pods come in three different styles, and allow you to die quickly and painlessly. They're even quite beautiful to look at.
The Sarco assisted suicide pod
Technology & Innovation
Death: it happens to everyone (except, apparently, Keanu Reeves). But while the impoverished and lower-class people of the world die in the same ol' ways—cancer, heart disease, and so forth—the upper classes can choose hip and cool new ways to die. Now, there's an assisted-suicide pod so chic and so stylin' that peeps (young people still say peeps, right?) are calling it the "Tesla" of death... it's called... the Sarco! 
Entrepreneur and author Andrew Horn shares his rules for becoming an assured conversationalist.
content.jwplatform.com
Videos
To avoid basing action on external validation, you need to find your "authentic voice" and use it.
Finding your voice requires asking the right questions of yourself.
There are 3-5 questions that you would generally want to ask people you are talking to.
Big think's weekly newsletter.
Get smarter faster from the comfort of your inbox.
See our newsletter privacy policy
here
Most Popular
Most Recent
Big think's weekly newsletter.
Get smarter faster from the comfort of your inbox.
See our newsletter privacy policy
here
© Copyright 2007-2018 & BIG THINK, BIG THINK EDGE,
SMARTER FASTER trademarks owned by The Big Think, Inc. All rights reserved.