Coca-Cola's Adorable Lies About Polar Bears
Coca-Cola is by no means the first company to ignore inconvenient animal behavior facts, so we shouldn't be too hard on them. To Coke's credit, they do support polar bear research and conservation efforts.
20 December, 2013
This post originally appeared on the Newton blog on RealClearScience. You can read the original here. 
---
Like peas and carrots, Coca-Cola and polar bears were meant for each other. Since 1993, the soda company has driven this notion home each winter, releasing adorable and fuzzy advertisements that radiate joy and warmth despite the arctic chill on screen and -- for many viewers -- outside.
But as heartwarming as those advertisements are, they cannot breeze by the cold hard facts. Coca-Cola is lying to you about polar bears!
Nowhere is this more apparent than in their 2013 critically acclaimed short film, The Polar Bears. Produced by the venerable director Ridley Scott, it lovingly depicts a family of polar bears suffering through a bout of sibling rivalry and daddy drama before, of course, reaching an "awwwwww" inducing conclusion.
Now, before playing the scientific Scrooge, I'd like to say that I really enjoyed the film! It's innocent, spirited, and tender -- something to show to your kids this holiday season. But it's also woefully inaccurate. (Spoilers to come.)
Filmmakers are permitted to anthropomorphize cartoon animals, so let's gloss over a few obvious points: Polar bears don't speak English, nor do they dance choreographed numbers with puffins. And they definitely don't drink Coca-Cola, vastly preferring energy-rich seal blubber to carbonated high-fructose corn syrup.
But less obvious is the fact that polar bears don't group together. The film shows a host of polar bear families forming some sort of community similar to the lion pride in Disney's The Lion King. They do nothing of the sort. In general, polar bears live very solitary lives, wandering the Arctic in search of food. Though adult males are occasionally known to form "friendships" with each other.
Another inaccuracy is the presence of the younger sister, Kaia. She's absolutely adorable, but she also shouldn't exist. In reality, the mother, Sakari, would never have another cub until her older children -- brothers Jak and Zook -- had left. Polar bear mothers usually abandon or drive off their cubs when they reach two and a half years of age.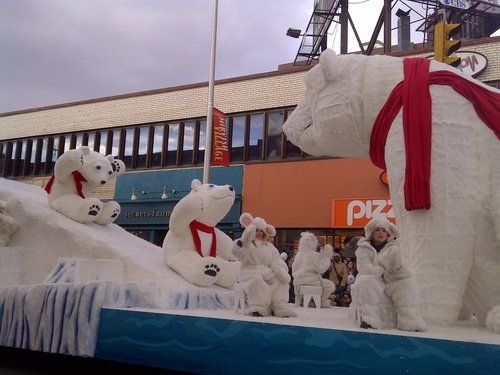 The third and largest inaccuracy in the film is the relationship between the father, Kaskae, and his cubs. Rather than acting as a stern, but doting dad (as he is depicted), in reality Kaskae would be long gone, and if he returned, he might even eat his children. Once a male wins the right to mate with a female, often through intense and bloody competition with rivals, he remains with her for about a week, during which time the two mate repeatedly. But after the week of loving, the male skedaddles, leaving the pregnant female to fend for herself. Such is love in the frigid, unforgiving Arctic. The harsh environment has also been blamed for cannibalism and infanticide. When food is scarce, adult males have been known to prey upon cubs.
Coca-Cola is by no means the first company to ignore inconvenient animal behavior facts, so we shouldn't be too hard on them. To Coke's credit, they do support polar bear research and conservation efforts, pledging two million dollars over five years via the Arctic Home project to "define a place where polar bears and people can thrive in the Arctic." In addition, the company has reportedly "raised over $3 million to date in consumer and matched donations for the project."
Still, those numbers are positively diminutive compared to Coke's net income last quarter: a whopping $2.45 billion. Hey, Coke! I think your bears deserve a little holiday bonus this year!
(Images: AP and Shutterstock)
Upstreamism advocate Rishi Manchanda calls us to understand health not as a "personal responsibility" but a "common good."
Sponsored by Northwell Health
Upstreamism tasks health care professionals to combat unhealthy social and cultural influences that exist outside — or upstream — of medical facilities.
Patients from low-income neighborhoods are most at risk of negative health impacts.
Thankfully, health care professionals are not alone. Upstreamism is increasingly part of our cultural consciousness.
The Bajau people's nomadic lifestyle has given them remarkable adaptions, enabling them to stay underwater for unbelievable periods of time. Their lifestyle, however, is quickly disappearing.
Wikimedia Commons
Culture & Religion
The Bajau people travel in small flotillas throughout the Phillipines, Malaysia, and Indonesia, hunting fish underwater for food.
Over the years, practicing this lifestyle has given the Bajau unique adaptations to swimming underwater. Many find it straightforward to dive up to 13 minutes 200 feet below the surface of the ocean.
Unfortunately, many disparate factors are erasing the traditional Bajau way of life.
We explore the history of blood types and how they are classified to find out what makes the Rh-null type important to science and dangerous for those who live with it.
Abid Katib/Getty Images
Surprising Science
Fewer than 50 people worldwide have 'golden blood' — or Rh-null.
Blood is considered Rh-null if it lacks all of the 61 possible antigens in the Rh system.
It's also very dangerous to live with this blood type, as so few people have it.
An innovation may lead to lifelike evolving machines.
Shogo Hamada/Cornell University
Surprising Science
Scientists at Cornell University devise a material with 3 key traits of life.
The goal for the researchers is not to create life but lifelike machines.
The researchers were able to program metabolism into the material's DNA.
Big think's weekly newsletter.
Get smarter faster from the comfort of your inbox.
See our newsletter privacy policy
here
Most Popular
Most Recent
Big think's weekly newsletter.
Get smarter faster from the comfort of your inbox.
See our newsletter privacy policy
here
© Copyright 2007-2019 & BIG THINK, BIG THINK EDGE,
SMARTER FASTER trademarks owned by The Big Think, Inc. All rights reserved.