Subglacial eruption starting at Iceland's Grímsvötn
21 May, 2011
---
Well, it looks like Iceland is going to be in the news again this summer. Jon Frimann and others noted a sharp increase in seismicity under the Vatnajökull icecap at Grímsvötn today and MBL.is has confirmed that if an eruption hasn't already begun under the icecap, then one is likely to be starting soon (in Icelandic, use Google Translate at your risk) according to geologist Louw Sveinbjörnsson. UPDATE: There is confirmation of an ash and steam plume possibly reaching 1.8 km / ~6,000 feet above the volcano (see images below), but again, the details are scant. The eruption itself appears to be from the Grímsfjall Crater. There is very little news that I can find in English for this event - but hopefully Jon and any one else in Iceland can keep us appraised with what is going on in Iceland. The danger now will be from jokulklaups within the next 10-12 hours draining to the south or ash disrupting air travel in and around Iceland.
UPDATE 4:35 PM (Eastern): Icelandic officials and volcanologists will head out tomorrow morning (Icelandic) to overfly to inspect the area. However, a group near the volcano (Icelandic) will try to collect some samples of the ash. Police have also monitoring roads that could be hit by jokulhlaups. Also, currently the plume shows up impressively on satellite infrared images of Iceland.
MSNBC and the AP now has news on the eruption - and MSNBC claims the plume has hit 5.4 km / 18,000 feet in height. Impressive to say the least.
Also, be sure to check the Icelandic Met Office page for more information as it comes it.
UPDATE 5:05 PM (Eastern): Definitely, an impressive plume reaching 5.5-6 km / 18,000-20,000 feet according to MBL.is (see below).
UPDATE 6:00 PM (Eastern): Air traffic has been banned in a radius of ~200 km / 120 miles around the volcano (Icelandic) and any air traffic over Iceland will be routed south tonight. The eruption seems to be larger (Icelandic) than in 2004 as well.
UPDATE 6:15 PM (Eastern): First video of the eruption - this from an aircraft (special thanks to Jon Frimann for tracking it down.) (see more updates below)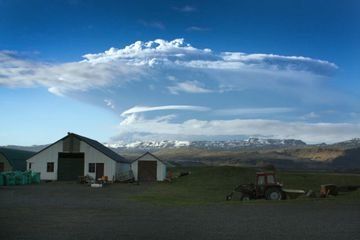 Webcams: You can also see the plume on this Mila.is webcam (when its working; far left). You might be able to catch a glimpse on this webcam as well (far right). Here are some more webcams - check out Lomagnupor.
The plume from Grímsvötn seen on May 21, 2011 (middle of image, on horizon on top image)
 Earlier this year, there were some predictions of an eruption under Vatnajökull made by Icelandic geologists that were quickly retracted as well. Grímsvötn last erupted in 2004 (see top left), with some impressive plumes produced by the eruption melting through the Vatnajökull icecap under which the volcano sits. You can check out my post on Vatnajökull (and the 7 volcanoes under the icecap) to find out about volcanism in that region of Iceland - and see the details of the jokulhlaup that occurred at Grímsvötn last fall that was not believed to be related to a subglacial eruption of the volcano.
I'll continue to update this post as I find out more - and whether this eruption under Grímsvötn has been confirmed.
UPDATE 6:20 PM: Here are a couple satellite and radar images that show the ash plume pretty clearly. The top image is from the Icelandic Met Office.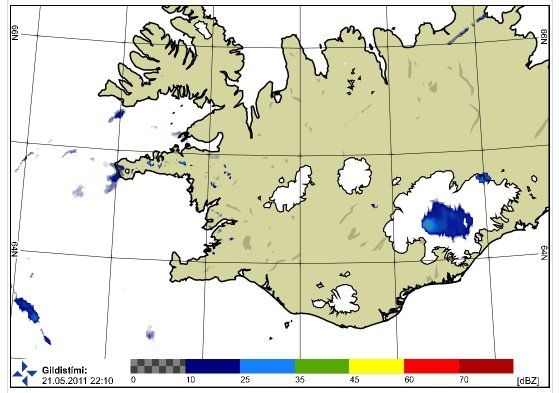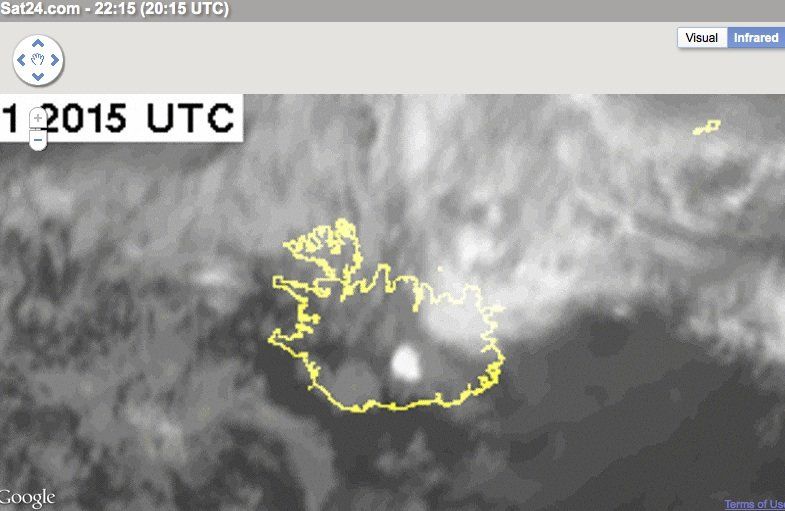 UPDATE 6:45 PM (Eastern): A report on some ash fall (Icelandic) in villages near the volcano as well. The plume itself has now reached as high as 15 km / ~49,000 feet, putting this still below or just about a Plinian column in height. However, Icelandic officials have been quick to say (and rightly so) that this eruption shares little in common with the Eyjafjallajokull eruption from 2010 - likely this eruption will have little-to-no effect on global or European air travel. (Oh yeah, and it has nothing to do with the end of the world.)
Top left: An image of the May 21, 2011 eruption of Grímsvötn in Iceland. Click here to see original.
Big Think Edge
The meaning of the word 'confidence' seems obvious. But it's not the same as self-esteem.
Confidence isn't just a feeling on your inside. It comes from taking action in the world.
Join Big Think Edge today and learn how to achieve more confidence when and where it really matters.
The team caught a glimpse of a process that takes 18,000,000,000,000,000,000,000 years.
Image source: Pixabay
Surprising Science
In Italy, a team of scientists is using a highly sophisticated detector to hunt for dark matter.
The team observed an ultra-rare particle interaction that reveals the half-life of a xenon-124 atom to be 18 sextillion years.
The half-life of a process is how long it takes for half of the radioactive nuclei present in a sample to decay.
The controversial herbicide is everywhere, apparently.
Surprising Science
U.S. PIRG tested 20 beers and wines, including organics, and found Roundup's active ingredient in almost all of them.
A jury on August 2018 awarded a non-Hodgkin's lymphoma victim $289 million in Roundup damages.
Bayer/Monsanto says Roundup is totally safe. Others disagree.
A scientific look into a ubiquitous phenomenon.
Big think's weekly newsletter.
Get smarter faster from the comfort of your inbox.
See our newsletter privacy policy
here
Most Popular
Most Recent
Big think's weekly newsletter.
Get smarter faster from the comfort of your inbox.
See our newsletter privacy policy
here
© Copyright 2007-2019 & BIG THINK, BIG THINK EDGE,
SMARTER FASTER trademarks owned by The Big Think, Inc. All rights reserved.