Redoubt continues to keep us waiting
Erik Klemetti
I write the Eruptions blog on Big Think. I've been mesmerized with volcanoes (and geology) all my life. It helps that part of my family comes from the shadow of Nevado del Ruiz in Colombia, where I could see first hand the deadly effects of volcanic eruptions. Since then, I've taken a bit of a winding path to become a volcanologist. I started as a history major at Williams College, almost went into radio, but ended up migrating to geology, including an undergraduate thesis on Vinalhaven Island, Maine. I followed this up by changing coast to get my Ph.D. from Oregon State University. Then I ran a MC-ICP-MS lab at University of Washington for a spell (and wrote for an indie rock website). I spent three years as a postdoctoral scholar at University of California - Davis studying the inner workings of magmatic systems. I am now an assistant professor at Denison University and have projects in New Zealand, Chile and Oregon.
I am fascinated by volcanoes, their eruptions and how those eruptions interact with the people who live around the volcanoes. I started this blog after getting frustrated with the news reports of volcanic eruptions. Most of them get the information wrong and/or are just sensationalistic. I will try to summarize eruptions as they occur, translate some of the volcanic processes that are happening and comment on the reports themselves.
And no matter what people tell you, I definitely do not have a cat named Tephra. (OK, I do).
You can find out more about my research by visiting my website. If you have any comments, questions or information, feel free to contact me at eruptionsblog at gmail dot com.
01 September, 2010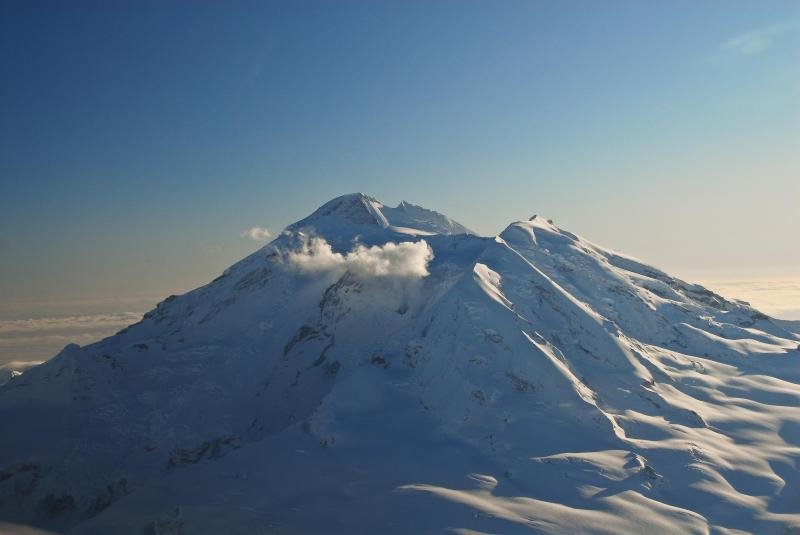 \n\nRedoubt (above) is definitely taking its time. After catching everyone's attention last week with seismic activity, melting of its snow cap and increased gas emissions, the volcano is still, well, doing all those things, but
not erupting
. AVO's update are beginning to sound like a broken record:\n
"(2/3/09 04:10) Unrest at Redoubt Volcano is continuing with elevated seismicity well above background levels. The volcano has not erupted. A gas/observation overflight yesterday reported continued changes in the summit glaciers indicative of heating of the summit area. Photos from both the overflight and the hut webcam showed a small vapor plume at the summit. The web camera is now dark as our long winter night continues."
\nIt is amusing to catch a bit of snarkiness from the AVO staff at the end of the update but hey, if I was up posting at 4 in the morning, maybe I'd throw that in as well.\n\n
You can get an idea of what life might be like at the Alaska Volcano Observatory from this article on CNN. They talk to USGS volcanologist (and fellow Williams College alum)  Michelle Coombs who says that Redoubt is still predicted to erupt in the next days-to-weeks timeframe. However, this whole drama with Redoubt shows the challenges of predicting volcanic behavior: we can have these volcanoes wired and watched 24/7, yet when exactly it will erupt is still anyone's guess. We still have a lot to learn about how magmatic systems behave and how that translates into eruptions, which is part of the reason why it is so exciting to study them!
---
\n\n
With that, the wait continues.
Related Articles
Research shows that the way math is taught in schools and how its conceptualized as a subject is severely impairing American student's ability to learn and understand the material.
One derivative coming right up... (Photo: Getty Images)
Technology & Innovation
Americans continually score either in the mid- or bottom-tier when it comes to math and science compared to their international peers.
Students have a fundamental misunderstanding of what math is and what it can do. By viewing it as a language, students and teachers can begin to conceptualize it in easier and more practical ways.
A lot of mistakes come from worrying too much about rote memorization and speedy problem-solving and from students missing large gaps in a subject that is reliant on learning concepts sequentially.
The surprisingly simple treatment could prove promising for doctors and patients seeking to treat depression without medication.
Photo by Luis Marina/Flickr
Mind & Brain
A new report shows how cold-water swimming was an effective treatment for a 24-year-old mother.
The treatment is based on cross-adaptation, a phenomenon where individuals become less sensitive to a stimulus after being exposed to another.
Getting used to the shock of cold-water swimming could blunt your body's sensitivity to other stressors.
Maybe try counseling first before you try this, married folks.
Surprising Science
The study looks at cannibalism in fish.
If it doesn't look like the brood is going to be 'productive,' it might get eaten.
Don't try this at home. Seriously, don't. Human beings deserve love and respect.
Big think's weekly newsletter.
Get smarter faster from the comfort of your inbox.
See our newsletter privacy policy
here
Most Popular
Most Recent
Big think's weekly newsletter.
Get smarter faster from the comfort of your inbox.
See our newsletter privacy policy
here
© Copyright 2007-2018 & BIG THINK, BIG THINK EDGE,
SMARTER FASTER trademarks owned by The Big Think, Inc. All rights reserved.