Possible eruption at Gorely in Russia?
There are some reports of an eruption at Gorely in Kamchatka - but details are scarce.
Erik Klemetti
I write the Eruptions blog on Big Think. I've been mesmerized with volcanoes (and geology) all my life. It helps that part of my family comes from the shadow of Nevado del Ruiz in Colombia, where I could see first hand the deadly effects of volcanic eruptions. Since then, I've taken a bit of a winding path to become a volcanologist. I started as a history major at Williams College, almost went into radio, but ended up migrating to geology, including an undergraduate thesis on Vinalhaven Island, Maine. I followed this up by changing coast to get my Ph.D. from Oregon State University. Then I ran a MC-ICP-MS lab at University of Washington for a spell (and wrote for an indie rock website). I spent three years as a postdoctoral scholar at University of California - Davis studying the inner workings of magmatic systems. I am now an assistant professor at Denison University and have projects in New Zealand, Chile and Oregon.
I am fascinated by volcanoes, their eruptions and how those eruptions interact with the people who live around the volcanoes. I started this blog after getting frustrated with the news reports of volcanic eruptions. Most of them get the information wrong and/or are just sensationalistic. I will try to summarize eruptions as they occur, translate some of the volcanic processes that are happening and comment on the reports themselves.
And no matter what people tell you, I definitely do not have a cat named Tephra. (OK, I do).
You can find out more about my research by visiting my website. If you have any comments, questions or information, feel free to contact me at eruptionsblog at gmail dot com.
01 September, 2010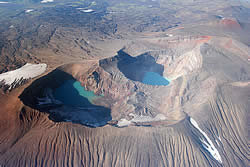 The crater lakes at the summit of Gorely volcano in Russia.
---
Possibly lost in the vuvuzela noise, but Eruptions readers over the weekend noted that Gorely on the Kamchatka Peninsula in Russia had its first eruption in over 20 years. The Russian media has a brief report mentioning that the volcano produced an ash plume that "stretched over a hundred kilometers" (horizontally). The plume was causing some disruptions of local air travel and threatening a geothermal plant, but no real other details beyond that were offered. So far, there has been no update about the possible eruption on the KVERT status page.
Gorely is really a set of five overlapping stratovolcanoes within a caldera system. They have been fairly active, producing relatively frequent VEI 2-3 eruptions over the last century, but the volcanic cluster hasn't had an known eruption since 1986. I stress "known" because the volcano is fairly remote (as a lot of things are in far eastern Russia) and only one seismometer monitoring the area. There have been suggestions that Gorely erupted or came close to erupting a number of times over the last decade, but nothing has been substantiated. Gorely isn't small-fry either - the eruption that formed the caldera ~38-40,000 years ago ejected over 100 km3 of volcanic tephra and although another eruption of this magnitude is not a likely event, it is in the volcano's history. Most recent eruptions have been relatively small volume vulcanian and phreatic events erupting basaltic andesite.
Related Articles
How a cataclysm worse than what killed the dinosaurs destroyed 90 percent of all life on Earth.
Credit: Ron Miller
Surprising Science
While the demise of the dinosaurs gets more attention as far as mass extinctions go, an even more disastrous event called "the Great Dying" or the "End-Permian Extinction" happened on Earth prior to that. Now scientists discovered how this cataclysm, which took place about 250 million years ago, managed to kill off more than 90 percent of all life on the planet.
A new study discovers the "liking gap" — the difference between how we view others we're meeting for the first time, and the way we think they're seeing us.
New acquaintances probably like you more than you think. (Photo by Simone Joyner/Getty Images)
Surprising Science
We tend to be defensive socially. When we meet new people, we're often concerned with how we're coming off. Our anxiety causes us to be so concerned with the impression we're creating that we fail to notice that the same is true of the other person as well. A new study led by Erica J. Boothby, published on September 5 in Psychological Science, reveals how people tend to like us more in first encounters than we'd ever suspect.
Using advanced laser technology, scientists at NASA will track global changes in ice with greater accuracy.
Firing three pairs of laser beams 10,000 times per second, the ICESat-2 satellite will measure how long it takes for faint reflections to bounce back from ground and sea ice, allowing scientists to measure the thickness, elevation and extent of global ice
popular
Leaving from Vandenberg Air Force base in California this coming Saturday, at 8:46 a.m. ET, the Ice, Cloud, and Land Elevation Satellite-2 — or, the "ICESat-2" — is perched atop a United Launch Alliance Delta II rocket, and when it assumes its orbit, it will study ice layers at Earth's poles, using its only payload, the Advance Topographic Laser Altimeter System (ATLAS).
Big think's weekly newsletter.
Get smarter faster from the comfort of your inbox.
See our newsletter privacy policy
here
Most Popular
Most Recent
Big think's weekly newsletter.
Get smarter faster from the comfort of your inbox.
See our newsletter privacy policy
here
© Copyright 2007-2018 & BIG THINK, BIG THINK EDGE,
SMARTER FASTER trademarks owned by The Big Think, Inc. All rights reserved.