New contender for largest volcano in the Solar System?
Erik Klemetti
I write the Eruptions blog on Big Think. I've been mesmerized with volcanoes (and geology) all my life. It helps that part of my family comes from the shadow of Nevado del Ruiz in Colombia, where I could see first hand the deadly effects of volcanic eruptions. Since then, I've taken a bit of a winding path to become a volcanologist. I started as a history major at Williams College, almost went into radio, but ended up migrating to geology, including an undergraduate thesis on Vinalhaven Island, Maine. I followed this up by changing coast to get my Ph.D. from Oregon State University. Then I ran a MC-ICP-MS lab at University of Washington for a spell (and wrote for an indie rock website). I spent three years as a postdoctoral scholar at University of California - Davis studying the inner workings of magmatic systems. I am now an assistant professor at Denison University and have projects in New Zealand, Chile and Oregon.
I am fascinated by volcanoes, their eruptions and how those eruptions interact with the people who live around the volcanoes. I started this blog after getting frustrated with the news reports of volcanic eruptions. Most of them get the information wrong and/or are just sensationalistic. I will try to summarize eruptions as they occur, translate some of the volcanic processes that are happening and comment on the reports themselves.
And no matter what people tell you, I definitely do not have a cat named Tephra. (OK, I do).
You can find out more about my research by visiting my website. If you have any comments, questions or information, feel free to contact me at eruptionsblog at gmail dot com.
10 December, 2010
For a few decades now, the title holder for largest volcano in the solar system has been Mars' Olympus Mons. The volcano is a large - and by that I mean it covers the same area as the state of Arizona - basaltic shield volcano with multiple collapse caldera features on the summit (see top left). Some of the lava flows on Olympus Mons could be as little as 2 million years old, but that is somewhat controversial - the dating method on the flows is cratering of the surface, which can be rife with error. The volume of Olympus Mons is thought to be approximately the same as the entire Hawaii-Emperor Seamount Chain on Earth - or roughly 6-8 million km3. That is one large volcano ... and they might not be extinct.
---
However, a recent study by Andrea Borgia and John Murray would like to wrest the title of the solar system's largest volcano from Olympus Mons and hand it to another Martian feature - the Tharsis Rise. The Rise, the red area on the image below, is thought to be a "spreading volcanic edifice" according to Borgia and Murray, a feature that is caused by lava erupting and spreading laterally as the weight of the new lava that continues to erupt piles on top. The Earth analog to this would be Italy's Etna, where Etna is the main edifice with some smaller parasitic cones. In the Tharsis Rise theory, the Mons of Mars - Olympus, Arsia, Pavonis, Ascraeus - are the parasitic cones on the larger Tharsis Rise.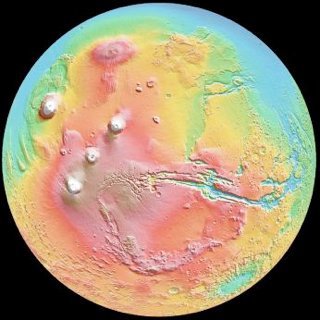 A false color image of the surface of Mars, where red/orange are high elevations and blue/green are lowlands.
Of course, the only way to truly prove if Tharsis Rise is a single edifice would be field observations on Mars, something that is a little hard to come by these days. A volcano the size of Tharsis Rise could offer some interesting hints at how magma is generated in the Martian interior, the composition of the Martian mantle and why it appears that Mars never had plate tectonics like we find on Earth.
Top left: Olympus Mon on Mars, now possibly the second largest volcano in the solar system.
A study on flies may hold the key to future addiction treatments.
Scott Barbour/Getty Images
Mind & Brain
A new study suggests that drinking alcohol can affect how memories are stored away as good or bad.
This may have drastic implications for how addiction is caused and how people recall intoxication.
The findings may one day lead to a new form of treatment for those suffering from addiction.
Progressive America would be half as big, but twice as populated as its conservative twin.
Image: Dicken Schrader
Strange Maps
America's two political tribes have consolidated into 'red' and 'blue' nations, with seemingly irreconcilable differences.
Perhaps the best way to stop the infighting is to go for a divorce and give the two nations a country each
Based on the UN's partition plan for Israel/Palestine, this proposal provides territorial contiguity and sea access to both 'red' and 'blue' America
As the world gets hotter, men may have fewer and fewer viable sperm
Shutterstock
Surprising Science
New research on beetles shows that successive exposure to heatwaves reduces male fertility, sometimes to the point of sterility.
The research has implications both for how the insect population will sustain itself as well as how human fertility may work on an increasingly hotter Earth.
With this and other evidence, it is becoming clear that more common and more extreme heatwaves may be the most dangerous aspect of climate change.
Big think's weekly newsletter.
Get smarter faster from the comfort of your inbox.
See our newsletter privacy policy
here
Most Popular
Most Recent
Big think's weekly newsletter.
Get smarter faster from the comfort of your inbox.
See our newsletter privacy policy
here
© Copyright 2007-2018 & BIG THINK, BIG THINK EDGE,
SMARTER FASTER trademarks owned by The Big Think, Inc. All rights reserved.