GSA 2009 Wrap Up - Part 1
Some notes from the GSA 2009 meeting, including the size of Toba, the latest on the history of South Sister, the explosive life of central Oregon scoria cones and the kimberlites of New York.
Erik Klemetti
I write the Eruptions blog on Big Think. I've been mesmerized with volcanoes (and geology) all my life. It helps that part of my family comes from the shadow of Nevado del Ruiz in Colombia, where I could see first hand the deadly effects of volcanic eruptions. Since then, I've taken a bit of a winding path to become a volcanologist. I started as a history major at Williams College, almost went into radio, but ended up migrating to geology, including an undergraduate thesis on Vinalhaven Island, Maine. I followed this up by changing coast to get my Ph.D. from Oregon State University. Then I ran a MC-ICP-MS lab at University of Washington for a spell (and wrote for an indie rock website). I spent three years as a postdoctoral scholar at University of California - Davis studying the inner workings of magmatic systems. I am now an assistant professor at Denison University and have projects in New Zealand, Chile and Oregon.
I am fascinated by volcanoes, their eruptions and how those eruptions interact with the people who live around the volcanoes. I started this blog after getting frustrated with the news reports of volcanic eruptions. Most of them get the information wrong and/or are just sensationalistic. I will try to summarize eruptions as they occur, translate some of the volcanic processes that are happening and comment on the reports themselves.
And no matter what people tell you, I definitely do not have a cat named Tephra. (OK, I do).
You can find out more about my research by visiting my website. If you have any comments, questions or information, feel free to contact me at eruptionsblog at gmail dot com.
01 September, 2010
I finally remembered to bring my GSA notes with me to the office, so I can finally post a wrap up of what I saw/heard at the big 2009 meeting in Portland. I'll have a specific post on Kasatochi - too much to say here. However, a great time was had by all!
---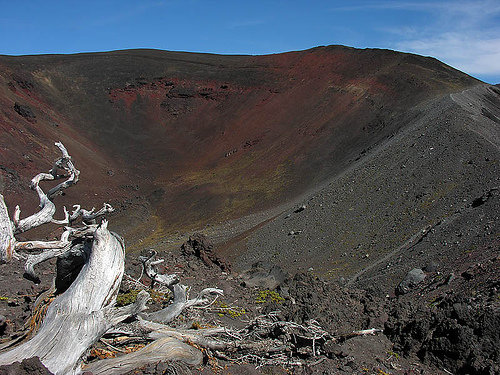 The crater of Collier Cone in Oregon. The scoria cone likely experienced years of explosive strombolian eruptions when it formed.
Some interesting volcano-related notes:
Clive Oppenheimer pointed out that the Toba eruption 74,000 years ago covered >1% of the Earth's surface with >10 cm (~4 in) ash. To put that in perspective, the Earth is ~196,940,400 square miles / 504,167,000 km2, so Toba blanketed almost 200,000 square miles / 500,000 km2 with more than 10 cm ash - and 10 cm is enough to cause significant havoc to plants, breathing and water.
I was personally excited to hear that South Sister in Oregon has erupted a lot of rhyolite/rhyodacite over its history - including Rock Mesa and Devil's Hills. Judy Feirstein from the USGS said that these silicic magmas are common throughout the activity of the volcano, which peaked from 20,000-40,000 years ago.
Also on the South Sister front, it appears that any uplift that was happening on the volcano has ended. The west slope of the volcano was noticed to be very slightly bulging back in 2001 - adding up to a grand total of ~4.6 x 107 m3 - or roughly 3-5 cm uplift. However, most geophysical models for the uplift suggest that there is no mass flux towards the surface, so the likelihood of any eruption from this event is very low.
If you've ever been up on Mackenzie Pass in the Central Oregon Cascades, you've seen a lot of the young (<3,000 year old) basaltic-to-basaltic andesite scoria cones that litter the landscape. Recent work by a group from the University of Oregon suggest that many of the scoria cones (Collier, Yapoah and 4-in-1 in specific) experienced explosive eruptions - specifically strombolian eruptions. They determined this by looking at the tephra deposits near the vents and compared them to the record at Paricutin in Mexico. These Oregon scoria cones likely experienced years of explosive eruptions if the deposits are any indication.
Finally, did you know that kimberlites litter the eastern U.S.? There are kimberlites in middle New York, western Pennsylvania, North Carolina and more. Likely they are caused by reactivation of structural features related to the various orogenies that east coast has experienced, but I had no idea.
Related Articles
It's a development that could one day lead to much better treatments for osteoporosis, joint damage, and bone fractures.
Image: Nissim Benvenisty
Surprising Science
Scientists have isolated skeletal stem cells in adult and fetal bones for the first time.
These cells could one day help treat damaged bone and cartilage.
The team was able to grow skeletal stem cells from cells found within liposuctioned fat.
Gut bacteria play an important role in how you feel and think and how well your body fights off disease. New research shows that exercise can give your gut bacteria a boost.
National Institutes of Health
Surprising Science
Two studies from the University of Illinois show that gut bacteria can be changed by exercise alone.
Our understanding of how gut bacteria impacts our overall health is an emerging field, and this research sheds light on the many different ways exercise affects your body.
Exercising to improve your gut bacteria will prevent diseases and encourage brain health.
A groundbreaking new study shows that octopuses seemed to exhibit uncharacteristically social behavior when given MDMA, the psychedelic drug commonly known as ecstasy.
Surprising Science
Octopuses, like humans, have genes that seem to code for serotonin transporters.
Scientists gave MDMA to octopuses to see whether those genes translated into a binding site for serotonin, which regulates emotions and behavior in humans
Octopuses, which are typically asocial creatures, seem to get friendlier while on MDMA, suggesting humans have more in common with the strange invertebrates than previously thought
Big think's weekly newsletter.
Get smarter faster from the comfort of your inbox.
See our newsletter privacy policy
here
Most Popular
Most Recent
Big think's weekly newsletter.
Get smarter faster from the comfort of your inbox.
See our newsletter privacy policy
here
© Copyright 2007-2018 & BIG THINK, BIG THINK EDGE,
SMARTER FASTER trademarks owned by The Big Think, Inc. All rights reserved.