Grímsvötn ash cloud causes flight disruptions (but Ryanair president says it doesn't exist)
Erik Klemetti
I write the Eruptions blog on Big Think. I've been mesmerized with volcanoes (and geology) all my life. It helps that part of my family comes from the shadow of Nevado del Ruiz in Colombia, where I could see first hand the deadly effects of volcanic eruptions. Since then, I've taken a bit of a winding path to become a volcanologist. I started as a history major at Williams College, almost went into radio, but ended up migrating to geology, including an undergraduate thesis on Vinalhaven Island, Maine. I followed this up by changing coast to get my Ph.D. from Oregon State University. Then I ran a MC-ICP-MS lab at University of Washington for a spell (and wrote for an indie rock website). I spent three years as a postdoctoral scholar at University of California - Davis studying the inner workings of magmatic systems. I am now an assistant professor at Denison University and have projects in New Zealand, Chile and Oregon.
I am fascinated by volcanoes, their eruptions and how those eruptions interact with the people who live around the volcanoes. I started this blog after getting frustrated with the news reports of volcanic eruptions. Most of them get the information wrong and/or are just sensationalistic. I will try to summarize eruptions as they occur, translate some of the volcanic processes that are happening and comment on the reports themselves.
And no matter what people tell you, I definitely do not have a cat named Tephra. (OK, I do).
You can find out more about my research by visiting my website. If you have any comments, questions or information, feel free to contact me at eruptionsblog at gmail dot com.
24 May, 2011
The ash from the Grímsvötn eruption in Iceland has now made its way to the British Isles and over 200 flights have been delayed or cancelled due to the ash, mostly of which are in British airspace, although some flights to Scandinavian countries (and Greenland) have been effected as well. This number could climb to over 500 if the ash persists. However, the eruption appears to be waning (see below for more details), which might suggest any flight disruptions will be brief. The London VAAC models predict that ash will also start to reach the northernmost part of continental Europe soon as well, so some flights into northern Germany, the Low Countries and France might be problematic. However, I was a little stunned this morning to see that Ryanair president Michael O'Leary thinks there is no ash hazard whatsoever over Britain and Scotland. He claims that his company flew a verification flight in the UK Meteorological Office "Red Zone" for ash and was told it was perfectly safe. However, the UK claims that the flight that O'Leary refers to did not enter the ash "Red Zone". So, it looks like the airlines, or at least Ryaniar, is going on the offensive against any curtailment of flights due to the Grímsvötn ash. I hate to say it, but I think the only thing that will convince O'Leary that ash is a real danger to aircraft is when one of his airliners has a serious incident - so it is money over safety at Ryanair. Dr. Clive Oppenheimer does a good job of summarizes why it is so difficult to truly predict the ash location and density, meaning that we need to be very careful when attempting to fly near ash plumes.
---
UPDATE 11:30 AM (Eastern): If you still have questions about the Grímsvötn ash and its ramification for your (or anyone's) travel, check out what Volcan01010 has to say in his latest Q&A.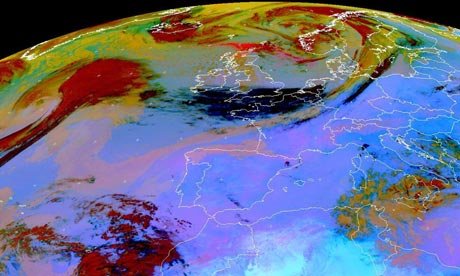 Dust (ash) concentrations over Europe and the North Atlantic as seen on May 23, 2011, where reds and yellows indicate higher concentrations.
It appears that the plume from Grímsvötn is slowly getting smaller, likely due to both less eruptable magma to eject and less ready access to water to help drive the explosive eruption. The estimate magma discharge rate this morning is ~1,000 tons/second (possibly as low as hundreds of tons/second - Icelandic), down from over 10,000 tons/second over the weekend, according to the IMO. There have also been fewer earthquake and much less lightning observed in the plume. Interestingly, Dr. Magnus Tumi Gudmundsson mentioned that there has been no sighting of any lava flows related to this eruption and that they now expect that the eruption might be entirely ash. In Iceland, the ash is easing up as well. there are rescue efforts underway for farmers that live near the eruption zone - these areas have seen heavy ash fall, limiting food and water access to these farmers. The ash from the eruption might also be hastening the melting of glaciers (Icelandic) in Iceland as the ash will absorb more sunlight in the coming summer months.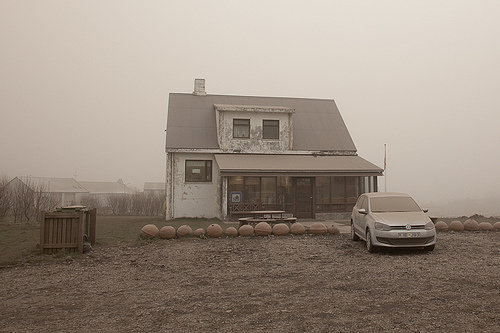 Ash fall in Iceland on May 23, 2011. See original here.
If you're looking for more pictures of the Grímsvötn eruption, there are tons out there. The newly-revamped NASA Earth Observatory posted an image of the eruption as it started on May 22. The Washington Post has a great compilation of tweets, time-lapse video and images of the eruption, while Monsters and Critics and the Atlantic both have image galleries of the Grimvotn eruption. If you missed them yesterday, be sure to check out the animated GIF of the early stages of the eruption that show a textbook example of how a Plinian column develops, spreading out as it hits the stratosphere (just at Pliny the Younger saw in 79 A.D. at Vesuvius). Also, check out the weather satellite images of the eruption plume punching through the atmosphere.
If you happen to be somewhere where the ash is falling, you could try to collect some for scientific purpose - check out Volcan01010 for instructions on how to collect the ash.
Check out all the posts on the Grímsvötn eruption to find all the details:
Top left: The ash and plume from Grímsvötn, seen on May 23, 2011.
Journaling can help you materialize your ambitions.
Videos
Organizing your thoughts can help you plan and achieve goals that might otherwise seen unobtainable.
The Bullet Journal method, in particular, can reduce clutter in your life by helping you visualize your future.
One way to view your journal might be less of a narrative and more of a timeline of decisions.
Progressive America would be half as big, but twice as populated as its conservative twin.
Image: Dicken Schrader
Strange Maps
America's two political tribes have consolidated into 'red' and 'blue' nations, with seemingly irreconcilable differences.
Perhaps the best way to stop the infighting is to go for a divorce and give the two nations a country each
Based on the UN's partition plan for Israel/Palestine, this proposal provides territorial contiguity and sea access to both 'red' and 'blue' America
New research links urban planning and political polarization.
Pixabay
Politics & Current Affairs
Canadian researchers find that excessive reliance on cars changes political views.
Decades of car-centric urban planning normalized unsustainable lifestyles.
People who prefer personal comfort elect politicians who represent such views.
Big think's weekly newsletter.
Get smarter faster from the comfort of your inbox.
See our newsletter privacy policy
here
Most Popular
Most Recent
Big think's weekly newsletter.
Get smarter faster from the comfort of your inbox.
See our newsletter privacy policy
here
© Copyright 2007-2018 & BIG THINK, BIG THINK EDGE,
SMARTER FASTER trademarks owned by The Big Think, Inc. All rights reserved.