Grímsvötn ash cloud causes flight disruptions (but Ryanair president says it doesn't exist)
24 May, 2011
The ash from the Grímsvötn eruption in Iceland has now made its way to the British Isles and over 200 flights have been delayed or cancelled due to the ash, mostly of which are in British airspace, although some flights to Scandinavian countries (and Greenland) have been effected as well. This number could climb to over 500 if the ash persists. However, the eruption appears to be waning (see below for more details), which might suggest any flight disruptions will be brief. The London VAAC models predict that ash will also start to reach the northernmost part of continental Europe soon as well, so some flights into northern Germany, the Low Countries and France might be problematic. However, I was a little stunned this morning to see that Ryanair president Michael O'Leary thinks there is no ash hazard whatsoever over Britain and Scotland. He claims that his company flew a verification flight in the UK Meteorological Office "Red Zone" for ash and was told it was perfectly safe. However, the UK claims that the flight that O'Leary refers to did not enter the ash "Red Zone". So, it looks like the airlines, or at least Ryaniar, is going on the offensive against any curtailment of flights due to the Grímsvötn ash. I hate to say it, but I think the only thing that will convince O'Leary that ash is a real danger to aircraft is when one of his airliners has a serious incident - so it is money over safety at Ryanair. Dr. Clive Oppenheimer does a good job of summarizes why it is so difficult to truly predict the ash location and density, meaning that we need to be very careful when attempting to fly near ash plumes.
---
UPDATE 11:30 AM (Eastern): If you still have questions about the Grímsvötn ash and its ramification for your (or anyone's) travel, check out what Volcan01010 has to say in his latest Q&A.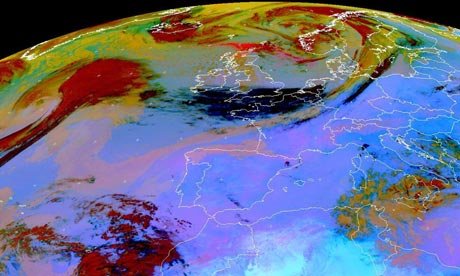 Dust (ash) concentrations over Europe and the North Atlantic as seen on May 23, 2011, where reds and yellows indicate higher concentrations.
It appears that the plume from Grímsvötn is slowly getting smaller, likely due to both less eruptable magma to eject and less ready access to water to help drive the explosive eruption. The estimate magma discharge rate this morning is ~1,000 tons/second (possibly as low as hundreds of tons/second - Icelandic), down from over 10,000 tons/second over the weekend, according to the IMO. There have also been fewer earthquake and much less lightning observed in the plume. Interestingly, Dr. Magnus Tumi Gudmundsson mentioned that there has been no sighting of any lava flows related to this eruption and that they now expect that the eruption might be entirely ash. In Iceland, the ash is easing up as well. there are rescue efforts underway for farmers that live near the eruption zone - these areas have seen heavy ash fall, limiting food and water access to these farmers. The ash from the eruption might also be hastening the melting of glaciers (Icelandic) in Iceland as the ash will absorb more sunlight in the coming summer months.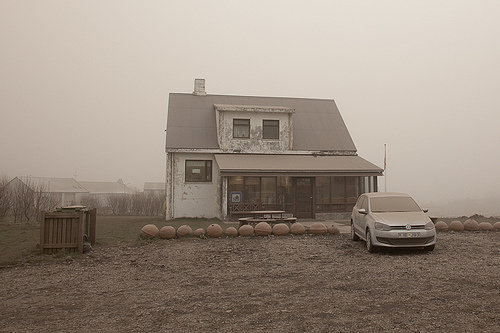 Ash fall in Iceland on May 23, 2011. See original here.
If you're looking for more pictures of the Grímsvötn eruption, there are tons out there. The newly-revamped NASA Earth Observatory posted an image of the eruption as it started on May 22. The Washington Post has a great compilation of tweets, time-lapse video and images of the eruption, while Monsters and Critics and the Atlantic both have image galleries of the Grimvotn eruption. If you missed them yesterday, be sure to check out the animated GIF of the early stages of the eruption that show a textbook example of how a Plinian column develops, spreading out as it hits the stratosphere (just at Pliny the Younger saw in 79 A.D. at Vesuvius). Also, check out the weather satellite images of the eruption plume punching through the atmosphere.
If you happen to be somewhere where the ash is falling, you could try to collect some for scientific purpose - check out Volcan01010 for instructions on how to collect the ash.
Check out all the posts on the Grímsvötn eruption to find all the details:
Top left: The ash and plume from Grímsvötn, seen on May 23, 2011.
Malcolm Gladwell teaches "Get over yourself and get to work" for Big Think Edge.
Big Think Edge
Learn to recognize failure and know the big difference between panicking and choking.

At Big Think Edge, Malcolm Gladwell teaches how to check your inner critic and get clear on what failure is.

Subscribe to Big Think Edge before we launch on March 30 to get 20% off monthly and annual memberships.
Can sensitive coral reefs survive another human generation?
Videos
Coral reefs may not be able to survive another human decade because of the environmental stress we have placed on them, says author David Wallace-Wells. He posits that without meaningful changes to policies, the trend of them dying out, even in light of recent advances, will continue.
The World Wildlife Fund says that 60 percent of all vertebrate mammals have died since just 1970. On top of this, recent studies suggest that insect populations may have fallen by as much as 75 percent over the last few decades.
If it were not for our oceans, the planet would probably be already several degrees warmer than it is today due to the emissions we've expelled into the atmosphere.
Research has shown that men today have less testosterone than they used to. What's happening?
Sex & Relationships
Several studies have confirmed that testosterone counts in men are lower than what they used to be just a few decades ago.
While most men still have perfectly healthy testosterone levels, its reduction puts men at risk for many negative health outcomes.
The cause of this drop in testosterone isn't entirely clear, but evidence suggests that it is a multifaceted result of modern, industrialized life.
Michael Dowling, Northwell Health's CEO, believes we're entering the age of smart medicine.
Sponsored by Northwell Health
The United States health care system has much room for improvement, and big tech may be laying the foundation for those improvements.
Technological progress in medicine is coming from two fronts: medical technology and information technology.
As information technology develops, patients will become active participants in their health care, and value-based care may become a reality.
Big think's weekly newsletter.
Get smarter faster from the comfort of your inbox.
See our newsletter privacy policy
here
Most Popular
Most Recent
Big think's weekly newsletter.
Get smarter faster from the comfort of your inbox.
See our newsletter privacy policy
here
© Copyright 2007-2018 & BIG THINK, BIG THINK EDGE,
SMARTER FASTER trademarks owned by The Big Think, Inc. All rights reserved.