Friday Flotsam
I talk earthquakes on this Friday's Flotsam post, along with an estimate of how much Kilauea has erupted from the Haleuma`uma`u Crater since it started erupting last year.
Erik Klemetti
I write the Eruptions blog on Big Think. I've been mesmerized with volcanoes (and geology) all my life. It helps that part of my family comes from the shadow of Nevado del Ruiz in Colombia, where I could see first hand the deadly effects of volcanic eruptions. Since then, I've taken a bit of a winding path to become a volcanologist. I started as a history major at Williams College, almost went into radio, but ended up migrating to geology, including an undergraduate thesis on Vinalhaven Island, Maine. I followed this up by changing coast to get my Ph.D. from Oregon State University. Then I ran a MC-ICP-MS lab at University of Washington for a spell (and wrote for an indie rock website). I spent three years as a postdoctoral scholar at University of California - Davis studying the inner workings of magmatic systems. I am now an assistant professor at Denison University and have projects in New Zealand, Chile and Oregon.
I am fascinated by volcanoes, their eruptions and how those eruptions interact with the people who live around the volcanoes. I started this blog after getting frustrated with the news reports of volcanic eruptions. Most of them get the information wrong and/or are just sensationalistic. I will try to summarize eruptions as they occur, translate some of the volcanic processes that are happening and comment on the reports themselves.
And no matter what people tell you, I definitely do not have a cat named Tephra. (OK, I do).
You can find out more about my research by visiting my website. If you have any comments, questions or information, feel free to contact me at eruptionsblog at gmail dot com.
01 September, 2010
Not much in volcano news, however a lot of earthquake news this morning.
---
Did anyone else notice that two M6+ earthquakes occurred last night within one minute of each other last night (eastern daylight time)? The first was in the Banda Sea near Indonesia at 01:51:19 UTC (M6.8), the next was in northern Qinhai in China at 01:52:06 UTC (M6.2). I'm guessing that is just the sort of coincidences that occur when you have thousands of earthquakes globally a week, but still an interesting coincidence. There was also a series of earthquakes, all less than M3.7, last night in Oklahoma of all places. Not exactly in a hotbed of seismic activity.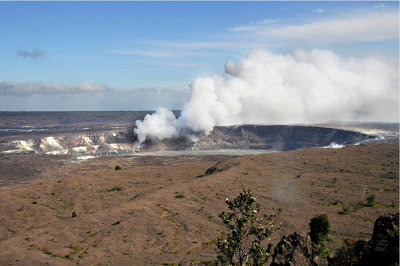 Halema`uma`u Crater in March 2008.
Back in volcano-related news, Hawai'i 24/7 has a post about how the USGS/HVO goes about sampling the ash emitted from the Halema`uma`u Crater. The short answer: buckets. The fun facts in the article include estimates of the amount of ash and lapilli emitted since the Halema`uma`u eruption started last year:
* Total weight ejected during the eruption: 2,200 tons

* Total weight ejected during the 8 big explosive eruptions: 1,800 tons

* Total weight ejected between big explosive eruptions: 400 tons
Not bad. It shows that at Kilauea, most of the ash/lapilli ejected comes from the big events (over 80%) -- so any time you see ash/lapilli layers in the rock record for a basaltic volcano, you might really be seeing very discrete events rather than a long period of activity. That is why observing the modern can unlock the past.
Related Articles
We're more dependent on them than we realize.
(Photo Lily on Unsplash)
Surprising Science
Scientists says our survival depends on biodiversity.
A natural climate strategy we often forget.
Seeing our place among the Earth's living creatures.
There's a high social cost that comes with lighting up.
(Porch)
Sex & Relationships
The home improvement company Porch recently polled 1,009 people on their feelings about smoking.
The company recently published the results as infographics.
In terms of dating, 80 percent of nonsmokers find the habit a turnoff
While short-term results are positive, there is mounting evidence against staying in ketosis for too long.
Surprising Science
Recent studies showed volunteers lost equal or more weight on high-carb, calorie-restricted diets than low-carb, calorie restricted diets.
There might be positive benefits to short-term usage of a ketogenic diet.
One dietician warns that the ketogenic diet could put diabetics at risk for diabetic ketoacidosis.
Big think's weekly newsletter.
Get smarter faster from the comfort of your inbox.
See our newsletter privacy policy
here
Most Popular
Most Recent
Big think's weekly newsletter.
Get smarter faster from the comfort of your inbox.
See our newsletter privacy policy
here
© Copyright 2007-2018 & BIG THINK, BIG THINK EDGE,
SMARTER FASTER trademarks owned by The Big Think, Inc. All rights reserved.