Evacuations near Eyjafjallajökull-Fimmvörduháls?
Iceland may have ordered evacuations near Eyjafjallajökull-Fimmvörduháls after increased earthquakes underneath the Eyjafjallajokull ice cap, leading to fears of a potential jökulhlaup (volcanically-triggered volcanic flood).
Erik Klemetti
I write the Eruptions blog on Big Think. I've been mesmerized with volcanoes (and geology) all my life. It helps that part of my family comes from the shadow of Nevado del Ruiz in Colombia, where I could see first hand the deadly effects of volcanic eruptions. Since then, I've taken a bit of a winding path to become a volcanologist. I started as a history major at Williams College, almost went into radio, but ended up migrating to geology, including an undergraduate thesis on Vinalhaven Island, Maine. I followed this up by changing coast to get my Ph.D. from Oregon State University. Then I ran a MC-ICP-MS lab at University of Washington for a spell (and wrote for an indie rock website). I spent three years as a postdoctoral scholar at University of California - Davis studying the inner workings of magmatic systems. I am now an assistant professor at Denison University and have projects in New Zealand, Chile and Oregon.
I am fascinated by volcanoes, their eruptions and how those eruptions interact with the people who live around the volcanoes. I started this blog after getting frustrated with the news reports of volcanic eruptions. Most of them get the information wrong and/or are just sensationalistic. I will try to summarize eruptions as they occur, translate some of the volcanic processes that are happening and comment on the reports themselves.
And no matter what people tell you, I definitely do not have a cat named Tephra. (OK, I do).
You can find out more about my research by visiting my website. If you have any comments, questions or information, feel free to contact me at eruptionsblog at gmail dot com.
01 September, 2010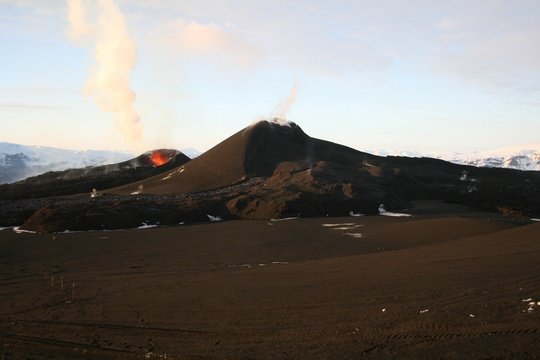 \nThe Eyjafjallajökull-Fimmvörduháls eruption on April 7, 2010.
---
\n\n
Just as we were speculating that the Eyjafjallajökull-Fimmvörduháls eruption might be over, Icelandic officials may have ordered an evacuation for towns (icelandic) in the area (but information in english is scant). There have been a recent swarm of shallow earthquakes underneath the Eyjafjallajökull ice cap - and if there is any chance that this could be signs of a new eruption under the ice, evacuations are justified. This could mean a jökulhlaup could be generated. These glacial floods are highly destructive, so getting people out of the way quickly is vital.
\n\n
UPDATE 22:45 EDT 4/13/2010: More news about the evacuations, again in Icelandic.
\n\n
If you see any news about the events tonight, please feel free to it here.
Related Articles
Fight or flight? We've all been there. Now we have an understanding of how it works.
Surprising Science
There is such a thing in neuroscience as a 'gut feeling.'
We don't quite know what it's saying yet, but we have an idea.
"Gut signals are transmitted at epithelial-neural synapses through the release of … serotonin."
The Spilhaus Projection may be more than 75 years old, but it has never been more relevant than today.
Surprising Science
Athelstan Spilhaus designed an oceanic thermometer to fight the Nazis, and the weather balloon that got mistaken for a UFO in Roswell.
In 1942, he produced a world map with a unique perspective, presenting the world's oceans as one body of water.
The Spilhaus Projection could be just what the oceans need to get the attention their problems deserve.
It's just the current cycle that involves opiates, but methamphetamine, cocaine, and others have caused the trajectory of overdoses to head the same direction
From the study: http://science.sciencemag.org/content/361/6408/eaau1184
Surprising Science
It appears that overdoses are increasing exponentially, no matter the drug itself
If the study bears out, it means that even reducing opiates will not slow the trajectory.
The causes of these trends remain obscure, but near the end of the write-up about the study, a hint might be apparent
Big think's weekly newsletter.
Get smarter faster from the comfort of your inbox.
See our newsletter privacy policy
here
Most Popular
Most Recent
Big think's weekly newsletter.
Get smarter faster from the comfort of your inbox.
See our newsletter privacy policy
here
© Copyright 2007-2018 & BIG THINK, BIG THINK EDGE,
SMARTER FASTER trademarks owned by The Big Think, Inc. All rights reserved.