Eruption Update for 11/1/2010: Grímsvötn and Merapi
Erik Klemetti
I write the Eruptions blog on Big Think. I've been mesmerized with volcanoes (and geology) all my life. It helps that part of my family comes from the shadow of Nevado del Ruiz in Colombia, where I could see first hand the deadly effects of volcanic eruptions. Since then, I've taken a bit of a winding path to become a volcanologist. I started as a history major at Williams College, almost went into radio, but ended up migrating to geology, including an undergraduate thesis on Vinalhaven Island, Maine. I followed this up by changing coast to get my Ph.D. from Oregon State University. Then I ran a MC-ICP-MS lab at University of Washington for a spell (and wrote for an indie rock website). I spent three years as a postdoctoral scholar at University of California - Davis studying the inner workings of magmatic systems. I am now an assistant professor at Denison University and have projects in New Zealand, Chile and Oregon.
I am fascinated by volcanoes, their eruptions and how those eruptions interact with the people who live around the volcanoes. I started this blog after getting frustrated with the news reports of volcanic eruptions. Most of them get the information wrong and/or are just sensationalistic. I will try to summarize eruptions as they occur, translate some of the volcanic processes that are happening and comment on the reports themselves.
And no matter what people tell you, I definitely do not have a cat named Tephra. (OK, I do).
You can find out more about my research by visiting my website. If you have any comments, questions or information, feel free to contact me at eruptionsblog at gmail dot com.
01 November, 2010
I'm still at GSA 2010 - I'll have another post with some news/facts from the meeting - but my lack of a computer yesterday and the fact that my hotel is chargest $13/day for internet has left my posting a little slow even with a couple important events ... so here are some brief updates:
---
Grímsvötn, Iceland
I received a couple emails from Eruptions readers about a glacial flood or jokulhlaup that has started at Grímsvötn. Now, I know that folks have been watching Grímsvötn for potential eruption and rapid production of meltwater to start a jokulhlaup is a sign you might expect. However, so far scientists from the University of Iceland are saying that an eruption has not started as seismicity is still low but rather that the edifice might be heating up and heading towards an eruption. The flow is about twice as high as what might be expected from normal glacial meltwater according to Gunnar Sigurdsson of the Icelandic Met Office.
Remember, you don't necessarily need an eruption to form a glacial flood: if you melt the glacial ice on top of a volcano and build up a body of meltwater, then release it by catastrophic failure of a ice or tephra dam, you can produce a non-eruption-related jokulhlaup. You can read some more details on the flooding and potential of a new eruption on Jon Frimann's Iceland Volcanism Blog and he quotes Pall Einarsson as saying that any eruption at Grímsvötn is expected to be on the scale of the 2004 events.
Merapi, Indonesia
I've been trying to keep up with the news from Merapi - and you can check out all the news I've missed over in the post from October 30 where Eruptions readers have been finding and posting all sorts of information. Merapi is still eruptiing and this is leading to even more evacuations of the area around the volcano - up to 69,000 people have now fled the volcano. So many people have evacuated that there is a shortage of shelters for the refugees. The ashfall has become so significant that many activities at Yogjakarta have ceased due to the ash, including any air traffic in and out of the city's airport. There is no indication that Merapi will stop erupting in the near future according officials from the Centre for Volcanology and Geological Hazard Mitigation and rain over the weekend might increase the chance of more explosive eruptions from rainwater infiltrating the crater area. You can see video of the latest from the Merapi area here.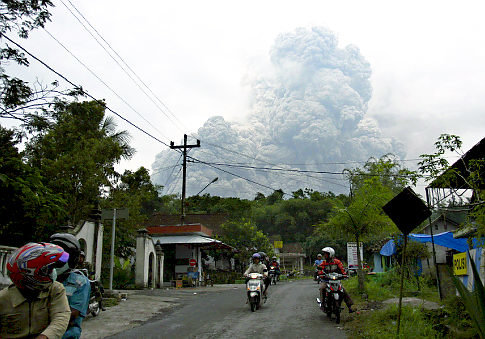 Merapi erupting on October 31, 2010.
Top left: A pyroclastic flow moving down the flanks of Merapi in Indonesia on October 30, 2010.
Big think's weekly newsletter.
Get smarter faster from the comfort of your inbox.
See our newsletter privacy policy
here