Chaiten Eruption Update 2
Erik Klemetti
I write the Eruptions blog on Big Think. I've been mesmerized with volcanoes (and geology) all my life. It helps that part of my family comes from the shadow of Nevado del Ruiz in Colombia, where I could see first hand the deadly effects of volcanic eruptions. Since then, I've taken a bit of a winding path to become a volcanologist. I started as a history major at Williams College, almost went into radio, but ended up migrating to geology, including an undergraduate thesis on Vinalhaven Island, Maine. I followed this up by changing coast to get my Ph.D. from Oregon State University. Then I ran a MC-ICP-MS lab at University of Washington for a spell (and wrote for an indie rock website). I spent three years as a postdoctoral scholar at University of California - Davis studying the inner workings of magmatic systems. I am now an assistant professor at Denison University and have projects in New Zealand, Chile and Oregon.
I am fascinated by volcanoes, their eruptions and how those eruptions interact with the people who live around the volcanoes. I started this blog after getting frustrated with the news reports of volcanic eruptions. Most of them get the information wrong and/or are just sensationalistic. I will try to summarize eruptions as they occur, translate some of the volcanic processes that are happening and comment on the reports themselves.
And no matter what people tell you, I definitely do not have a cat named Tephra. (OK, I do).
You can find out more about my research by visiting my website. If you have any comments, questions or information, feel free to contact me at eruptionsblog at gmail dot com.
01 September, 2010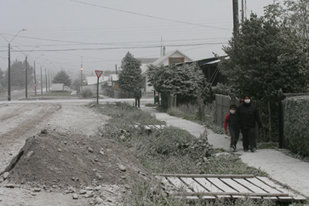 \n\n
Update 5/4/08: Looks like there is now officially a deathtoll for Chaiten, as an elderly woman died during the evacuations. The volcanoes continues to spew ash and I wouldn't be surprised if it did so for at least a few more days. There have also been reports of a sharp increase in earthquakes in the area since the eruption. Now, before everyone goes nuts, this could be just a response to the dramatic release of pressure caused by the eruption, possibly faulting in the caldera walls activated by the eruption, or possibly magma working its way to the surface as the eruption progresses. Now, whether this means the eruption is waxing or waning, it is hard to say from the information I've been able to find, but it definitely will keep us on our toes.
Related Articles
At least he wasn't burned at the stake, right?
The original letter in which Galileo argued against the doctrine of the Roman Catholic Church has been rediscovered in London. Image credit: The Royal Society
Surprising Science
The letter suggests Galileo censored himself a bit in order to fly more under the radar. It didn't work, though.
The Royal Society Journal will publish the variants of the letters shortly, and scholars will begin to analyze the results.
The letter was in obscurity for hundreds of years in Royal Society Library in London.
Scientists have developed new ways of understanding how the biological forces of death drive important life processes.
Surprising Science
Researchers have found new ways on how decomposing plants and animals contribute to the life cycle.
After a freak mass herd death of 300 reindeer, scientists were able to study a wide range of the decomposition processes.
Promoting the necrobiome research will open up new areas of inquiry and even commerce.
What do we see from watching birds move across the country?
E. Fleischer
Surprising Science
A total of eight billion birds migrate across the U.S. in the fall.
The birds who migrate to the tropics fair better than the birds who winter in the U.S.
Conservationists can arguably use these numbers to encourage the development of better habitats in the U.S., especially if temperatures begin to vary in the south.
Big think's weekly newsletter.
Get smarter faster from the comfort of your inbox.
See our newsletter privacy policy
here
Most Popular
Most Recent
Big think's weekly newsletter.
Get smarter faster from the comfort of your inbox.
See our newsletter privacy policy
here
© Copyright 2007-2018 & BIG THINK, BIG THINK EDGE,
SMARTER FASTER trademarks owned by The Big Think, Inc. All rights reserved.