Answers to your Chaiten questions from Dr. Jonathan Castro
Dr. Jonathan Castro, coauthor of a recent Nature paper on the ascent of magma at Chaiten in Chile, fields questions from Eruptions readers.
Erik Klemetti
I write the Eruptions blog on Big Think. I've been mesmerized with volcanoes (and geology) all my life. It helps that part of my family comes from the shadow of Nevado del Ruiz in Colombia, where I could see first hand the deadly effects of volcanic eruptions. Since then, I've taken a bit of a winding path to become a volcanologist. I started as a history major at Williams College, almost went into radio, but ended up migrating to geology, including an undergraduate thesis on Vinalhaven Island, Maine. I followed this up by changing coast to get my Ph.D. from Oregon State University. Then I ran a MC-ICP-MS lab at University of Washington for a spell (and wrote for an indie rock website). I spent three years as a postdoctoral scholar at University of California - Davis studying the inner workings of magmatic systems. I am now an assistant professor at Denison University and have projects in New Zealand, Chile and Oregon.
I am fascinated by volcanoes, their eruptions and how those eruptions interact with the people who live around the volcanoes. I started this blog after getting frustrated with the news reports of volcanic eruptions. Most of them get the information wrong and/or are just sensationalistic. I will try to summarize eruptions as they occur, translate some of the volcanic processes that are happening and comment on the reports themselves.
And no matter what people tell you, I definitely do not have a cat named Tephra. (OK, I do).
You can find out more about my research by visiting my website. If you have any comments, questions or information, feel free to contact me at eruptionsblog at gmail dot com.
01 September, 2010
A few weeks ago I asked you to submit questions on the 2008-present Chaiten eruption in Chile to pose to Dr. Jonathan Castro. Dr. Castro recently had a paper on the ascent rates of Chaiten rhyolite published in Nature and he kindly volunteered to answer your questions. Here are the answers to selected questions ... enjoy!
---
\n\n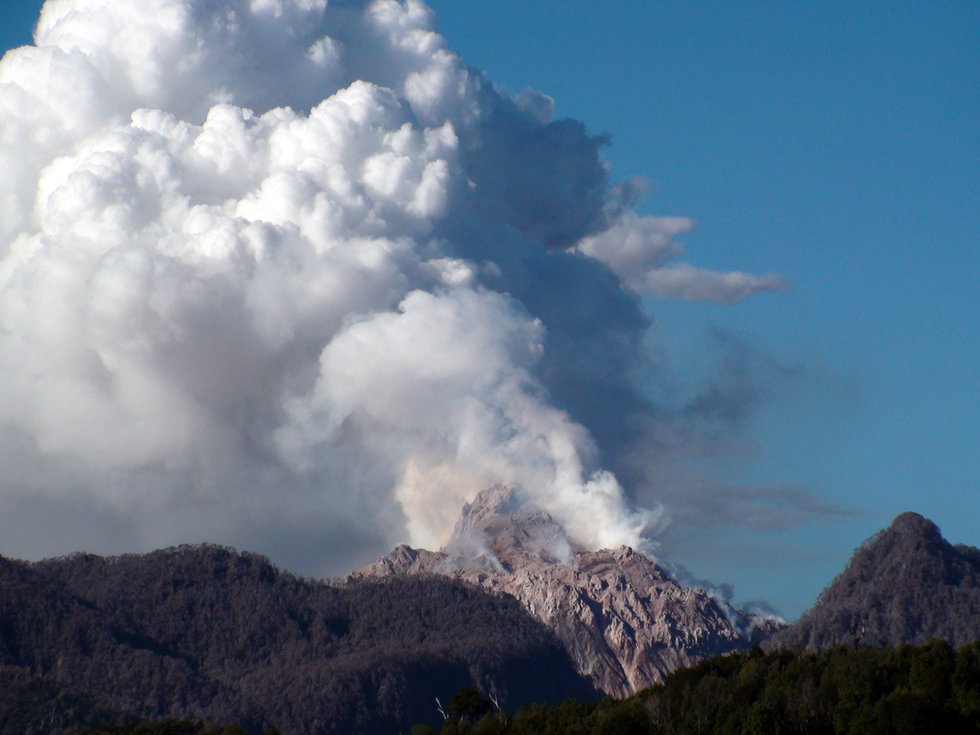 \nChaiten in Chile erupting in 2009. Image by Dr. Jonathan Castro.
\n\n
Dr. Jonathan Castro
\nBiography:
\nB.S. from Humboldt State University
\nPh.D. from University of Oregon*
\nCurrently a Research Geologist at CNRS-Institut for Sciences de la Terre, Oreans, France
\nSoon moving on to Monash University in Melbourne, Australia
\n\n
* = EK Note: We can't all be perfect.
\n\n
Chaiten questions
\n(SHIRAKAWA Akira): As of today, approximately how much magma (in volume / km3) has been erupted from Chaiten Volcano since the start of its eruption in 2008?
\n\n
JC: ALTHOUGH FIRM ESTIMATES ARE NOT YET AVAILABLE BECAUSE THE PROXIMAL (CLOSE-to-the-VENT) DEPOSITS HAVE NOT BEEN THOROUGHLY MAPPED, WATT ET AL. (2009) SUGGEST THE TEPHRA ACCUMULATION TO BE AT LEAST ~0.1 KM3, ALTHOUGH LARA (2009) NOTES THAT THE TOTAL COULD BE AS HIGH AS 4 KM3. WE WILL HAVE TO WAIT UNTIL THE DEPOSITS ARE MAPPED TO GET A FIRM ESTIMATE. IT IS ALSO IMPORTANT TO NOTE THAT THE REGION MAY RECEIVE UP TO 5 M OF RAIN PER YEAR, WHICH WILL HAVE WASHED AWAY A LOT OF MATERIAL.
\n\n
Citation: Watt, S. F. L., D. M. Pyle, T. A. Mather, R. S. Martin, and N. E. Matthews (2009), Fallout and distribution of volcanic ash over Argentina following the May 2008 explosive eruption of Chaitén, Chile, J. Geophys. Res., 114, B04207, doi:10.1029/2008JB006219.
\n\n
Citation: Lara, L.E. (2009) The 2008 eruption of the Chaiten volcano, Chile: a preliminary report, Andean Geology, vol. 36: 125-129.
\n\n
(Lockwood DeWitt): Would seismic investigations allow volcanologists to identify magma chambers that might erupt in this manner? If seismic is impractical, are there any other techniques that might allow identification of such magma bodies?
\n\n
JC: AS FAR AS I KNOW, SEISMIC STUDIES CAN TELL YOU THE APPROXIMATE POSITION OF A MAGMA BODY, BUT NOT THE COMPOSITION OR HOW IT IS GOING TO ERUPT.
\n\n
(Barry Abel): The National Geographic article on the Chaiten finding is titled "Worst Volcanoes Even More Dangerous Than Feared". It implies that Dr. Castro's study means that large rhyolitic volcanoes such as Yellowstone can erupt with little warning. Until now, volcanologists have been saying that Yellowstone would give plenty of warning. Is the article ignoring the differences between calderas such as Yellowstone and mountains such as Chaiten, or are rhyolitic calderas really in danger of erupting with little warning?
\n\n
JC: THE CASTRO AND DINGWELL ARTICLE DOES NOT ADDRESS THE BEHAVIOR OF BIG CALDERAS, WHICH MAY BE DIFFERENT DUE TO THE MASSIVE VOLUMES OF MATERIAL CAPABLE OF BEING PRODUCED IN CALDERA-FORMING ERUPTIONS. BUT BIG CALDERAS MAY ALSO PRODUCE MEDIUM OR SMALL SIZED ERUPTIONS, SO THAT MAKES OUR STUDY RELEVANT TO THE BEHAVIOR OF THESE SYSTEMS. THE FORMAT OF NATURE MAGAZINE PLACES STRICT LIMITS ON SPACE AND THEREFORE THE NUMBER OF IDEAS (JUST ONE) THAT CAN BE CONVEYED.
\n\n
(Dr. Aldo Piombino): Certenly it could be interesting drawing some characteristic of the Chaiten lava vs. the lavas of other ryolithic domes for understanding whether Chaiten dome is the very rule or is an exception.
\nAnd what about the situation of the underlying magma chamber? Is this the product of a crustal anatexis due to a deeper basaltic magma rise or not?
\n\n
JC: "RULES" ARE HARD TO DEFINE WHEN DEALING WITH VOLCANOES, AS EACH HAS ITS OWN UNIQUE HISTORY, DICTATED BY THE PHYSICS AND CHEMISTRY OF THE MAGMA SYSTEM (NOT TO MENTION THE OVERLYING CRUSTAL STRUCTURE). THERE ARE STILL SIMILARITIES BETWEEN SYSTEMS, LIKE THE WAY ACTIVITY DURING ONE EPISODE MAY CHANGE WITH TIME (COMMONLY STARTING EXPLOSIVE THEN GOING EFFUSIVE). WE CAN LEARN A LOT BY "WATCHING" VOLCANOES ERUPT, BUT, IN THE CASE OF EXPLOSIVELY ERUPTING RHYOLITES, WE HAVE JUST 1 INSTANCE WHERE THIS WAS POSSIBLE. THERE'S NO EVIDENCE OF A BASALTIC INPUT OR TRIGGER TO THE ERUPTION. BUT THE CRYSTALS WE STUDIED SHOW SOME EVIDENCE THAT THEY WERE CHEMICALLY AND/OR THERMALLY PERTURBED BEFORE THE ERUPTION.
\n\n
THE ORIGIN OF RHYOLITE MAGMA REMAINS AN ACTIVE AREA OF RESEARCH. COMPETING IDEAS INCLUDE THE "ANATEXIS" (PARTIAL MELTING) MODEL YOU MENTION, AND ALSO EXTENSIVE CHEMICAL DIFFERENTIATION OF MORE PRIMITIVE MAGMAS. IN THE CASE OF CHAITEN WE DO NOT KNOW WHICH APPLIES. MAYBE ERIK CAN CHIME IN?
\n\n
Erik (chiming in): The generation of rhyolite is definitely going to vary based on the specific location of the volcano - mostly controlled by the heat source/flux, the density of the overlying crust (allowing for stalling) and the previous magmatism in the area. However, even though Yellowstone and Chaiten might be very different in their setting, the overall generation of rhyolite liquid could be similar in the basic sense. I also want to mention that a third possible source for rhyolite beyond crustal melting and differentiation might be crystal cumulate reactivation (melting), which is sort of a hybrid of the two JC mentioned.
\n\n
(Bruce Stout): Why is Chaiten so close to the coast (and presumably the plate margin)? Presuming there is a magma chamber at 5 km depth, how big do you expect it to be? If the magma was erupted rapidly from a depth of 5 km, how long do you think it spent at that depth before erupting? Do you suspect a deeper source that is feeding the chamber at 5 km depth? Is the magma from Chaiten high or low in volatiles? What do you think the likely scenario is for the future of Chaiten?
\n\n
JC: CHAITEN IS IN A "NORMAL" POSITION WITHIN A VOLCANIC ARC, MEANING THAT IT IS LOCATED AMONGST MANY OTHER VOLCANOES THAT DEFINE THE SOUTHERN CHILE VOLCANIC ZONE. THE "TRENCH" OR PLATE BOUNDARY IS ACTUALLY QUITE FAR TO THE WEST OF CHAITEN (>200 KM). THIS SUBDUCTION ZONE ARC IS THE PRODUCT OF MELTING PROCESSES TAKING PLACE SOME 60-170 KM BENEATH THE CURRENT ARC POSITION (SEE ALSO GROVE ET AL 2009).
\n\n
CITATION: T. L. Grove, C. B. Till, E. Lev, N. Chatterjee, E. Médard (2009) Kinematic variables and water transport control the formation and location of arc volcanoes, Nature 460, 1044-1044 (20 August 2009) doi:10.1038/nature08312
\n\n
WE DON'T KNOW, NOR CAN WE PREDICT THE SIZE OF THE MAGMA CHAMBER UNDER CHAITEN. MAYBE A SEISMIC TOMOGRAPHY STUDY COULD ELUCIDATE THIS.
\n\n
WE DON'T KNOW HOW LONG THE MAGMA SAT IN THE CHAMBER BEFORE ERUPTING. ERIK KLEMETTI IS THE "GURU" AT THIS SORT OF WORK (EK note: Well, I wouldn't say that) AND WE HAVE BEGUN DISCUSSING THIS AS A TOPIC OF FUTURE WORK. IT IS CLEAR THAT THE MAGMA WAS NOT IN A "STEADY STATE" BEFORE ERUPTING BECAUSE MANY OF THE FELDSPAR CRYSTALS APPEAR TO HAVE BEEN UNSTABLE IN THE MAGMA CHAMBER.
\n\n
DEEPER SOURCE, YES IT IS QUITE POSSIBLE. OUR RESULTS GIVE A UPPER BOUND OR THE SHALLOWEST POSITION OF THE CHAMBER.
\nTHE MAGMA AT CHAITEN IS H2O-RICH, LIKE MANY OTHER SILICIC MAGMAS IN ARCS.
\n\n
RHYOLITE LAVA DOMES CAN GROW TO VERY LARGE SIZE (SEVERAL KM3). I WOULD NOT BE SURPRISED IF THIS CURRENTLY GROWING DOME(S) CONTINUE THAT WAY FOR A LONG TIME.
\n\n
(R. Fitzpatrick): What do you think is the cause of the magma moving faster? Has it gotten thicker/thinner, become more or less viscous, is it under greater pressure? Has the vent gotten larger or straighter?
\nCould the different rims that grow at different pressures act like blood platelets and affect the "coagulation" of the magma?
\n\n
JC: WELL, WHEN A MAGMA IS RICH IN WATER, ITS VISCOSITY WILL BE REDUCED BY SEVERAL ORDERS OF MAGNITUDE, TRANSLATING TO AN EASIER ABILITY TO FLOW. ANOTHER THING THAT FOSTERS THE RAPID FLOW IS THE LACK OF CRYSTALS IN THE MELT, WHICH WOULD INCREASE THE VISCOSITY GREATLY. IT IS INTERESTING THAT THIS ERUPTION OCCUPIED THE SAME VENT AS THE PREVIOUS ONE. MANY RHYOLITE SYSTEMS OF SIMILAR SIZE FORM CHAINS OF DOMES (LIKE AT S. SISTER VOCLANO OR THE INYO DOMES) RATHER THAN A POINT. COULD THIS HAPPEN AT CHAITEN?
\n\n
(Thomas Donlon): Have any recent analysis been done on Chaiten ash / eruptive material - and if so - does this indicate any change possible for the Chaiten eruption?
\n\n
JC: AS FAR AS I KNOW, THERE IS NO EVIDENCE OF A CHANGE IN MAGMA COMPOSITION FROM LATER ERUPTED ASH.
\n\n
(Guillermo Ebensperger): In the case of Chaitén (or the rhyolite volcanoes in general, if it is the case), why, if the magma is too viscous, they are continuinally erupting for a very long time? Is because of the magma' speed or there is a relationship with the magma chamber size?
\n\n
JC: MAGMA MAY ERUPT FOR A LONG TIME IF THE FORCES DRIVING THE MAGMA UP AND OUT OF THE CHAMBER (OVERPRESSURE AND BOUYANCY) PERSIST AND IF THERE IS A BIG SUPPLY OF FRESH MAGMA.
\n\n
(Erik): Are there any other volcanoes/volcanic eruptions that you know of that are similar to Chaitén in its style and nature? Are there any particular systems that might not be on everyone's radar that you might be concerned about in terms of potential activity?
\n\n
JC: ONE THING THAT IS CLEAR FROM THE OLDER DEPOSITS IS THAT THEY TOO STARTED OFF EXPLOSIVELY AND THEN TRANSITIONED TO LAVA DOME/FLOW ACTIVITY. CHAITEN APPEARS TO HAVE BEEN A PARTICULARLY ENERGETIC ERUPTION COMPARED TO THE OTHER MEDIUM/SMALL SIZED RHYOLITE DEPOSITS I'VE WORKED ON (MEDICINE LAKE AND NEWBERRY). FOR EXAMPLE, THE TEPHRA DEPOSITS AT CHAITEN ARE VERY FINE GRAINED (LOTS OF ASH), EVEN CLOSE TO THE VENT, WHICH MEANS THE FRAGMENTATION MECHANISM WAS VERY EFFICIENT AND LIKELY DRIVEN BY VIGOROUS DEGASSING AT THE FRAGMENTATION LEVEL. THIS EXPLOSIVE DEGASSING, IN TURN, MAY HAVE BEEN PROMOTED BY FAST MAGMA RISE (NO TIME FOR THE MAGMA TO LOSE ITS GAS UNTIL VERY SHALLOW LEVELS). AT OTHER HOLOCENE OBSIDIAN SYSTEMS, THE PROXIMAL DEPOSITS ARE MUCH COARSER, WHICH MIGHT IMPLY A LESS EFFICIENT AND ENERGETIC FRAGMENTATION MECHAMISM.
\n
\nGOOD QUESTION ABOUT OTHER SYSTEMS THAT MAY BE OFF THE RADAR! I BETTER TURN MINE ON! I HAVEN'T TRAVELLED THE WORLD IN SEARCH OF ALL THE OTHER POSSIBLY ACTIVE RHYOLITE SYSTEMS, UNFORTUNATELY.
\n\n
Thanks again to Dr. Castro for fielding these questions! Chaiten looks like it will keep us captivated for years to come.
Related Articles
New research offers a tip for politicians who don't want to be seen as corrupt: don't get a big head.
These five main food groups are important for your brain's health and likely to boost the production of feel-good chemicals.
Big think's weekly newsletter.
Get smarter faster from the comfort of your inbox.
See our newsletter privacy policy
here
Most Popular
Most Recent
Big think's weekly newsletter.
Get smarter faster from the comfort of your inbox.
See our newsletter privacy policy
here
© Copyright 2007-2018 & BIG THINK, BIG THINK EDGE,
SMARTER FASTER trademarks owned by The Big Think, Inc. All rights reserved.