A quick note on thawing ice caps and volcanism
Could increased volcanism and deglaciation be linked? It is hard to tell, but fascinating to ponder.
Erik Klemetti
I write the Eruptions blog on Big Think. I've been mesmerized with volcanoes (and geology) all my life. It helps that part of my family comes from the shadow of Nevado del Ruiz in Colombia, where I could see first hand the deadly effects of volcanic eruptions. Since then, I've taken a bit of a winding path to become a volcanologist. I started as a history major at Williams College, almost went into radio, but ended up migrating to geology, including an undergraduate thesis on Vinalhaven Island, Maine. I followed this up by changing coast to get my Ph.D. from Oregon State University. Then I ran a MC-ICP-MS lab at University of Washington for a spell (and wrote for an indie rock website). I spent three years as a postdoctoral scholar at University of California - Davis studying the inner workings of magmatic systems. I am now an assistant professor at Denison University and have projects in New Zealand, Chile and Oregon.
I am fascinated by volcanoes, their eruptions and how those eruptions interact with the people who live around the volcanoes. I started this blog after getting frustrated with the news reports of volcanic eruptions. Most of them get the information wrong and/or are just sensationalistic. I will try to summarize eruptions as they occur, translate some of the volcanic processes that are happening and comment on the reports themselves.
And no matter what people tell you, I definitely do not have a cat named Tephra. (OK, I do).
You can find out more about my research by visiting my website. If you have any comments, questions or information, feel free to contact me at eruptionsblog at gmail dot com.
01 September, 2010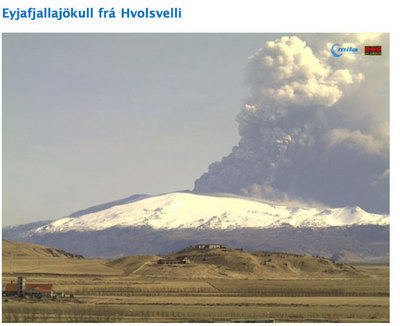 \nWebcam shot of Eyjafjallajökull erupting on April 17, 2010.
---
\n\n
I don't want to get too far into this but there has been a lot of chatter about the link between melting ice caps and increase/decrease/neither of volcanism. The two main articles we're talking about are:
\n\n
Scientific American, saying that ice loss could increase volcanism:
\nIce cap thaw may awaken Icelandic volcanoes
\n\n
The long and short of the Scientific American study is that you reduce the pressure of rocks in the crust/mantle below Iceland, you generate more melting - depressurization melting of rock. If you melt the ice cap, you release a decent amount of pressure - ice is heavy and adds weight to the crust, so melting ice cap = more melting = more volcanism.
\n\n
Watts Up with That saying no, it won't:
\nReply to: "Ice cap thaw may awaken Icelandic volcanoes"
\n\n
Now, my take on this is that Scientific American - and the geologists quoted - are not saying that the loss of the ice cap will increase volcanism in Iceland. They suggest that there could be a connection between the loss of ice and volcanism. This has been suggested before for the Cascades after the end of the last ice age from 12-7 k.y. ago. This could be the same for Iceland, where the loss of ice (for whatever reason) might increase overall volcanism ... but is it?
\n\n
WUWT take on the problem is interesting, saying that the lower pressure will cause the melting point of the rocks to change only a little bit, so you shouldn't expect more volcanism. However, the key to this problem (in my mind) isn't melting point but rather the volatiles dissolved in the magma. Most magmas can dissolve more volatiles (from the source of the magma, not a surface source of water) under high pressure than low pressure. If you release that pressure, then the volatiles escape in the form of bubbles and you can get an explosive eruption (like popping the top of shaken soda can). If you happen to have shallow magma chambers with volatiles near the surface and deglaciate (remove the ice), you might be prompt a reaction of the volatiles (gases) coming out of solution with the magma. Now, if you combine that with even a small amount of additional melting from lower pressures brought by deglaciation, then, maybe you could produce a temporary, larger supply of eruptible magma. Magma does not need external water to produce explosive eruptions (such as an ice cap/glacier) - and it seems that the current eruption is silicic enough to produce its own explosivity due to its viscosity and water content - so the lack of an ice cap should not preclude more explosive eruptions in Iceland.
\n\n
Now, this is all just speculation on my part and I'm not trying to connect it to global warming, global cooling or the Red Sox subpar start to the season. However, what I can say is that we need to stop trying to look at every study with the lens of climate change - and especially stop treating each side of the issue as adversaries if you don't agree with them. Science is about discussion not confrontation, but a lot of this debate becomes "Jeez, the other guys are idiots because they don't agree with me!" A little civility and open-mindedness goes a long way.
\n\n
That being said, this idea of deglaciation leading to more volcanism is fascinating and has some evidence that seems to indicate that after a major glaciation, it might happen.
Related Articles
We're more dependent on them than we realize.
(Photo Lily on Unsplash)
Surprising Science
Scientists says our survival depends on biodiversity.
A natural climate strategy we often forget.
Seeing our place among the Earth's living creatures.
There's a high social cost that comes with lighting up.
(Porch)
Sex & Relationships
The home improvement company Porch recently polled 1,009 people on their feelings about smoking.
The company recently published the results as infographics.
In terms of dating, 80 percent of nonsmokers find the habit a turnoff
While short-term results are positive, there is mounting evidence against staying in ketosis for too long.
Surprising Science
Recent studies showed volunteers lost equal or more weight on high-carb, calorie-restricted diets than low-carb, calorie restricted diets.
There might be positive benefits to short-term usage of a ketogenic diet.
One dietician warns that the ketogenic diet could put diabetics at risk for diabetic ketoacidosis.
Big think's weekly newsletter.
Get smarter faster from the comfort of your inbox.
See our newsletter privacy policy
here
Most Popular
Most Recent
Big think's weekly newsletter.
Get smarter faster from the comfort of your inbox.
See our newsletter privacy policy
here
© Copyright 2007-2018 & BIG THINK, BIG THINK EDGE,
SMARTER FASTER trademarks owned by The Big Think, Inc. All rights reserved.