4 volcanoes for the price of 1 in Kamchatka
25 February, 2011
We've finally made it to the weekend, so I thought I'd leave you with a shiny new image from the NASA Earth Observatory folks. The new ASTER image (below) captured today shows four volcanoes on the Kamchatka peninsula in Russia letting off steam and/or ash: Kizimen (furthest to the south with a thick, grey plume), Bezymianny (next north with a very wispy white plume), Kliuchevskoi (just north of Bezymianny, with a white plume) and Shiveluch (furthest north with a grey/tan plume). This isn't an unique event for Kamchatka - we're still 4 volcanoes erupting simultaneously before - but is still a cool thing to see. The NASA EO also had an image earlier this week of Kizimen by itself as well (top left).
---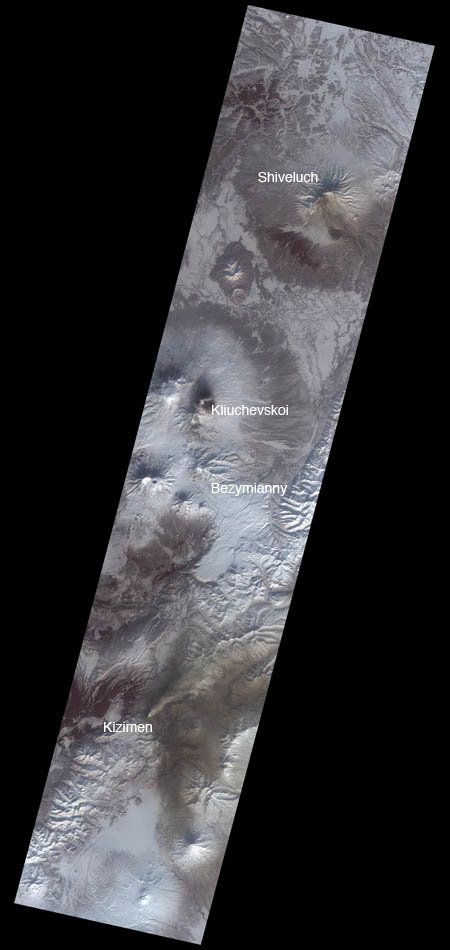 You can check out the details of all the activity in Kamchatka in this week's USGS/Smithsonian Global Volcanism Program Weekly Volcanic Activity Report or the latest KVERT status update.
Enjoy the weekend (the last in February!)
We are constantly trying to force the world to look like us — we need to move on.
Videos
When the Berlin Wall fell in 1989, many Americans jumped for joy. At the time, some believed there weren't going to be any more political disagreements anywhere in the world. They thought American democracy had won the "war of ideas."
American exceptionalism has sought to create a world order that's really a mirror image of ourselves — a liberal world order founded on the DNA of American thinking. To many abroad this looks like ethnic chauvinism.
We need to move on from this way of thinking, and consider that sometimes "problem-solving," in global affairs, means the world makes us look like how it wants to be.
Scientists make an important discovery for the future of computing.
Pixabay
Surprising Science
Researchers find a new state of matter called "topological superconductivity".
The state can lead to important advancements in quantum computing.
Utilizing special particles that emerge during this state can lead to error-free data storage and blazing calculation speed.
French newspapers report that the trial hasn't lived up to expectations.
Image source: Charly Triballeau / AFP / Getty Images
Technology & Innovation
The French government initially invested in a rural solar roadway in 2016.
French newspapers report that the trial hasn't lived up to expectations.
Solar panel "paved" roadways are proving to be inefficient and too expensive.