The Science of Martin Luther King & Justice
Jag Bhalla
Jag Bhalla is an entrepreneur, inventor and writer. His current project is Errors We Live By, a series of short exoteric essays exposing errors in the big ideas running our lives, details at www.errorsweliveby.com. His last book was I'm Not Hanging Noodles On Your Ears, a surreptitious science gift book from National Geographic Books, details at www.hangingnoodles.com. That explains his twitter handle @hangingnoodles.
20 January, 2014
The science behind two Dr. Martin Luther King quotes deserves more attention. 
One is famous:   
"The arc of the moral universe is long, but it bends towards justice."
The other should be more widely known:
Both are important, especially when combined, because, to paraphrase King:
The arc of our evolution has long bent towards justice.
This short Scientific American blog post explains. "Social contracts are written into our biology. As is the justice they need." Humans have been team survivors for 10,000 generations. That has crucially shaped our genes and culture, including our tools and social coordination rules. Unjust teams didn't tend to survive. Counter-dominant coalitions arose to combat tyrannous injustice. Justice, wrote Hesiod, poet of the ancient Greek masses, was "Zeus's greatest gift" to humanity. Greatest or not, without it human nature wouldn't be what it is. And we wouldn't exist.
How "Darwin was no Darwinian" is explained in this brief post. Dr. King is historically, scientifically, and morally correct. It's a bad break for Darwin, and us, that his name is used to distort his ideas. Particularly as applied to humans, and to justice. Darwin wrote "the social instincts, the prime principle of man's moral constitution…naturally lead to the golden rule, "As ye would have men should do to you, do ye to them likewise." That seems not so  "Darwinian." Darwin knew we are by nature self-deficient and interdependent and that we only survive in collaborative teams.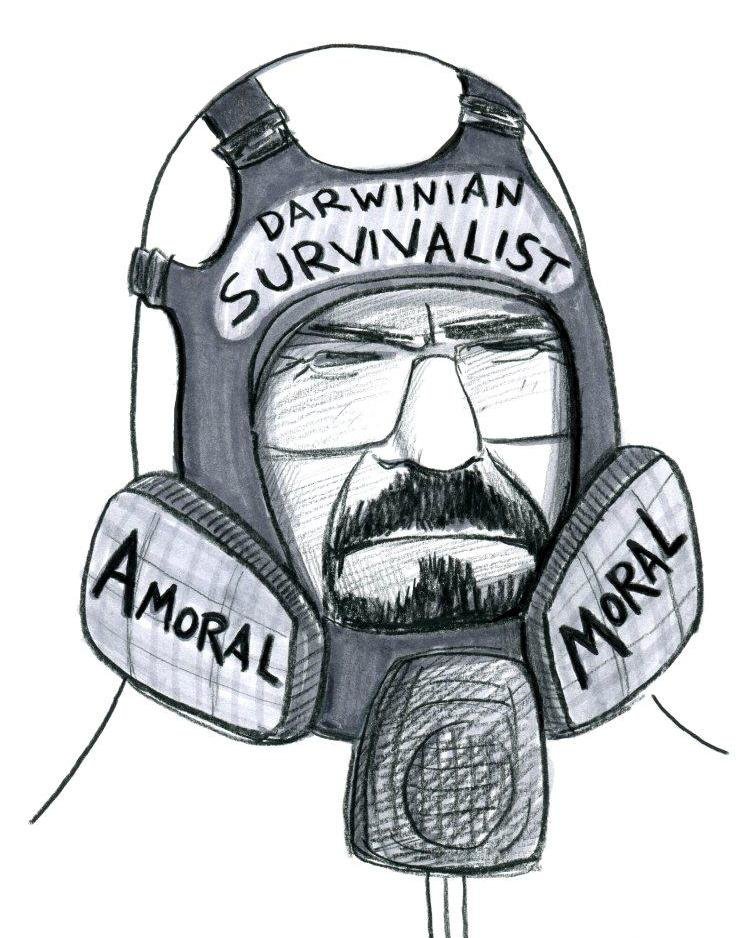 As Bill Gates put it: "there are two great forces of human nature: self-interest, and caring for others." It's time we refocused our reason, economics and politics to include the other-interestedness and cooperative justice that we've long needed to survive.
---
Illustration by Julia Suits, The New Yorker Cartoonist & author of The Extraordinary Catalog of Peculiar Inventions.
The stories we tell define history. So who gets the mic in America?
Videos
History is written by lions. But it's also recorded by lambs.
In order to understand American history, we need to look at the events of the past as more prismatic than the narrative given to us in high school textbooks.
Including different voices can paint a more full and vibrant portrait of America. Which is why more walks of American life can and should be storytellers.

A glass of juice has as much sugar, ounce for ounce, as a full-calorie soda. And those vitamins do almost nothing.
popular
Quick: think back to childhood (if you've reached the scary clown you've gone too far). What did your parents or guardians give you to keep you quiet? If you're anything like most parents, it was juice. But here's the thing: juice is bad for you. 
The controversy around the Torah codes gets a new life.
Michael Drosnin
Surprising Science
Mathematicians claim to see a predictive pattern in the ancient Torah texts.
The code is revealed by a method found with special computer software.
Some events described by reading the code took place after the code was written.
Big think's weekly newsletter.
Get smarter faster from the comfort of your inbox.
See our newsletter privacy policy
here
Most Popular
Most Recent
Big think's weekly newsletter.
Get smarter faster from the comfort of your inbox.
See our newsletter privacy policy
here
© Copyright 2007-2018 & BIG THINK, BIG THINK EDGE,
SMARTER FASTER trademarks owned by The Big Think, Inc. All rights reserved.