The Science of Martin Luther King & Justice
20 January, 2014
The science behind two Dr. Martin Luther King quotes deserves more attention. 
One is famous:   
"The arc of the moral universe is long, but it bends towards justice."
The other should be more widely known:
Both are important, especially when combined, because, to paraphrase King:
The arc of our evolution has long bent towards justice.
This short Scientific American blog post explains. "Social contracts are written into our biology. As is the justice they need." Humans have been team survivors for 10,000 generations. That has crucially shaped our genes and culture, including our tools and social coordination rules. Unjust teams didn't tend to survive. Counter-dominant coalitions arose to combat tyrannous injustice. Justice, wrote Hesiod, poet of the ancient Greek masses, was "Zeus's greatest gift" to humanity. Greatest or not, without it human nature wouldn't be what it is. And we wouldn't exist.
How "Darwin was no Darwinian" is explained in this brief post. Dr. King is historically, scientifically, and morally correct. It's a bad break for Darwin, and us, that his name is used to distort his ideas. Particularly as applied to humans, and to justice. Darwin wrote "the social instincts, the prime principle of man's moral constitution…naturally lead to the golden rule, "As ye would have men should do to you, do ye to them likewise." That seems not so  "Darwinian." Darwin knew we are by nature self-deficient and interdependent and that we only survive in collaborative teams.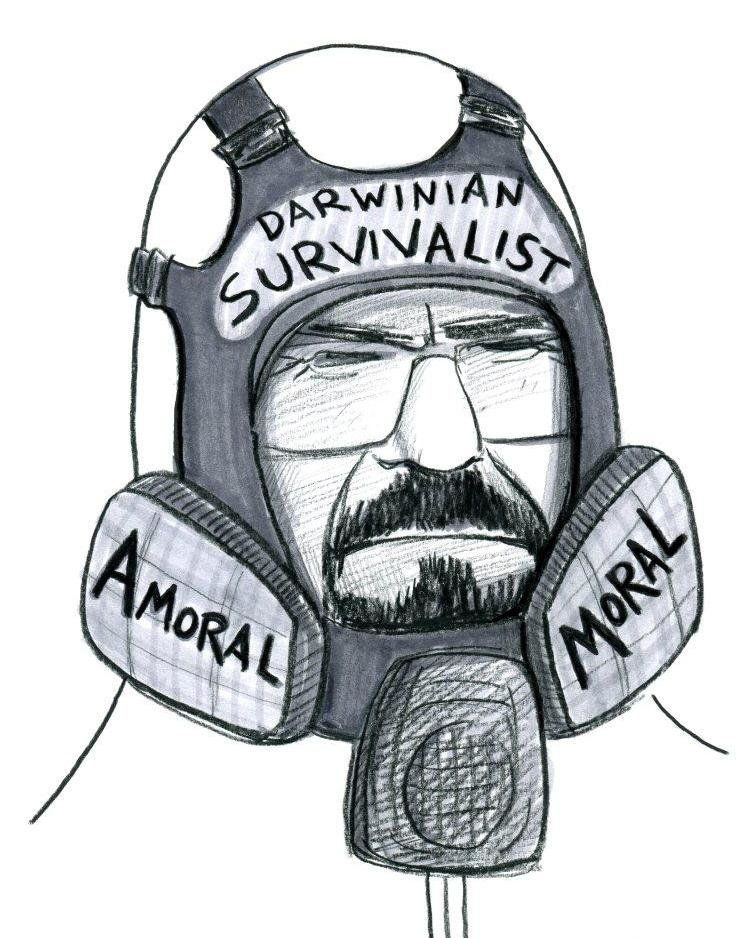 As Bill Gates put it: "there are two great forces of human nature: self-interest, and caring for others." It's time we refocused our reason, economics and politics to include the other-interestedness and cooperative justice that we've long needed to survive.
---
Illustration by Julia Suits, The New Yorker Cartoonist & author of The Extraordinary Catalog of Peculiar Inventions.
Don't underestimate the power of play when it comes to problem-solving.
Videos
As we get older, the work we consistently do builds "rivers of thinking." These give us a rich knowledge of a certain kind of area.
The problem with this, however, is that as those patterns get deeper, we get locked into them. When this happens it becomes a challenge to think differently — to break from the past and generate new ideas.
How do we get out of this rut? One way is to bring play and game mechanics into workshops. When we approach problem-solving from a perspective of fun, we lose our fear of failure, allowing us to think boldly and overcome built patterns.
Controversial map names CEOs of 100 companies producing 71 percent of the world's greenhouse gas emissions.
Image: Jordan Engel, reused via Decolonial Media License 0.1
Strange Maps
Just 100 companies produce 71 percent of the world's greenhouse gases.
This map lists their names and locations, and their CEOs.
The climate crisis may be too complex for these 100 people to solve, but naming and shaming them is a good start.
The surprising results come from a new GLAAD survey.
Culture & Religion
The survey found that 18- to 34-year-old non-LGBTQ Americans reported feeling less comfortable around LGBTQ people in a variety of hypothetical situations.
The attitudes of older non-LGBTQ Americans have remained basically constant over the past few years.
Overall, about 80 percent of Americans support equal rights for LGBTQ people.
Big think's weekly newsletter.
Get smarter faster from the comfort of your inbox.
See our newsletter privacy policy
here
Most Popular
Most Recent
Big think's weekly newsletter.
Get smarter faster from the comfort of your inbox.
See our newsletter privacy policy
here
© Copyright 2007-2019 & BIG THINK, BIG THINK EDGE,
SMARTER FASTER trademarks owned by The Big Think, Inc. All rights reserved.