What a Wall Street hedge fund has to do with innovation at Sears Holdings
22 February, 2011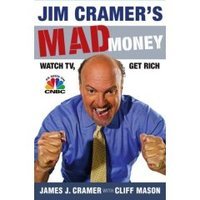 Fortress Investment Group, the first-ever hedge fund IPO, starts trading on the New York Stock Exchange today. If you don't already have your hard-earned dollars (or euros) tucked away in a nice little hedge fund earning 20-30% a year, now is your chance to play with the Wall Street big boys. The deal priced last night, and some CNBC talking heads are expecting the offering to explode out of the gate. (I'm not so sure - if I remember correctly, during the height of the dot-com mania, there were all kinds of plans floated to take Silicon Valley venture capital funds public, and they never really delivered the returns they promised.)
---
Interestingly, Jim Cramer of CNBC's "Mad Money" thinks the Fortress IPO will actually be a huge plus for Sears Holdings. You're probably wondering - wait a second, what in the world does a big Wall Street hedge fund have to do with a retail chain that sells Craftsman power tools? Well, while you were sleeping, Sears Holdings has been quietly operating as a stealth hedge fund, thanks to the innovative financial wizardry of Eddie Lampert. Cramer explains:
"Tomorrow, Fortress will become the first publicly-traded hedge fund in America... the first one you can buy into. And do you know who the biggest beneficiary of that will be?  Not Fortress - although I'll give it a 'buy' - one thumb up. No, the big winner from the Fortress IPO is... Sears Holdings (ticker: SHLD)! I believe that they will be the big winners when Fortress - a hedge fund - comes public.
SHLD isn't a retailer...  SHLD is a publicly-traded investment vehicle. What the heck does any of this have to do with Fortress?... It's all about the comparisons... Right now, there are no publicly-traded hedge funds on U.S. markets.  It means we've got no yardstick we can use to measure how much the investment part of SHLD* is worth.  There's nothing else like it... SHLD* is what Berkshire Hathaway was 30 years ago, when it was still under $200 bucks a share... I've been screamin' ever since Fast Eddie (Eddie Lampert, CEO of SHLD) took over SHLD that it's not a retailer.  It's on its way to being something like a hedge fund, that everyone can own a little piece of."
Researchers discover a link between nonverbal synchronization and relationship success.
Pixabay
Sex & Relationships
Scientists say coordinating movements leads to increased intimacy and sexual desire in a couple.
The improved rapport and empathy was also observed in people who didn't know each other.
Non-verbal clues are very important in the development stages of a relationship.
Humans evolved to live in the cold through a number of environmental and genetic factors.
Image source: Wikimedia Commons
Surprising Science
According to some relatively new research, many of our early human cousins preceded Homo sapien migrations north by hundreds of thousands or even millions of years.
Cross-breeding with other ancient hominids gave some subsets of human population the genes to contend and thrive in colder and harsher climates.
Behavioral and dietary changes also helped humans adapt to cold climates.
The comics titan worked for more than half a century to revolutionize and add nuance to the comics industry, and he built a vast community of fans along the way.
(Photo: GABRIEL BOUYS/AFP/Getty Images)
Culture & Religion
Lee died shortly after being rushed to an L.A. hospital. He had been struggling with multiple illnesses over the past year, reports indicate.
Since the 1950s, Lee has been one of the most influential figures in comics, helping to popularize heroes that expressed a level of nuance and self-doubt previously unseen in the industry.
Lee, who's later years were marked by some financial and legal tumult, is survived by his daughter, Joan Celia "J.C." Lee.
Big think's weekly newsletter.
Get smarter faster from the comfort of your inbox.
See our newsletter privacy policy
here
Most Popular
Most Recent
Big think's weekly newsletter.
Get smarter faster from the comfort of your inbox.
See our newsletter privacy policy
here
© Copyright 2007-2018 & BIG THINK, BIG THINK EDGE,
SMARTER FASTER trademarks owned by The Big Think, Inc. All rights reserved.