Walt Disney: Survival of the Most Innovative
22 February, 2011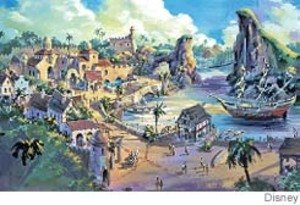 This case study of Disney kicks off what I hope becomes a regular series on business innovation that I'm calling "Survival of the Most Innovative." (an obvious reference to the Darwinian concept of the "Survival of the Fittest") Yesterday, the Wall Street Journal (free feature) described the launch of a brand new innovation strategy at Disney:
"Ever since Walt Disney opened Disneyland in 1955, Walt Disney Co. has rarely strayed from his original vision of what a theme park

should be. But at a top-secret development unit these days, the company

is plotting a new spurt of theme park expansion that goes well beyond

its traditional model of luring people to Disney resorts in Florida or

California.
---
Disney is hatching plans to take its theme-park
experience to the masses, rather than the other way around. Instead of
building more big parks, the company is sketching out a string of niche
resorts and attractions around the world. That could include such
things as stand-alone, Disney themed hotels in cities and beach
resorts, Disney branded retail and dining districts, and smaller, more
specialized parks.
In the near term, the company is using the Disney name
to expand in other areas of the travel business. For example, it is
ramping up an operation called "Adventures by Disney," in which
travelers pay for guided Disney tours to popular destinations including
Italy and Ireland. The company also plans to build its presence in
time-share vacation homes in places like the Caribbean. And it is
bulking up its popular cruise line, with more Disney ships in the cards."
So, what are the takeaway lessons here from the Disney case study?
(1) Disney is not attempting a radical departure from its hugely successful theme park strategy. Instead of a revolutionary strategy, the company is hoping for an evolutionary strategy. After a series of failed expansions about five years ago, the company is sticking to what it knows best, looking for the types of new offerings that "already
have an established consumption pattern."
(2) Disney realizes that it sits within an ecosystem of other entertainment providers, and must scale its ambitions accordingly. "Instead of saying where will the next Disneyland be,
we need to think more in terms of where around the world we can deliver
an immersive experience appropriate to the size of the market. Not
every market can support a full-on Disney location."
(3) Disney examined its organizational DNA and decided to go with the types of offerings that seem to offer the best fit. "Another challenge is tailoring the niche attractions
to local markets while keeping the Disney brand intact..."
And, like just about every other business today, Disney is keeping its eye on the long-term growth potential of Asia-Pacific. Anyway, instead of thinking itself as a "content machine" that must be re-oiled and re-engineered, Disney is thinking of itself much more as a living, evolving organism that must explore new evolutionary niches while at the same time exploiting existing niches. (if you haven't already guessed, this is going to become a big theme here on the Endless Innovation blog)
[image: Disney's Pirate-Themed Resort]
Related Articles
It's a development that could one day lead to much better treatments for osteoporosis, joint damage, and bone fractures.
Image: Nissim Benvenisty
Surprising Science
Scientists have isolated skeletal stem cells in adult and fetal bones for the first time.
These cells could one day help treat damaged bone and cartilage.
The team was able to grow skeletal stem cells from cells found within liposuctioned fat.
Gut bacteria play an important role in how you feel and think and how well your body fights off disease. New research shows that exercise can give your gut bacteria a boost.
National Institutes of Health
Surprising Science
Two studies from the University of Illinois show that gut bacteria can be changed by exercise alone.
Our understanding of how gut bacteria impacts our overall health is an emerging field, and this research sheds light on the many different ways exercise affects your body.
Exercising to improve your gut bacteria will prevent diseases and encourage brain health.
A groundbreaking new study shows that octopuses seemed to exhibit uncharacteristically social behavior when given MDMA, the psychedelic drug commonly known as ecstasy.
Surprising Science
Octopuses, like humans, have genes that seem to code for serotonin transporters.
Scientists gave MDMA to octopuses to see whether those genes translated into a binding site for serotonin, which regulates emotions and behavior in humans
Octopuses, which are typically asocial creatures, seem to get friendlier while on MDMA, suggesting humans have more in common with the strange invertebrates than previously thought
Big think's weekly newsletter.
Get smarter faster from the comfort of your inbox.
See our newsletter privacy policy
here
Most Popular
Most Recent
Big think's weekly newsletter.
Get smarter faster from the comfort of your inbox.
See our newsletter privacy policy
here
© Copyright 2007-2018 & BIG THINK, BIG THINK EDGE,
SMARTER FASTER trademarks owned by The Big Think, Inc. All rights reserved.