Walt Disney: Survival of the Most Innovative
22 February, 2011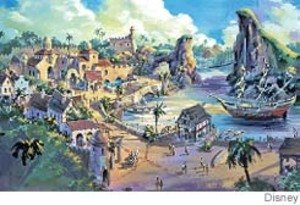 This case study of Disney kicks off what I hope becomes a regular series on business innovation that I'm calling "Survival of the Most Innovative." (an obvious reference to the Darwinian concept of the "Survival of the Fittest") Yesterday, the Wall Street Journal (free feature) described the launch of a brand new innovation strategy at Disney:
"Ever since Walt Disney opened Disneyland in 1955, Walt Disney Co. has rarely strayed from his original vision of what a theme park

should be. But at a top-secret development unit these days, the company

is plotting a new spurt of theme park expansion that goes well beyond

its traditional model of luring people to Disney resorts in Florida or

California.
---
Disney is hatching plans to take its theme-park
experience to the masses, rather than the other way around. Instead of
building more big parks, the company is sketching out a string of niche
resorts and attractions around the world. That could include such
things as stand-alone, Disney themed hotels in cities and beach
resorts, Disney branded retail and dining districts, and smaller, more
specialized parks.
In the near term, the company is using the Disney name
to expand in other areas of the travel business. For example, it is
ramping up an operation called "Adventures by Disney," in which
travelers pay for guided Disney tours to popular destinations including
Italy and Ireland. The company also plans to build its presence in
time-share vacation homes in places like the Caribbean. And it is
bulking up its popular cruise line, with more Disney ships in the cards."
So, what are the takeaway lessons here from the Disney case study?
(1) Disney is not attempting a radical departure from its hugely successful theme park strategy. Instead of a revolutionary strategy, the company is hoping for an evolutionary strategy. After a series of failed expansions about five years ago, the company is sticking to what it knows best, looking for the types of new offerings that "already
have an established consumption pattern."
(2) Disney realizes that it sits within an ecosystem of other entertainment providers, and must scale its ambitions accordingly. "Instead of saying where will the next Disneyland be,
we need to think more in terms of where around the world we can deliver
an immersive experience appropriate to the size of the market. Not
every market can support a full-on Disney location."
(3) Disney examined its organizational DNA and decided to go with the types of offerings that seem to offer the best fit. "Another challenge is tailoring the niche attractions
to local markets while keeping the Disney brand intact..."
And, like just about every other business today, Disney is keeping its eye on the long-term growth potential of Asia-Pacific. Anyway, instead of thinking itself as a "content machine" that must be re-oiled and re-engineered, Disney is thinking of itself much more as a living, evolving organism that must explore new evolutionary niches while at the same time exploiting existing niches. (if you haven't already guessed, this is going to become a big theme here on the Endless Innovation blog)
[image: Disney's Pirate-Themed Resort]
New research links urban planning and political polarization.
Pixabay
Politics & Current Affairs
Canadian researchers find that excessive reliance on cars changes political views.
Decades of car-centric urban planning normalized unsustainable lifestyles.
People who prefer personal comfort elect politicians who represent such views.
Progressive America would be half as big, but twice as populated as its conservative twin.
Image: Dicken Schrader
Strange Maps
America's two political tribes have consolidated into 'red' and 'blue' nations, with seemingly irreconcilable differences.
Perhaps the best way to stop the infighting is to go for a divorce and give the two nations a country each
Based on the UN's partition plan for Israel/Palestine, this proposal provides territorial contiguity and sea access to both 'red' and 'blue' America
Science and the squishiness of the human mind. The joys of wearing whatever the hell you want, and so much more.
Flickr / 13winds
Think Again Podcasts
Why can't we have a human-sized cat tree?
What would happen if you got a spoonful of a neutron star?
Why do we insist on dividing our wonderfully complex selves into boring little boxes
Big think's weekly newsletter.
Get smarter faster from the comfort of your inbox.
See our newsletter privacy policy
here
Most Popular
Most Recent
Big think's weekly newsletter.
Get smarter faster from the comfort of your inbox.
See our newsletter privacy policy
here
© Copyright 2007-2018 & BIG THINK, BIG THINK EDGE,
SMARTER FASTER trademarks owned by The Big Think, Inc. All rights reserved.