The Metropolitan Opera and innovation
22 February, 2011
\n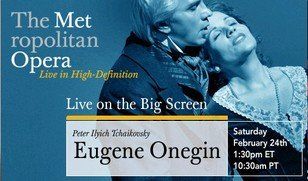 \nFans of the now-deceased Business Innovation Insider may remember that I posted about a live simulcast of the Metropolitan Opera in Times Square last fall. It was all part of a broader strategy by the Met to bring opera to the masses (people in Times Square were actually stopping and looking up at the screen - and it wasn't just the tourists, either) Well, based on the success of that initial effort, the Met is now rolling out a nationwide program called "Live on the Big Screen."
---
\n\n
This Saturday, for example, there will be a live simulcast of Tchaikovsky's "Eugene Onegin" at a theater in Union Square -- part of a whole series of Met Opera Saturday matinee performances scheduled for the big screen, featuring HD and surround-sound. The ticket's aren't cheap ($18 in New York), which leads me to think this could become a real money-maker for the Met. In addition to selling 1,000 or so seats at Lincoln Center, the opera company is also selling thousands of "seats" across the country. Once you net out the cost of renting the cinema screens and hooking up all the electronic gadgetry needed for the simulcast, methinks a tidy little profit would remain.
\n\n
Anyway, New York Magazine has posted an interesting review of "Eugene Onegin," which features some of the biggest names in the opera world. Apparently, the Met is marketing this production as a "steamy" love story that will captivate theater audiences everywhere:
"Perhaps you've seen the promos for Eugene Onegin, coming soon to\na movie theater near you. It will be a live high-definition\ntransmission of the February 24 matinee direct from the Metropolitan\nOpera to some 150 film palaces from L.A. to London, and moviegoers are\npromised a steamy afternoon—or evening, if they happen to be in the\nU.K. The "star soprano" with the "sumptuous voice" Renée Fleming sings\nthe role of the love-starved Tatiana for the first time at the Met, and\nshe is "joined by a supremely talented troika of the coarser sex" who\n"provide the testosterone" in her life. They include "the charismatic\nand smoldering" Russian baritone Dmitri Hvorostovsky, the "superb\ntenor" Ramón Vargas, and conductor Valery Gergiev, considered in some\nquarters as the most mesmerizing personality to emerge from St.\nPetersburg since Rasputin, whom he vaguely resembles."
[image: Metropolitan Opera]
\n
You want one. Now you may be able to survive one.
Technology & Innovation
Cats live in a quarter of Western households.
Allergies to them are common and can be dangerous.
A new approach targets the primary trouble-causing allergen.
Scientists make an important discovery for the future of computing.
Pixabay
Surprising Science
Researchers find a new state of matter called "topological superconductivity".
The state can lead to important advancements in quantum computing.
Utilizing special particles that emerge during this state can lead to error-free data storage and blazing calculation speed.
We are constantly trying to force the world to look like us — we need to move on.
Videos
When the Berlin Wall fell in 1989, many Americans jumped for joy. At the time, some believed there weren't going to be any more political disagreements anywhere in the world. They thought American democracy had won the "war of ideas."
American exceptionalism has sought to create a world order that's really a mirror image of ourselves — a liberal world order founded on the DNA of American thinking. To many abroad this looks like ethnic chauvinism.
We need to move on from this way of thinking, and consider that sometimes "problem-solving," in global affairs, means the world makes us look like how it wants to be.