The Innovation Ecosystem blog analyzes Brand Evolution
22 February, 2011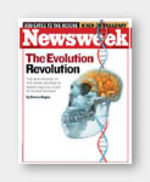 With much of the mainstream business media focusing on rapid, revolutionary change, it's always a treat to discover bloggers and consultants who adopt more of an evolutionary view of business innovation. For example, Julie Fleischer, the Innovation Thought Leader for Egg Strategy, has been publishing a blog since December 2006 called Innovation Ecosystem that looks at how concepts related to evolution and ecosystems can be used to understand business strategy and marketing. As Julie explains at the top of her Innovation Ecosystem blog, "great innovation happens organically, with
sloppy edges and growth spurts. Because as with nature, innovation
doesn't take place in a vacuum - it is dependent upon and interrelated
to all things around it. And because innovation needs to be cognizant
of the ripple effect -- seeing opportunities AND managing potential
damage. Innovation thrives on change, curiosity, and desire."

For example, citing a recent cover story in Newsweek ("The Evolution Revolution"), Julie points out what evolution means for corporate brands:
"The cover story of the 3.19 issue of Newsweek is fascinating... We're now learning that evolution is not a straight-lined

path of progress. It occurs in fits and starts, with many adaptations

failing to take root. We're discovering an evolutionary family tree of

sorts, with a number of adaptive traits developing, hanging around for

several million years or so, and then becoming extinct. Progress is

lumpy.
---
And that's where brands come in.  Brand evolution is rarely a straight line path of forward progress.
Quite often, brand adaptations (let's call them line extensions or
flankers) come to market, score sufficient volume to hang around for
several years, and then make way for a new generation of extensions.
This process may continue on ad infinitum without ever really evolving the brand - making it more relevant, more contemporary, competitively advantaged.
Survival of the fittest is about more than merely hanging in there.
For
a brand to truly evolve, it needs to move beyond these experiments and
take a strategic view toward innovation of the entire ecosystem.
Perhaps the business model needs to evolve (see Netflix vs. Blockbuster
below). Perhaps the brand needs a different approach regarding channels
or supply chain. Maybe the consumer situation (the human genomic code?)
has changed and new needs have arisen, requiring repositioning or
structural packaging innovation. Maybe a new predator has emerged that
forces the brand to take a more defensive - or offensive - posture. Just as our species need to evolve, so do our brands.  Settling
for "natural growth" only gets you so far - hyperadaptation of the
innovation ecosystem is needed to grow the legs that take you out of
the swamp
."
[image: Newsweek]
Lumina Foundation is partnering with Big Think to unearth the next large-scale, rapid innovation in post-high school education. Enter the competition here!
Good science is sometimes trumped by the craving for a "big splash."
Videos
Scientists strive to earn credit from their peers, for grants from federal agencies, and so a lot of the decisions that they make are strategic in nature. They're encouraged to publish exciting new findings that demonstrate some new phenomenon that we have never seen before.
This professional pressure can affect their decision-making — to get acclaim they may actually make science worse. That is, a scientist might commit fraud if he thinks he can get away with it or a scientist might rush a result out of the door even though it hasn't been completely verified in order to beat the competition.
On top of the acclaim of their peers, scientists — with the increasing popularity of science journalism — are starting to be rewarded for doing things that the public is interested in. The good side of this is that the research is more likely to have a public impact, rather than be esoteric. The bad side? To make a "big splash" a scientist may push a study or article that doesn't exemplify good science.
Moans, groans, and gripes release stress hormones in the brain.
popular
Could you give up complaining for a whole month? That's the crux of this interesting piece by Jessica Hullinger over at Fast Company. Hullinger explores the reasons why humans are so predisposed to griping and why, despite these predispositions, we should all try to complain less. As for no complaining for a month, that was the goal for people enrolled in the Complaint Restraint project.
Participants sought to go the entirety of February without so much as a moan, groan, or bellyache.
Two space agencies plan missions to deflect an asteroid.
ESA's Hera mission above asteroid 65803 Didymos. Credit: ESA/ScienceOffice.org
Surprising Science
NASA and the European Space Agency (ESA) are working together on missions to a binary asteroid system.
The DART and Hera missions will attempt to deflect and study the asteroid Didymoon.
A planetary defense system is important in preventing large-scale catastrophes.
Big think's weekly newsletter.
Get smarter faster from the comfort of your inbox.
See our newsletter privacy policy
here
Most Popular
Most Recent
Big think's weekly newsletter.
Get smarter faster from the comfort of your inbox.
See our newsletter privacy policy
here
© Copyright 2007-2018 & BIG THINK, BIG THINK EDGE,
SMARTER FASTER trademarks owned by The Big Think, Inc. All rights reserved.