The Innovation Capitalist
22 February, 2011
\n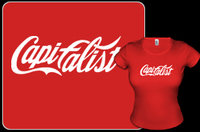 \nWriting in the March 2007 issue of Harvard Business Review, business school professors Satish Nambisan and Mohanbir Sawhney describe how the Innovation Capitalist can help consumer product companies with the external sourcing of innovation. The basic idea is that companies sometimes need to source innovative product ideas from outside the organization, and as a result, turn to "innomediaries" (innovation intermediaries) to help them separate the wheat from the chaff. Chief among these "innomediaries" is the Innovation Capitalist:
---
Innovation capitalists are firms, often with a particular industry expertise, that seek out and evaluate ideas and technologies from the inventor community and other external sources. They develop and refine those ideas to the point where their market potential is validated, and they then pitch them to large client firms. An innovation capitalist reduces a client company's acquisition costs and early-stage risks. In return, it shares in the proceeds from the innovation.

\n\n

These firms do more than "just broker the idea," says Debra Park, the director of technology acquisition at Dial, maker of Dial soap, Purex laundry detergent, and other consumer products. "By investing in concept development and market validation, they may not always improve the invention, but they reduce our risks and offer a concept that's more business ready."
What's interesting, of course, is how the innovation ecosystem continues to evolve. Over the past few years, there had been a trend toward embracing "amateur" ideas from the fringes of the organization, through initiatives such as "customer co-creation" and "outside innovation." If the concept of the Innovation Capitalist takes off, is it a sign that companies are growing disenchanted with "amateur" innovators and would rather deal with "professional" innovators? Or is it a sign that a growing number of predatory players are entering the innovation ecosystem, lured by the prospect of capitalizing on other people's intellectual property?
\n\n
[image: Coca-Cola Capitalist]
\n
Related Articles
These modern-day hermits can sometimes spend decades without ever leaving their apartments.
700,000 Japanese people are thought to be hikikomori, modern-day hermits who never leave their apartments (BEHROUZ MEHRI/AFP/Getty Images).
Mind & Brain
A hikikomori is a type of person in Japan who locks themselves away in their bedrooms, sometimes for years.
This is a relatively new phenomenon in Japan, likely due to rigid social customs and high expectations for academic and business success.
Many believe hikikomori to be a result of how Japan interprets and handles mental health issues.
How a cataclysm worse than what killed the dinosaurs destroyed 90 percent of all life on Earth.
Credit: Ron Miller
Surprising Science
While the demise of the dinosaurs gets more attention as far as mass extinctions go, an even more disastrous event called "the Great Dying" or the "End-Permian Extinction" happened on Earth prior to that. Now scientists discovered how this cataclysm, which took place about 250 million years ago, managed to kill off more than 90 percent of all life on the planet.
A new study discovers the "liking gap" — the difference between how we view others we're meeting for the first time, and the way we think they're seeing us.
New acquaintances probably like you more than you think. (Photo by Simone Joyner/Getty Images)
Surprising Science
We tend to be defensive socially. When we meet new people, we're often concerned with how we're coming off. Our anxiety causes us to be so concerned with the impression we're creating that we fail to notice that the same is true of the other person as well. A new study led by Erica J. Boothby, published on September 5 in Psychological Science, reveals how people tend to like us more in first encounters than we'd ever suspect.
Big think's weekly newsletter.
Get smarter faster from the comfort of your inbox.
See our newsletter privacy policy
here
Most Popular
Most Recent
Big think's weekly newsletter.
Get smarter faster from the comfort of your inbox.
See our newsletter privacy policy
here
© Copyright 2007-2018 & BIG THINK, BIG THINK EDGE,
SMARTER FASTER trademarks owned by The Big Think, Inc. All rights reserved.