Scott Berkun: The Myths of Innovation
22 February, 2011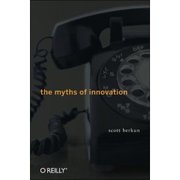 If you're looking for a thought-provoking, concise guide to modern innovation, I would suggest checking out Scott Berkun's The Myths of Innovation. In each chapter, Berkun presents a commonly-held assumption about innovation (e.g. "the best ideas win," "innovation is always good") and then dissects this assumption step-by-step using a mix of business case studies, historical examples, and anecdotal evidence.  (In Chapter 4, there's even a quote from Niccolo Machiavelli on why introducing new innovations is so hard!) One of my favorite chapters in the book looks at the way that basic evolutionary theory can be used to understand the path of innovation. In retrospect, of course, history seems to be perfect. The reality is that the unique twists and turns of the past are often "frustrating, embarrassing, and uncertain."
---
You can find out more about the myths of innovation over at Scott's personal blog.
Related Articles
These modern-day hermits can sometimes spend decades without ever leaving their apartments.
700,000 Japanese people are thought to be hikikomori, modern-day hermits who never leave their apartments (BEHROUZ MEHRI/AFP/Getty Images).
Mind & Brain
A hikikomori is a type of person in Japan who locks themselves away in their bedrooms, sometimes for years.
This is a relatively new phenomenon in Japan, likely due to rigid social customs and high expectations for academic and business success.
Many believe hikikomori to be a result of how Japan interprets and handles mental health issues.
How a cataclysm worse than what killed the dinosaurs destroyed 90 percent of all life on Earth.
Credit: Ron Miller
Surprising Science
While the demise of the dinosaurs gets more attention as far as mass extinctions go, an even more disastrous event called "the Great Dying" or the "End-Permian Extinction" happened on Earth prior to that. Now scientists discovered how this cataclysm, which took place about 250 million years ago, managed to kill off more than 90 percent of all life on the planet.
A new study discovers the "liking gap" — the difference between how we view others we're meeting for the first time, and the way we think they're seeing us.
New acquaintances probably like you more than you think. (Photo by Simone Joyner/Getty Images)
Surprising Science
We tend to be defensive socially. When we meet new people, we're often concerned with how we're coming off. Our anxiety causes us to be so concerned with the impression we're creating that we fail to notice that the same is true of the other person as well. A new study led by Erica J. Boothby, published on September 5 in Psychological Science, reveals how people tend to like us more in first encounters than we'd ever suspect.
Big think's weekly newsletter.
Get smarter faster from the comfort of your inbox.
See our newsletter privacy policy
here
Most Popular
Most Recent
Big think's weekly newsletter.
Get smarter faster from the comfort of your inbox.
See our newsletter privacy policy
here
© Copyright 2007-2018 & BIG THINK, BIG THINK EDGE,
SMARTER FASTER trademarks owned by The Big Think, Inc. All rights reserved.