Rocky Bolly-Boa
22 February, 2011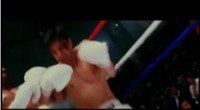 One of the free online features of today's Wall Street Journal is a trailer for Bollywood's version of the Rocky Balboa story. (Look carefully - that's not Sylvester Stallone, that's some Indian actor who looks remarkably like him) The Indian film industry is innovative and thriving - why did it have to stoop to this? It's bad enough that "Rocky" sequels multiply like rabbits here in the States. Are we to assume that Bollywood is also cooking up a series of Rocky Bolly-boa sequels for Indian audiences? I'd almost rather watch Monsoon Wedding and Bride & Prejudice back-to-back than watch an unimaginative re-telling of the Rocky story yet again.
---
UPDATE: There's actually a companion piece to the video clip on the first page of today's Wall Street Journal: "Indians in U.S. Find New Sideline: Bollywood Moguls." The upshot is that this cheesy Rocky Bolly-boa movie was actually produced by Indian infomercial entrepreneurs from New Jersey. Throughout the movie, apparently, there are product placements for the "Ab King" exercise machine. The reviews of the movie have been terrible -- the Times of India wrote that the movie "almost puts you to sleep with its insipid goulash." The film lasted only three weeks in theaters.
[video capture: Rocky Balboa, Bollywood-style]
From computer hacking to biohacking, Dave Asprey has embarked on a quest to reverse the aging process.
Videos
As a teenager, founder of Bulletproof, Dave Asprey, began experiencing health issues that typically plague older adults.
After surrounding himself with anti-aging researchers and scientists, he discovered the tools of biohacking could dramatically change his life and improve his health.
He's now confident he'll live to at least 180 years old. "It turns out that those tools that make older people young make younger people kick ass," he says.
French newspapers report that the trial hasn't lived up to expectations.
Image source: Charly Triballeau / AFP / Getty Images
Technology & Innovation
The French government initially invested in a rural solar roadway in 2016.
French newspapers report that the trial hasn't lived up to expectations.
Solar panel "paved" roadways are proving to be inefficient and too expensive.
A new study estimated the untapped potential of wind energy across Europe.
Pixabay
Surprising Science
A new report calculated how much electricity Europe could generate if it built onshore wind farms on all of its exploitable land.
The results indicated that European onshore wind farms could supply the whole world with electricity from now until 2050.
Wind farms come with a few complications, but the researchers noted that their study was meant to highlight the untapped potential of the renewable energy source in Europe.