Pitchers, catchers and innovation
22 February, 2011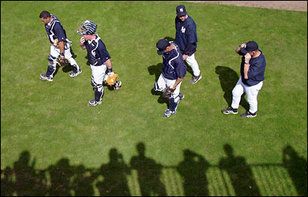 Today is the day that die-hard Yankee fans have been eagerly looking forward to since October - Pitchers and Catchers Day down in Tampa, Florida. As Spring Training finally kicks off, Yankees pitchers and catchers start arriving today,
preparing for their first formal workout on Thursday. Several long-time Yankee veterans
- such as Derek Jeter and Jorge Posada - have already landed at the Yankee spring training complex, and over the next week or so, more of the big, high-wattage names will start filing in for another run at a World Series championship. (Sorry, Red Sox fans)
---
This is the first off-season in recent memory that the Yankees have not spent on some big, expensive addition (e.g. Giambi, Matsui, Johnson, A-Rod, Damon) to bolster a championship-quality team. Instead, the Yankees went for a strategy of "addition by subtraction," as they got rid of negative influences like Randy Johnson, Gary Sheffield and Jaret Wright (good guy, but always hurt). The Yankees also are leaning on a brand new crop of youngsters - like Melky Cabrera and a group of new fireball-throwing arms - to make a significant addition this year.
Which all goes to show that organizational DNA matters. It matters in baseball, and it matters within corporations. Simply putting together a bunch of angry all-stars will not win a World Series -- something the Yankees are starting to learn. Likewise, simply putting together a bunch of business all-stars will not make a corporation more innovative. It takes a careful and judicious mix of talent and an appreciation for the types of traits that lead to innovative thinking.
[image: Yankees Spring Training]
Research in plant neurobiology shows that plants have senses, intelligence and emotions.
Getty Images
Surprising Science
The field of plant neurobiology studies the complex behavior of plants.
Plants were found to have 15-20 senses, including many like humans.
Some argue that plants may have awareness and intelligence, while detractors persist.
Most people think human extinction would be bad. These people aren't philosophers.
Shutterstock
Politics & Current Affairs
A new opinion piece in The New York Times argues that humanity is so horrible to other forms of life that our extinction wouldn't be all that bad, morally speaking.
The author, Dr. Todd May, is a philosopher who is known for advising the writers of The Good Place.
The idea of human extinction is a big one, with lots of disagreement on its moral value.
Since the idea of locality is dead, space itself may not be an aloof vacuum: Something welds things together, even at great distances.

Videos
Realists believe that there is an exactly understandable way the world is — one that describes processes independent of our intervention. Anti-realists, however, believe realism is too ambitious — too hard. They believe we pragmatically describe our interactions with nature — not truths that are independent of us.
In nature, properties of Particle B may depend on what we choose to measure or manipulate with Particle A, even at great distances.
In quantum mechanics, there is no explanation for this. "It just comes out that way," says Smolin. Realists struggle with this because it would imply certain things can travel faster than light, which still seems improbable.