Junk DNA and what it means for innovation
22 February, 2011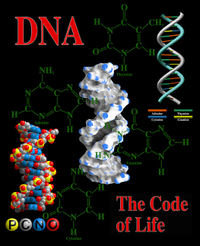 For years, researchers have known about the existence of Junk DNA - long sequences of DNA for which no known purpose or function has been identified. In some cases, this Junk DNA actually codes for something; in other cases, it doesn't appear to do much of anything. It's actually fascinating to think about, especially since we talk about "mapping the human genome" or identifying the markers for specific traits and diseases within certain sequences of DNA. This gives the impression that, if we work hard enough and long enough, we will eventually be able to create a workable map of the entire genome. What are we to make of the fact, though, that some DNA has no known purpose? It's like using Yahoo Maps or Google Maps and finding big splotches of nothingness around certain destinations.
---
There are a number of explanations for this Junk DNA, of course. One theory is that the Junk DNA is somehow a redundant coding of the non-junk DNA (just like you should always make a back-up of your PC hard drive, you should always make a back-up of your human DNA!). Another theory is that this Junk DNA is somehow an evolutionary artifact of our ancestors that has been built up over hundreds of thousands of years, if not millions of years. (Think of it as massive archives of papers and correspondence that are piling up in the attic, but that you've never gotten around to cleaning out because you think you might just need them one day...)
Anyway, so what does Junk DNA have to do with innovation? Within every organization, there's a certain amount of "organizational DNA" that's hardwired into every employee. This organizational DNA includes the mission statement of the company, as well as a host of other intangible variables. Yet, there's also a surprising amount of DNA within an organization that's never captured -- it's just kinda floating around, and someone might use it someday. I would argue that this Junk DNA is not really "junk" -- it probably serves some useful purpose for which we simply don't know. Junk DNA refers to all the non-core competencies of an organization that simply have not been mapped to specific processes and operations.
In honor of this Junk DNA, one of the categories I'm creating here on the Endless Innovation blog is called "Junk DNA" -- it refers to little snippets about design, creativity, and innovation that are floating around the Internet that I simply don't know how to categorize or describe. But I know they're important! (Thus, in the future, if your work has been classified as Junk DNA, rest assured that I do not actually consider it junk! Molecular biologists - much like quantum physicists - tend to come up with these funny little names every now and then.)
ASIDE: If you're a former reader of the Business Innovation Insider, this "junk DNA" will have the same meaning as the "innovation remainders" that appeared on that site every few days or so.
[image: DNA, the Code of Life]
Pfizer's partnerships strengthen their ability to deliver vaccines in developing countries.
Susan Silbermann, Global President of Pfizer Vaccines, looks on as a health care worker administers a vaccine in Rwanda. Photo: Courtesy of Pfizer.
Sponsored
Community healthcare workers face many challenges in their work, including often traveling far distances to see their clients
Pfizer is helping to drive the UN's sustainable development goals through partnerships.
Pfizer partnered with AMP and the World Health Organization to develop a training program for healthcare workers.
The best-selling author tells us his methods.
Videos
James Patterson has sold 300 million copies of his 130 books, making him one of the most successful authors alive today.
He talks about how some writers can overdo it by adding too much research, or worse, straying from their outline for too long.
James' latest book, The President is Missing, co-written with former President Bill Clinton, is out now.

Progressive America would be half as big, but twice as populated as its conservative twin.
Image: Dicken Schrader
Strange Maps
America's two political tribes have consolidated into 'red' and 'blue' nations, with seemingly irreconcilable differences.
Perhaps the best way to stop the infighting is to go for a divorce and give the two nations a country each
Based on the UN's partition plan for Israel/Palestine, this proposal provides territorial contiguity and sea access to both 'red' and 'blue' America
It's the first time the association hasn't hired a comedian in 16 years.
(Photo by Anna Webber/Getty Images for Vulture Festival)
Culture & Religion
The 2018 WHCA ended in controversy after comedian Michelle Wolf made jokes some considered to be offensive.
The WHCA apologized for Wolf's jokes, though some journalists and many comedians backed the comedian and decried arguments in favor of limiting the types of speech permitted at the event.
Ron Chernow, who penned a bestselling biography of Alexander Hamilton, will speak at next year's dinner.
Big think's weekly newsletter.
Get smarter faster from the comfort of your inbox.
See our newsletter privacy policy
here
Most Popular
Most Recent
Big think's weekly newsletter.
Get smarter faster from the comfort of your inbox.
See our newsletter privacy policy
here
© Copyright 2007-2018 & BIG THINK, BIG THINK EDGE,
SMARTER FASTER trademarks owned by The Big Think, Inc. All rights reserved.