Bug Labs and The Long Tail of Gadgets
22 February, 2011
\n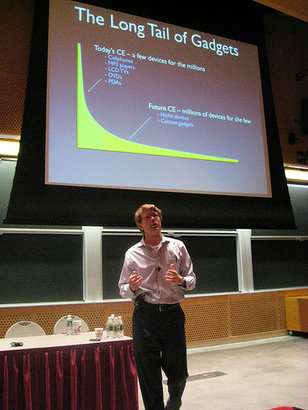 \nEarlier in the week, I had the unique opportunity to hear Peter Semmelhack, CEO of New York-based Bug Labs, describe how his start-up company was radically disrupting the traditional consumer electronics industry. Using a modular, open source approach, Bug Labs is focused on bringing the Long Tail of Gadgets to everyday consumers. Instead of developing a few devices for millions of consumers, the business model is to make millions of devices available for relatively few numbers of consumers. His company has already generated buzz on gadget blogs like Gizmodo, and now Bug Labs is featured in this week's issue of Springwise:\n\n
---
\n\n
"For a while now, web developers have been mixing and matching web\nservices such as Google Earth and Yahoo Weather to create mash-ups that\nperform useful new functions. Likewise, programmers have grown adept at\ntweaking the code used by open-source software programs. The result in\nboth instances has been unique applications the developers of the\noriginal technology likely never dreamed of. \n\n

\n\n

US start-up Bug Labs wants to\nharness some of that same creativity by enabling tech-savvy\ndo-it-yourselfers to create their own mobile devices. The company has\ndesigned several basic hardware modules that snap together like\nbuilding blocks to perform whatever mobile function their owners can\nthink of. "There are so many great gadget ideas that haven't been\nthought of yet," the founders note. "We want to unlock and inspire the\ndiscovery and creation of as many of these devices as possible."\nBesides letting them add whatever they want, the snap-together\ncomponents also let consumers leave out what they don't want, which is\na far cry from many pre-packaged mobile phones and PDAs that come\ncrammed with features their buyers have no use for."
\n\n\n\n\n\n
By the end of 2007, at least a few of the modules should be available for sale. According to Semmelhack, the plan is to make the modules available online first, before extending availability to big box retailers like Best Buy sometime in 2008. If you check out the Bug Labs website, you're probably thinking, "Wow, those products doesn't look at all like a phone or camera that I own." That's the whole point. As Springwise points out, "Gadgets built with Bug Lab's block-like components may not satisfy\nthose who lust after branded mobile devices poured into seamlessly\nsleek designs. It will, however, appeal to people who enjoy making\nthings, and like having control over elements of a product'€™s design."
\n\n
This is a company to watch. Mad props to Peter and team at Bug Labs!
\n\n\n\n
Lumina Foundation is partnering with Big Think to unearth the next large-scale, rapid innovation in post-high school education. Enter the competition here!
Butter supply and life satisfaction are linked – but by causation or correlation?
Image: Carey Tilden/Wikimedia Commons, CC BY 2.0
Strange Maps
Haiti and other countries with low butter supply report low life satisfaction.
The reverse is true for countries like Germany, which score high in both categories.
As the graph below shows, a curious pattern emerges across the globe. But is it causation or correlation?
Advances in satellite imagery are shining a light.
Boyd et al., 2018
Technology & Innovation
Today, there are 40.3 million slaves on the planet, more than the number of people living in Canada.
Slavery can be hard to find, but it commonly occurs in several key industries like fishing and mining.
Using satellite data, researchers and activists are using crowdsourcing and artificial intelligence to identify sites where slavery is taking place.
The catacombs of Paris. Secret graffiti beneath NYC. The hidden cities of Cappadocia. Writer and explorer Will Hunt is your philosophical tour guide to what lies beneath.
Think Again Podcasts
"The surface of the earth is where we're rational . . . Part of us dreads the chaos, and part of us is always attracted to it."
"There were these things hanging from the ceiling…long strands of bacteria called "snotsicles"… But at our feet was a natural stream that had been running through Brooklyn forever."
"It's…about death. Undergoing a death. We're going into the other world and then retreating to the surface… changed in some way."
Big think's weekly newsletter.
Get smarter faster from the comfort of your inbox.
See our newsletter privacy policy
here
Most Popular
Most Recent
Big think's weekly newsletter.
Get smarter faster from the comfort of your inbox.
See our newsletter privacy policy
here
© Copyright 2007-2018 & BIG THINK, BIG THINK EDGE,
SMARTER FASTER trademarks owned by The Big Think, Inc. All rights reserved.