Bug Labs and The Long Tail of Gadgets
22 February, 2011
\n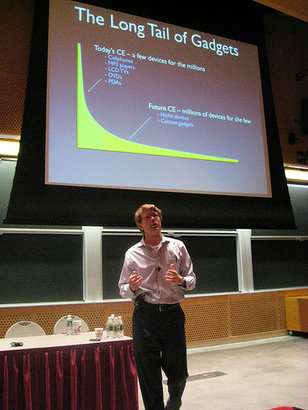 \nEarlier in the week, I had the unique opportunity to hear Peter Semmelhack, CEO of New York-based Bug Labs, describe how his start-up company was radically disrupting the traditional consumer electronics industry. Using a modular, open source approach, Bug Labs is focused on bringing the Long Tail of Gadgets to everyday consumers. Instead of developing a few devices for millions of consumers, the business model is to make millions of devices available for relatively few numbers of consumers. His company has already generated buzz on gadget blogs like Gizmodo, and now Bug Labs is featured in this week's issue of Springwise:\n\n
---
\n\n
"For a while now, web developers have been mixing and matching web\nservices such as Google Earth and Yahoo Weather to create mash-ups that\nperform useful new functions. Likewise, programmers have grown adept at\ntweaking the code used by open-source software programs. The result in\nboth instances has been unique applications the developers of the\noriginal technology likely never dreamed of. \n\n

\n\n

US start-up Bug Labs wants to\nharness some of that same creativity by enabling tech-savvy\ndo-it-yourselfers to create their own mobile devices. The company has\ndesigned several basic hardware modules that snap together like\nbuilding blocks to perform whatever mobile function their owners can\nthink of. "There are so many great gadget ideas that haven't been\nthought of yet," the founders note. "We want to unlock and inspire the\ndiscovery and creation of as many of these devices as possible."\nBesides letting them add whatever they want, the snap-together\ncomponents also let consumers leave out what they don't want, which is\na far cry from many pre-packaged mobile phones and PDAs that come\ncrammed with features their buyers have no use for."
\n\n\n\n\n\n
By the end of 2007, at least a few of the modules should be available for sale. According to Semmelhack, the plan is to make the modules available online first, before extending availability to big box retailers like Best Buy sometime in 2008. If you check out the Bug Labs website, you're probably thinking, "Wow, those products doesn't look at all like a phone or camera that I own." That's the whole point. As Springwise points out, "Gadgets built with Bug Lab's block-like components may not satisfy\nthose who lust after branded mobile devices poured into seamlessly\nsleek designs. It will, however, appeal to people who enjoy making\nthings, and like having control over elements of a product'€™s design."
\n\n
This is a company to watch. Mad props to Peter and team at Bug Labs!
\n\n\n\n
Related Articles
These modern-day hermits can sometimes spend decades without ever leaving their apartments.
700,000 Japanese people are thought to be hikikomori, modern-day hermits who never leave their apartments (BEHROUZ MEHRI/AFP/Getty Images).
Mind & Brain
A hikikomori is a type of person in Japan who locks themselves away in their bedrooms, sometimes for years.
This is a relatively new phenomenon in Japan, likely due to rigid social customs and high expectations for academic and business success.
Many believe hikikomori to be a result of how Japan interprets and handles mental health issues.
How a cataclysm worse than what killed the dinosaurs destroyed 90 percent of all life on Earth.
Credit: Ron Miller
Surprising Science
While the demise of the dinosaurs gets more attention as far as mass extinctions go, an even more disastrous event called "the Great Dying" or the "End-Permian Extinction" happened on Earth prior to that. Now scientists discovered how this cataclysm, which took place about 250 million years ago, managed to kill off more than 90 percent of all life on the planet.
A new study discovers the "liking gap" — the difference between how we view others we're meeting for the first time, and the way we think they're seeing us.
New acquaintances probably like you more than you think. (Photo by Simone Joyner/Getty Images)
Surprising Science
We tend to be defensive socially. When we meet new people, we're often concerned with how we're coming off. Our anxiety causes us to be so concerned with the impression we're creating that we fail to notice that the same is true of the other person as well. A new study led by Erica J. Boothby, published on September 5 in Psychological Science, reveals how people tend to like us more in first encounters than we'd ever suspect.
Big think's weekly newsletter.
Get smarter faster from the comfort of your inbox.
See our newsletter privacy policy
here
Most Popular
Most Recent
Big think's weekly newsletter.
Get smarter faster from the comfort of your inbox.
See our newsletter privacy policy
here
© Copyright 2007-2018 & BIG THINK, BIG THINK EDGE,
SMARTER FASTER trademarks owned by The Big Think, Inc. All rights reserved.